INATT conducts online interviews on men's mental health issues
Men's mental health has been more aware in recent years, therefore blokes are seeking professional help more openly and celebrities including footy players reveal their conditions in the public. And it applies to men in all backgrounds and happens everywhere in the world. Experiencing negative events such as abuses and bullies, natural disasters including floods, earthquakes and bushfires, and feeling isolated can cause mental damage. Also stresses at work and feeling under the pressure are facts to face mental health issues.
Current situations due to COVID-19 put us more challenges mentally. Job losses cause emotional damages and can lead us to feel insecure. Although we are still allowed to go out for shopping and exercises, we stay at home mostly. Then it's hard to refresh our emotions. And less human contacts have impacts on our mental health because it's easy to feel isolated. Even thanks to technology, we can communicate online, but talking in person is the best and soothes us and nothing else can be replaced. Worselly no footy stresses us, as we can't have passions of supporting our favourite club. Seeing continuous losing games is bad, but not being able to share the joy or disappointments affects footy diehards negatively. And players having no training or game have challenges both physically and mentally, even if some players had been under the pressure on the field.
Health and wellness organisation, INATT based in Whyalla, South Australia, are running Facebook interviews twice a week. Guest speakers are interviewed about their backgrounds, general life and challenging mental issues. Jeremy (Jezz) Edwards conducts online interviews and they are streamed live on their Facebook page.
On 12 April, my good mate and mentor Matt Gale, who is a former Whyalla resident, appeared on the interview. He talked about his life from his childhood, footy career, to expating life in Osaka as well as what caused anxiety and how he is handling his mental issues. Matt is brave for being open to reveal his conditions publicly with positive attitudes. Then on Saturday, he was appointed with an honour to be a co-interviewer for the Sunday session chatting with former Adelaide Crows player and current Brisbane Lions Personal Excellence and Wellbeing manager, Andrew Crowell.
Having media work experience in commenting state league footy for Trax FM, Matt demonstrates good interviewing skills as well as Jezz. Andrew is asked his backgrounds, his state league and Crows footy career, post career and his issues. Same as Matt, having injuries and being away from other players brings negative emotion as feeling isolated. I understand because my feelings were down in the Dingoes' breaks and limited activities due to an injury frustrated me. Unfortunately this issue is more likely to happen with any athlete. Andrew reveals that homesickness is another reason why he felt down when he moved from Whyalla to Adelaide. Feeling not being included in the group is very hard to deal with and it's also understandable because I had similar experiences because I was much different to the majority of groups and criticised.
Positive note to everyone from Andrew is that we should seek any help when we face hard times mentally. Even we cannot get any expert in mental health, talking to their families or friends whom they can trust works out well. Without core support, we won't overcome mental health issues. Hearing interviews brings audience tips on how to handle mental health issues and also encourage us to stay positive. Sensing their brave sharing of emotional experiences makes us stronger, I think.
It's a really tough and strange time we are having now and many people feel down easily. Even having to change our daily life can be stressful, similar to when people move to somewhere else or change the job. But hearing interviewees' stories will lead you to stay positive with tips. My workplace of the restaurant has been closed since 4 April. I have much less human contacts and live alone. This crisis could make me miserable, but I take it as the time to take an opportunity to change the career for my dream job. Hospitality industry is influenced much depending on social circumstances compared with other industries. As I have passions of writing in English, I would like to move onto a relevant career. Having started a freelance based blog writing job, I am moving to my dream life slightly. Andrew's struggle with finding a job after his playing career was over, and eventually he has got footy jobs that he had passions for. Watching his interview, I remind myself of the importance of having passions in our life. We will learn a lot through watching INATT interviews.
All interviews can be replayed and live interviews can be streamed on INATT's Facebook page. And please like the page if you enjoy interviews!
https://m.facebook.com/pages/category/Health—Wellness-Website/INATT-1949667612017411/
Lifeline (and hyperlink the word Lifeline to: https://www.lifeline.org.au/Get-Help/ ) is a free and confidential support service which can be reached on 13 11 14.
Beyond Blue (and link that to https://www.beyondblue.org.au/) can be reached on 1300 22 46 36.
Our writers are independent contributors. The opinions expressed in their articles are their own. They are not the views, nor do they reflect the views, of Malarkey Publications.
Do you really enjoy the Almanac concept?
And want to ensure it continues in its current form, and better? To help keep things ticking over please consider making your own contribution.
Become an Almanac (annual) member – CLICK HERE
One off financial contribution – CLICK HERE
Regular financial contribution (monthly EFT) – CLICK HERE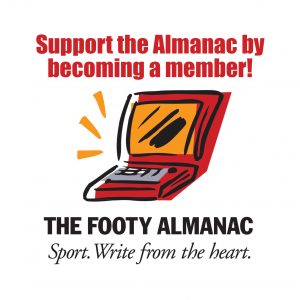 Love, passion and pride are seen on the footy that is the biggest part of my life. 1. St Kilda Club member: I am a passionate and crazy Sainter. Just hope we will win the second flag soon, especially after Dogs and Tigers having ended long premiership draughts. 2. The Osaka Dingoes Player and Public Relations Officer: Player number 44 that I chose to honour Stephen Milne with my wish being like a small forward like him. Lenny Hayes' hardworking attitudes are adopted on my trainings and practices. Nick Riewoldt's great plays are in my player audiobook too. 3. Writing: Here on the Almanac and also on the World Footy News. My skills utilise on great footy websites.