Hawthorn and women's footy – Back to the future…again
It was a great thrill to hear the announcement during the week that the remainder of the AFL's men's (AFLM) teams are also to have AFL women's teams (AFLW), viz., Hawthorn, Essendon, Sydney and Port Adelaide.  No longer will I have to pretend that I barrack for Adelaide.  As a long time Hawks supporter, it's music to my ears!
It was also pleasing to hear that my family club has already appointed Bec Goddard as AFLW coach.  She has been coaching the Hawks' VFLW team for a couple of years and it's a terrific announcement appointing a premiership coach who is also a woman.
While in lockdown, I've been thinking about who was coaching the Hawks when I first started supporting this fabulous team.  It was, of course, John Kennedy Sr.  He played for Hawthorn in the ruck – playing for ten years from 1950.  He had his first taste of coaching in Round 11 in 1957 when Jack Hale was involved in a motor vehicle accident on his way to Glenferrie Oval.  Yes, Jack Hale – former coach of South Melbourne!
Kennedy, or Kanga as he was known, continued as captain after that temporary opportunity and won the Hawks best and fairest award some four times when he played.  He took over as coach in 1960, and lo and behold, coached the team to its first premiership in 1961.  He coached the Hawks to two other premiership wins (out of five appearances) – in 1971 and 1976.  I watched the 1971 game on the black and white television in the family home in Canberra, but was lucky enough to attend the 1976 win at the 'G.
Kanga was a chalkie and put his coaching role aside in 1963 to become principal of the technical college at Stawell.  I suspect that the decision was more about providing financial support for his young family.  He returned in 1967.
Another of my favourite Hawthorn coaches is Allan Jeans who was also a police officer.  He coached the Hawks to three premierships in the glory days known as the 1980s (1983, 1986 and 1989).  Interestingly, and while coach of Hawthorn, he was intimately involved with the security arrangements for the 1981 Commonwealth Heads of Government Meeting (CHOGM).  Luckily for Jeans, the Hawks weren't in the 1981 Grand Final (they finished sixth) which was held just four days before CHOGM started.  He had many VIPs to look after including Margaret Thatcher from the UK and 'Piggy' Muldoon from NZ.  For the record, the Blues beat the Pies by 20 points in front of a crowd of nearly 113,000.
Allan Jeans also had to take long service leave from his 'day job' to coach the Hawks to the 1986 Premiership.  Bec did the same thing when coaching Adelaide to its first premiership in 2017.  I would expect the reasons were exactly the same:  the pay from coaching was miniscule and both coaches needed to pay the rent and put food on the table.
For those who don't know, Bec is a superintendent in the Australian Federal Police.  So, her day job is ensuring that the community is safe.
Now that we have all 18 clubs with an AFLW licence, I'm hoping that some consistency and equity will hit the competition.  We will know we've made it when we stop talking about women being coaches, but I honestly think that some teams aren't even trying to give women a fair go in the coaching stakes.  There are good and noble men who are coaches in the AFLW and I'm not criticising them per se.  But there are plenty of good and well qualified women who could also be coaches but are systematically overlooked for reasons that escape me.
I'm looking for the women – coaches and players – to receive the same awards as the blokes too.  Yes, I know that the women's competition is shorter but I don't see why the women can't be paid pro-rata with men.
Well done to Hawthorn for leading from the front and well done to Bec.  I'm looking forward to having a team in the AFLW!  And more women in leadership roles in the AFLW would be nice too.  Having equal numbers of female commentators is probably a bridge too far, isn't it?
The Tigers (Covid) Almanac 2020 will be published in 2021. It will have all the usual features – a game by game account of the Tigers season – and will also include some of the best Almanac writing from the Covid winter.  Pre-order HERE
To return to our Footy Almanac home page click HERE.
Our writers are independent contributors. The opinions expressed in their articles are their own. They are not the views, nor do they reflect the views, of Malarkey Publications.
Do you enjoy the Almanac concept?
And want to ensure it continues in its current form, and better? To help things keep ticking over please consider making your own contribution.
Become an Almanac (annual) member – CLICK HERE.
One-off financial contribution – CLICK HERE.
Regular financial contribution (monthly EFT) – CLICK HERE.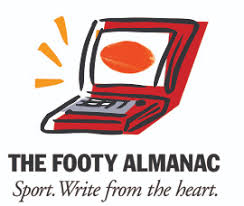 One of the first females to be admitted to membership of the G. Thank you Mr Cain. Nicknamed The Hyphen by Alamanac Editor, despite the fact I don't have one.