Grand Final – Richmond v Geelong: The Aftermath
A week out from the 2020 AFL Grand Final and a calm starts to settle over me. I've had a feeling, since 28th August, that the Tigers are about to win another flag.
It's the day after Richmond disposed of West Coast in a classic game of footy. The Tiges' second half pressure was back. I've watched carefully for four years this surge mentality. You can see it, you can smell it, sense it, if they are within a sniff of an opposition at half time you just know the opposition will be in for a fight to stay with the Tiges.
Before the 2017 Grand Final I was calm all week leading into the game. Throughout the game I sat watching as the intensity grew, the pressure, the tackling, the run, the scoreboard ticking over nicely. Serenity at half time as the feeling descended that the long wait was over. That my youngest son was about to see them win a flag. The second half was a murder of Crows!
Friday 11th September, 2020 it's Geelong v Richmond at Metricon on the Gold Coast. I twig that this could be a preview of things to come. Geelong and Port Adelaide have been very good throughout this strange season and desperately want to make it the last dance. Both Geelong & Richmond have good players missing, but the Tiges wipe the smile off the face of their opponents and win comfortably by 26 points. But for inaccurate kicking it could have been a 10 goal or more thrashing. Instinctively I feel we have Geelong's measure again this season.
We know the way games fall during this finals series. Grand Final week in Melbourne is more than just a little different and later of course with daylight saving having commenced. Due to the Covid lockdown lots of people are out walking throughout the whole day. It's exciting for us Tigers in my neighbourhood and as the week progresses so to do the decorations.
I start on Sunday by hanging seven scarves across the front verandah, old ones remaining from memberships long forgotten, two B&Y ones, keffiyeh, bought in the souks of Cairo and Amman. I do not though put my prized B&Y Weddings, Parties, Anything, scarf out. That one is unique. I know there are others out there, but that one has travelled everywhere with me, to every game I've attended since I bought it back, I think in 1993. Hundreds of games, thousands of kilometres, from the MCG to Darwin, Perth to Cairns. It's been to Japan, Machu Picchu, Canada, India, South Africa, the Arab world and Europe. Weddings Parties, Funerals…everywhere! If memory serves me correctly, they were made available to coincide with the release of Monday's Experts, one of WPA's more commercially successful songs. I can't risk it getting shredded by the rose bushes in the garden or worse, stolen.
Monday I get a ladder out securely attach three old Richmond jumpers to the facia of my house. On coat-hangers, affixed with nails to stop them blowing around through the shoulders and along the bottom. They looked a treat.
They generated much interest with lots of people stopping to have a chat and take photos, selfies, neighbours were bringing friends around, drivers were stopping to take hurried photos, others would toot as they passed by. The community spirit abounded, it was great fun and of course generated the equal and opposite reaction for the few Geelong supporters around the place.
And so, onto the Grand Final of 2020. All week I'm quietly confident, reassured, certain that if we are 'in touch' at half time we will win the flag. Game day and it would have been a long wait but for the fact I can play a round of golf, a 10:25 timeslot should take me through til 1:30 or so. A torrential downpour from about 3am until 8am causes the course to be closed and early tee times cancelled. Our slot is pushed back to an 11:15 hit-off, so it's perfect for filling in the day.
Game time and I'm a little twitchy. The speed and pressure is immense in the opening minutes then carnage. Vlastuin is felled by a head high hit and there is not even a free kick? Ablett goes down seconds later, clutching his shoulder and the game stops as Vlastuin is stretchered off the ground. It looks like both teams will be down to 21 men, but about 10 minutes later Ablett returns.
Pretty much all square at quarter time. The second term seems to be all one way traffic, but the Catsmen can't put us away and I sense we are in their heads. Perception. The last few minutes of the quarter it starts. Pressure. Dusty goals. We are in their heads!
It's a longer break than usual which enables the Richmond coaches to sort a few things out. It also enables me to take my dog, Dusty, for  his half time constitutional and listen to the radio commentary. It sounds ominous and there are dire warnings this way and that, IF Geelong can maintain the pressure, IF Richmond get the first gaol.
One fellow though nails it and says 'Geelong has thrown their best punch and Richmond hasn't blinked.' He goes on to say Richmond grind teams down and that's what we are about to see. I nod in agreement. I've witnessed it first hand over and over for four years. My expectation was we would win by 4-5 goals.
Dog walked, back in front of the telly ready to go with two minutes to start the half. Away we go. The Tiges have made a few changes, most notably they up the ante. The speed goes up two notches, they are covering the ground, two fairly quick goals and it's game on. The Catsmen wonder: 'what the hell….'
We know the result, I can finally let out a yelp when Dusty kicks his third and Geelong are bowed and broken. How sweet it is in this most difficult of seasons. Back to back.
Sunday and Monday are wonderful days with more people coming by wanting to have a chat about the game, and more photos are taken. I catch up with the Tiger supporters that live nearby.
I get up early Tuesday and step out to take Dusty for a long morning walk and blow me down if all my Richmond decorations have been stolen in the night. The aftermath. A premeditated act. A real low blow, but hell, I'm pragmatic and philosophical. Frankly who would want that stuff? It's not like it's worth lots of money if indeed one could sell it at all. Plus no one has been hurt, no damage to the house or garden and who knows, maybe the person who took it has a good reason other than trying to sell it and that they get some use and enjoyment from it.
At the end of the day Richmond are  premiers and they can't take away this:
The Tigers (Covid) Almanac 2020 will be published in the coming weeks. It will have all the usual features – a game by game account of the Tigers season – and will also include some of the best Almanac writing from the Covid winter.  Pre-order right now HERE
To return to our Footy Almanac home page click HERE.
Our writers are independent contributors. The opinions expressed in their articles are their own. They are not the views, nor do they reflect the views, of Malarkey Publications.
Do you enjoy the Almanac concept?
And want to ensure it continues in its current form, and better? To help things keep ticking over please consider making your own contribution.
Become an Almanac (annual) member – CLICK HERE.
One-off financial contribution – CLICK HERE.
Regular financial contribution (monthly EFT) – CLICK HERE.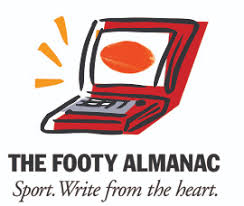 Left footer, golfer, runner, well travelled, sometime writer, volunteer, live arts/music lover, self employed, school drop out and Tiger tragic.