Geelong's Record Run – Round 4, 1953: Geelong v Essendon – cool Cats curtail Coleman
Geelong's Record Run
(17/26)
Cool Cats curtail Coleman
Round 4                    
Geelong v Essendon
Saturday 16th May 1953
Kardinia Park
Featuring Bruce Murray
The round four encounter between Geelong and Essendon provided an opportunity for the Corio Bay boys to prove that they could beat both Essendon and John Coleman. In 1952, Coleman booted 13 goals in the Bombers' Round Eight demolition of Geelong in the "propaganda" match staged in Brisbane. Essendon then held Geelong to a draw in round eleven, giving them belief that they were the only team that had the answer to Geelong's game and would have beaten them had they made the '52 finals. Much would be revealed about the hopes and claims of both teams by 5pm that Saturday.
The trip to Kardinia Park to witness the clash between John Coleman and Bruce Morrison would be well worth the effort. Coleman's form was stellar, but Morrison was a highly regarded, close-checking fullback who had been able to limit the Essendon star to no more than five goals in any previous match.
In its round four previews the Football Record (16 May 1953) prophetically warned "No, Geelong supporters, your team must not regard this year's premiership as a foregone conclusion…"
Geelong made three forced changes to the team that defeated Collingwood in round three. Geoff Williams, Doug Palmer and Bill McMaster were out of the side with injuries, replaced by Ivan Baumgartner, Leo Turner and Harry Herbert respectively. Essendon selectors chose to bring Jack Jones back into the Bombers' line-up on the half forward flank.
The teams
Geelong
| | | | |
| --- | --- | --- | --- |
| B. | B. Smith | Morrison | Renfrey |
| HB. | Middlemiss | Hyde | Baumgartner |
| C. | Worner | Turner | Fulton |
| HF. | Rayson | Flanagan | Davis |
| F. | Swarbrick | Goninon | Pianto |
| Foll. | Sharp | Herbert | |
| Rov. | Trezise | | |
| Res. | Reed | Murray | |
Essendon
| | | | |
| --- | --- | --- | --- |
| B. | Morris | McConnell |  Gilmore |
| HB. | McDonald | Knowles | Gardiner |
| C. | O'Sullivan | Clarke | Sewell |
| HF. | Jones | Gallagher | Mann |
| F. | Booth | Coleman | Leek |
| Foll. | Gill | Bigelow | |
| Rov. | Hutchison | | |
| Res. | Towner | Carstairs | |
Essendon failed to crack Geelong at their home fortress but gave their supporters optimism for a rematch in September. It was coolness in defence that set up victory for the Cats. Their half back line provided a constant springboard for attacking moves and totally frustrated the Essendon half forwards. Working in combination, Bruce Morrison and Bernie Smith had the answers to the threat posed by John Coleman, who was limited to only four goals.
All eyes on the ball: John Coleman, Bruce Morrison and Norm Sharp
(Sporting Globe 20 May 1953)
Essendon's followers, Leek and Gill, dominated throughout the game and skipper Bill Hutchison gave good support around the packs. Jack Clarke was well on top in the centre, but the Bombers' forward moves were repeatedly thwarted by Geelong. At the other end of the ground, the Geelong forwards made good use of quick handballs and short passes to pierce Essendon's defence. George Goninon benefitted from good delivery kicking six goals and 'Nipper' Trezise chimed in with three while resting in the forward pocket.
The 14 point margin was certainly not a clear-cut statement by Geelong, but sufficient to show that their defenders could curtail Coleman's match-winning brilliance. Essendon's reliance on its star full forward was exposed and gave coach Dick Reynolds work to do in opening other avenues to goal.
Scores
Geelong         4.1       8.2       9.4       12.7 (79)
Essendon      3.1       5.6       8.9       9.11 (65)
Goals
Geelong – Goninon 6, Trezise 3, Flanagan, Herbert, Davis
Essendon: – Coleman 4, Booth 2, Mann, Leek, Gill
Best
Geelong – B. Smith, Flanagan, Trezise, Goninon, Hyde, Sharp
Essendon: – Hutchison, Sewell, Clarke, O'Sullivan, Gill, Leek
Umpire          Barbour                      Attendance   35 000
Reserves       Essendon 9.4 (58) defeated Geelong 4.8 (32)
Around the grounds
At Princes Park Collingwood defeated Carlton by eight points in front of 37 500 fans.
At Brunswick Street Fitzroy defeated North Melbourne by 11 points.
At the MCG Footscray upstaged the home side Melbourne to win by 45 points.
At Glenferrie Oval South Melbourne won by 10 points over Hawthorn.
At the Junction Oval St. Kilda enjoyed an encouraging 18 point win over Richmond.
Next week: Richmond v Geelong at Punt Road
Next week's featured Geelong player: George Goninon  
For the opposition: Ron Branton (Richmond)
The League ladder
| | | |
| --- | --- | --- |
| Round 4 | Pts | % |
| GEELONG | 20 | 163.3 |
| FOOTSCRAY | 16 | 157.5 |
| NORTH MELBOURNE | 16 | 123.7 |
| COLLINGWOOD | 12 | 112.3 |
| Carlton | 12 | 109.0 |
| Fitzroy | 12 | 85.3 |
| Essendon | 8 | 113.6 |
| South Melbourne | 8 | 91.2 |
| St. Kilda | 8 | 83.0 |
| Richmond | 4 | 83.4 |
| Melbourne | 4 | 80.4 |
| Hawthorn | 0 | 48.1 |
Leading goal kickers
| | | | |
| --- | --- | --- | --- |
| John Coleman | Ess | 4 | 35 |
| Joe Hickey | Fitz | 8 | 22 |
| George Goninon | Gee | 6 | 17 |
| Neil Trezise | Gee | 3 | 17 |
| Jock Spencer | Carl | 5 | 13 |
This week's featured Geelong player: Bruce Murray from Camperdown
Bruce Murray (jumper number 20) was a follower recruited from Camperdown in the Hampden League. He played just eight games for Geelong before transferring to St. Kilda in 1956. Five of those appearances were among Geelong's record streak of 26 undefeated games. Murray played his first full game with Geelong in round five 1953 against Richmond, as second ruckman in combination with his former Camperdown teammate Norm Sharp.
For the opposition: Brian Gilmore (Essendon)
Ruckman Brian Gilmore was recruited from Koondrook, a small town on the Victorian banks of the Murray River in the state's north. He broke into the Essendon seniors in 1950 and played eleven games for the Bombers over four seasons. Early in the 1954 season he tried his luck at Richmond, playing a few games with the seconds. He moved to Kyneton (Bendigo League) for the remainder of 1954 before giving VFL football another try in 1955 at St. Kilda. After ten games with the Saints, Gilmore returned to the Bendigo League in 1957 where he joined Echuca. Ironically, his VFL career ended after a four week suspension for striking Carlton's 'Nobby O'Brien', who was a former Echuca star.
Brian Gilmore was also a talented professional runner who competed in the Stawell Gift and the Bendigo Thousand.
In an interesting aside to this week's episode, in 1953 there were two Bruce Murray's and two Brian Gilmore's playing VFL football. The other Bruce Murray played for South Melbourne, while the other Brian Gilmore played for Footscray.
Country footy connections
Bruce Murray's former Hampden League club Camperdown lost by eight points to Mortlake. In the Cohuna League, Brian Gilmore's original club Koondrook defeated Leitchville by 21 points. Meanwhile in the Bendigo League, one of his future clubs, Kyneton, were outpointed by Rochester. Gilmore's second Bendigo League club, Echuca, enjoyed a big win over Eaglehawk.
VFA clubs Port Melbourne and Oakleigh played a "propaganda" match, for competition points, in Wagga, NSW that weekend in 1953. Nearly 4000 spectators packed Bolton Park to see the match. Port won by 18 points and consolidated their position in 2nd place on the VFA ladder.
Meanwhile …
Doug Ring firing in England
In England, the Australian cricket team defeated Cambridge University in a two-day match with Arthur Morris (79) and Alan Davidson (71) among the runs. Leg spinner Doug Ring put in another fine performance taking nine wickets for the match. The next outing for the Australians was an important game at Lords against an MCC XI. Rain washed out the first day and when play finally got under way after a rest day the MCC were routed for 80. Doug Ring and Ray Lindwall shared the bowling honours against the near-Test strength MCC team. Australia replied with 179 and after the MCC posted 196 in their second innings, the match petered out to a draw with Australia 2/13 batting a second time.
Some Almanackers will remember Doug Ring as the cricket presenter on Channel Seven's World of Sport in the 1960s and 70s.
In Nepal, the British expedition to climb Mt. Everest was held up by strong winds as the party neared camp 6 on the Lhotse Face.
UFO sightings in the Melbourne area made the news that week with reports of "strange objects" in the sky over Essendon airport.
Coincidentally, the top single in Australia that week was "Don't let the stars get in your eyes" recorded by Perry Como.
The Tigers (Covid) Almanac 2020 will be published in 2021. It will have all the usual features – a game by game account of the Tigers season – and will also include some of the best Almanac writing from the Covid winter.  Pre-order HERE
To return to our Footy Almanac home page click HERE.
Our writers are independent contributors. The opinions expressed in their articles are their own. They are not the views, nor do they reflect the views, of Malarkey Publications.
Do you enjoy the Almanac concept?
And want to ensure it continues in its current form, and better? To help things keep ticking over please consider making your own contribution.
Become an Almanac (annual) member – CLICK HERE.
One-off financial contribution – CLICK HERE.
Regular financial contribution (monthly EFT) – CLICK HERE.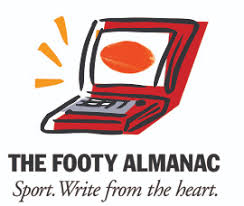 is a lifetime Geelong supporter. Hailing from the Riverina, he is now entrenched on the NSW South Coast. His passion for footy was ignited by attending Ovens and Murray League matches in the 1960's with his father. After years of watching, playing and coaching, now it is time for some serious writing about his favourite subjects… footy, especially country footy, and cricket.