When Sampi soared into the spheres
and took the hanger of the year,
they said no man had travelled higher
than the West Australian flyer.
   And to this day
   it's fair to say
that none have climbed as high as Sampi…
that is, of course, except for Rampe.
For more of Damian's verse, CLICK HERE:
Do you really enjoy the Almanac concept?
And want to ensure it continues in its current form, and better? To help keep things ticking over please consider making your own contribution.
Become an Almanac (annual) member – CLICK HERE
One off financial contribution – CLICK HERE
Regular financial contribution (monthly EFT) – CLICK HERE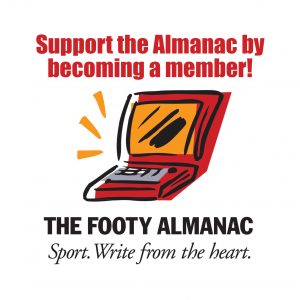 Damian Balassone is a delusional Collingwood supporter who writes poetry and fiction. He is the author of 'Strange Game in a Strange Land'.