Footy Language: Talking Clearly, Clearly Classified
How is it that the word 'clearly' has infiltrated the footy landscape?  Commentators, analysts, journalists and even coaches have especially taken to the adverb.  The use of the word in a sentence implies a sense of authority.  Once the word is inserted into a sentence, it seems that the assertion of the sentence is very rarely contested by fellow commentators.
In particular,  the word is showcased on Monday nights, when the experts gather to discuss the weekend's results on shows such as Talking Footy and Footy Classified.
Of course King Clearly is none other than Wayne Carey who gets the show rolling at the 2:20 minute mark of Talking Footy when discussing Brad Scott's exit:
"But clearly there was some other things going on behind the scenes."
He follows this up at 2:51:
"I get the feeling that this wasn't clearly meant to happen right now."
Mick Warner catches the disease at 6:37:
"But it's clearly not the way that they wanted Brad Scott to exit."
But then the King reclaims the word at the 9 minute mark with two references when answering a question from Tim Watson about Brad Scott's failure to attend a North Melbourne function for past greats:
"What I said prior, I clearly have upset….clearly if he didn't go to that function that's upset        some."
He tops this off with a hat-trick of clearly reference at the 13 minute mark:
"I think clearly…I think clearly and just once again reading between the lines….but clearly          the Kangaroos want to go in one direction; Brad wanted to go in another direction."
We then have to sit through commercials, news breaking segments and a Paddy McCartin interview, before the King has a chance to utter the word again (twice) at about the 31-minute mark.
"Clearly there's players who've gone out there and done a lot more damage after having them      (injections), clearly that wasn't a great choice.  I think doctors are way better now."
We're probably being a bit harsh on the King.  Luke Darcy and Tom Browne are known to throw the word around as well to make their sentences sound more emphatic.  But if you want to have an orgy of the word from a variety of sources then Footy Classified is the show for you.  I'm determined to stay up and watch it tonight, purely for the purposes of this very tedious study i.e. examining the overuse of the word clearly.  For some reason the show isn't scheduled until half past ten, by which time I can barely keep my eyes open.  To make matters worse the show doesn't actually start until about quarter to eleven, thanks to the Aretha Franklin tribute.  But my patience is rewarded, as the embattled Chris Judd utters the word early on in the show re Daisy Thomas:
"Needless to say, drinking, full-stop, in public, two days before a game when you're 1-9, fails       the stupidity test, clearly."
Unfortunately some time over the next half hour or so, I'm out like a light and I miss the rest of this show, thus impacting the results of this crucial study.  But thank goodness for google – on Tuesday morning I dig a bit deeper.  I am absolutely sure that Caroline Wilson, Matthew Lloyd, Craig Hutchison, and sometime panellist Damian Barrett, are also heavily reliant on this word when making their irrefutable statements about football matters.  I am not disappointed:
Craig Hutchison re his Footy Show demise in 2017:
"Clearly it's a ratings game, there's a scoreboard every day. Some people don't like you, some       do."
"So they are the things that if i had my time again – which I clearly won't – that I would do             differently."
Craig Hutchison re sacking of David Schwarz:
"I feel for him and he's clearly been a highly popular person at the station for         a long time."
Damian Barret re recent attack from Luke Beveridge
"It's wrong, it's unfortunate and it's sad, I think, that Luke Beveridge needs to use Tom Boyd      moments to leverage the hatred that he has for me, clearly."
Damian Barret re Barry Hall's Triple M mishap:
"Clearly the conversation about Erinn and [Leigh Montagna] got to a point where it needed             straightening up."
"Clearly I didn't straighten it up successfully."
If Wayne Carey is King Clearly, then the Queen is definitely Caroline Wilson.  I wonder if they discussed the importance of the word back in 2007 when they were both co-panellist of Footy Classified.  Caro has a great platform to exhibit the world on Footy Classified, 3AW, Offsiders and of course her column in The Age.
Caroline Wilson on her favourite person:
"James Hird is clearly not going to go back and coach Essendon."
Caroline Wilson on Eddie McGuire's slide comments:
"He was clearly very unhappy with the column. I think he feels that I burnt him,"
Caroline Wilson on the Adam Goodes documentary:
"Clearly the AFL is hoping to develop a unified response to Goodes revisited."
Caroline Wilson on a twilight grand final:
"Clearly McLachlan likes the idea of the twilight or night-time start or he would never have         used the word "inevitable" in 2017."
But of course, it's not just journalists and ex-players who rely on the word.  There are three coaches in particular who employ the word regularly.  Sometimes I wonder if Ross Lyon was one of the innovators of the word back in the late noughties.
Ross Lyon on those harassment allegations:
"Clearly it is a matter that has………been resolved and investigated… no sanction, and it was      resolved a long time ago.
"(It's been) an incredibly challenging time. As challenging as anything I've experienced in my      life, clearly."
Nathan Buckley on some of his players:
"Brayden [Sier] was clearly in our best mix towards the end of year and played some really          good footy with lower game time."
"He [Moore] clearly would've been frustrated with the way last year went for him and the             disappointment of not being able to put his hand up at the pointy end."
Chris Scott on losing the Elimination Final:
"They were clearly the better team in virtually all facets of the game."
Chris Scott on re-signing:
"It's a commitment to the path we're on as a group and it's clearly not just me, it's our      coaching group as well."
I'm sure there's many others who use the word, but to my ears those listed above are the main offenders.  I think the lesson to be learnt here is obvious – if you can get this word into your vocabulary you will go places.
For more from Damian, CLICK HERE:
Our writers are independent contributors. The opinions expressed in their articles are their own. They are not the views, nor do they reflect the views, of Malarkey Publications.
Do you really enjoy the Almanac concept?
And want to ensure it continues in its current form, and better? To help keep things ticking over please consider making your own contribution.
Become an Almanac (annual) member – CLICK HERE
One off financial contribution – CLICK HERE
Regular financial contribution (monthly EFT) – CLICK HERE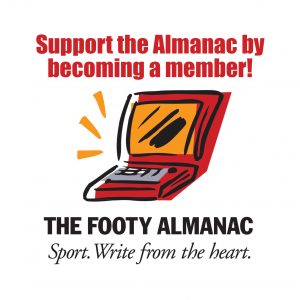 Damian Balassone is a delusional Collingwood supporter who writes poetry and fiction. He is the author of 'Strange Game in a Strange Land'.