Footy fans: Yoshi in a social media limelight
While riding a bike for exercise in March last year, I saw a bloke wearing St Kilda beanie who was running. I did not hesitate to talk to him. Yelled out, "St Kilda!"
He must have been surprised and confused, but we have talked eventually and took a selfie.
That could be normal for any Sainter and me. The story developed.
In the Australian spring/Japanese autumn, bloke's brother found my comment on St Kilda Football Club's Facebook post and he tagged him.
Then we reconnected through Facebook. It had happened with other footy fans in the past.
Recently St Kilda Football Club has launched the Official St Kilda Football Supporters Page on Facebook.
Giles posted the story how we met in Kyoto with the photo he took, on the supporters page on Monday.
I was so surprised to find out many people sent me friend requests at lunch break on the day.
It was just the beginning.
On Tuesday morning, the AFL club created a post with the picture and the column with Giles' words on the club's Facebook page.
Comments were made and more and more people asked me to be their Facebook friends.
Even current player's family member has contacted me.
And Osaka Dingoes shared the Facebook post in the club's page.
I have been overwhelmed in a good reason for the last 48 hours. I am a famous person amongst St Kilda Football Club community.
Indeed I become closer to the mighty Saints.
To read more of Yoshi's contributions, CLICK HERE:
Do you really enjoy the Almanac concept?
And want to ensure it continues in its current form, and better? To help keep things ticking over please consider making your own contribution.
Become an Almanac (annual) member – CLICK HERE
One off financial contribution – CLICK HERE
Regular financial contribution (monthly EFT) – CLICK HERE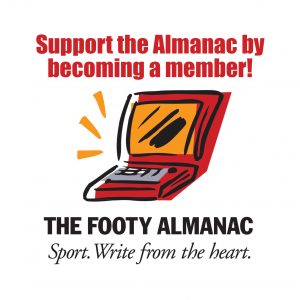 Love, passion and pride are seen on the footy that is the biggest part of my life. 1. St Kilda Club member: I am a passionate and crazy Sainter. Just hope we will win the second flag soon, especially after Dogs and Tigers having ended long premiership draughts. 2. The Osaka Dingoes Player and Public Relations Officer: Player number 44 that I chose to honour Stephen Milne with my wish being like a small forward like him. Lenny Hayes' hardworking attitudes are adopted on my trainings and practices. Nick Riewoldt's great plays are in my player audiobook too. 3. Writing: Here on the Almanac and also on the World Footy News. My skills utilise on great footy websites.