Finals Week 1 – Sydney v GWS: Devastated but Oh So Proud!
Devastation is a powerful word, with very specific connotations. It is what is happening in Afghanistan at the moment. It is rife in many other strife–torn regions of the world, and it is also a state of mind being felt by countless people whose loved ones have died.
The root of the word Devastation is the Latin vastare which means to lay waste, which comes from vastus meaning desolate or empty.
Can I therefore say that at this very minute, I feel devastated? Devastated at the result of a football game? I shouldn't even be thinking of such a word in these circumstances, but that is how I feel!
At half time I needed to get out of the house, breathe the fresh air, see some nature, and rid myself of thoughts of my team being behind by four goals, after a very poor showing in the second quarter. Marshall and I wandered down to Albert Park Lake, a 10 minute walk away. The sun was shining, the air a little cool, and the lake was calm. People strolled along the lake's edge, watching the swans and ducks, chatting away behind their masks, and all completely oblivious to my thoughts about a game of footy. I took a couple of photos of swans in the lake and messaged them to my Swans' sisters and brother "Would rather watch these guys than those on the tele at the moment!"
An hour later we arrived back home. Switched back to the game from the third quarter, hoping maybe, just maybe, we could come back. Five goals down mid–way through the quarter, we clawed back to a deficit of 17 points at the end of the term.
And then that final quarter.
It all became a bit too much for me, and at times I resorted to the fast–forwarding habit when it got really close. With 17 forward entries to their 7 for the term (65 to 45 for the match), we simply did not use that advantage (especially in the first and last quarters). With an unbelievable seven behinds (including three posters) in the final 30 minutes, our two goals to their one simply wasn't enough in the end. The game was there for us to grab, but sadly we blew our chances.
Throwing the remote on the ground, I turned the tele off, and the tears formed. Tears for myself. Tears for the players (especially those who missed the goals in the final quarter). Tears for the coaches, the staff and the Club. Tears for what we had achieved all year, all coming down to 1 point! Tears, just tears!
Then, about ten minutes after having watched the entire game, Marshall (his memory–affected dementia really shining through) asked "What is the matter?" "The football, the football!!" I moaned loudly. "Why, what happened? "We lost by a f…..point, a f….point, and it was an elimination final!" I screamed. It didn't seem to register, and as I spent the next half an hour or so just wandering around the house aimlessly, repeating a variety of profanities, he just sat quietly, waiting for his dinner.
I had to share my thoughts with someone, so phoned my brother and two sisters. My brother was also devastated. "I haven't feel as affected by a finals loss like this since the 2006 Grand Final" was all he could say. His parting words were "Well, we should start to feel OK in a few days, and without doubt, footy is more than just a game!"
An hour later, having no interest in eating, I sat myself in front of the box and watched some of the paralympians perform. They certainly helped get things into perspective a little, then onto the Melbourne Brisbane game, hoping that would distract me. Mostly I saw flickering images on the screen as I found it impossible to really concentrate, and my mind kept returning to our game and those missed opportunities in the final minutes.
Several hours have now passed and it's bedtime. Hopefully I'll sleep. If I don't, then I'll make sure I concentrate on the many positives my team has achieved this year and how proud all Swans people are of those achievements. We have exceeded all expectations. We have remained in the top eight throughout the season. We have beaten almost all of the final eight teams at some point. We have played with dare and flare most of the year, to say nothing of the talent shown. We have blooded debutants (10 of them in today's game) who will become the nucleus of a successful team for the future, and that is indeed something all Bloods fans can look forward to.
And there are personal positives to be taken from today's loss. The team and staff will now be able to return home to their loved ones, having been on the road for months, and we, the supporters, can relax and be stress–free for the rest of the season. And that's saying something!
In between sleep and wakening, I might also remind myself of the swans in the lake this afternoon, two in particular, courting each other. It was a beautiful sight that, for several minutes, had me transfixed. Their heart–shaped embrace will surely help eliminate any devastating thoughts that I might let creep back into my consciousness during the night. Instead, I will just see that heart, to remind myself of my love for the red and the white.
Go Bloods!
PS I hope Geelong beats the daylights out of the Giants next week!
SYDNEY                                            3.2   5.4   8.6     10.13 (73)
GREATER WESTERN SYDNEY         3.2   9.3   11.7   11.8 (74)
GOALS
Sydney: Heeney 4, Franklin 3, Papley 2, Bell
Greater Western Sydney: Greene 3, Sproule 2, Himmelberg 2, Hogan 2, Taranto, Lloyd
BEST
Sydney: Heeney, Parker, Franklin, Dawson, Papley, Hewett, Hickey
Greater Western Sydney: Greene, Taranto, Kelly, Perryman, Mumford, Hogan, Sproule, Taylor
INJURIES
Sydney: McLean (leg)
Greater Western Sydney: Cumming (ankle)
SUBSTITUTES
Sydney: Robbie Fox (replaced Hayden McLean)
Greater Western Sydney: Tanner Bruhn (replaced Isaac Cumming)
Crowd: 8,635 at University of Tasmania Stadium
The Tigers (Covid) Almanac 2020 will be published in 2021. It will have all the usual features – a game by game account of the Tigers season – and will also include some of the best Almanac writing from the Covid winter.  Pre-order HERE
To return to our Footy Almanac home page click HERE.
Our writers are independent contributors. The opinions expressed in their articles are their own. They are not the views, nor do they reflect the views, of Malarkey Publications.
Do you enjoy the Almanac concept?
And want to ensure it continues in its current form, and better? To help things keep ticking over please consider making your own contribution.
Become an Almanac (annual) member – CLICK HERE.
One-off financial contribution – CLICK HERE.
Regular financial contribution (monthly EFT) – CLICK HERE.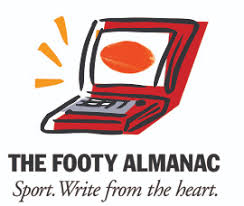 A Bloods tragic since first game at Lake Oval in 1948. Moved interstate to Sydney to be closer to beloved Swans in 1998. My book "My Lifelong Love Affair with the Swans" was launched by the Swans at their headquarters at the SCG in August 2016. www.myswansloveaffair.com