Christmas
On twenty-first of December, Paul Kelly's making gravy day, by coincidence, I speak with Rommy, a former client serving time in country Victoria for trafficking and firearms offences.
He's going ok, he says. They're taking care of him, and things are looking positive for early parole in the new year. He sounds good, however medicated to the tips of his ears. Bit of irony there.
In the background I can hear a TV and doors slamming and a commanding voice over the loud speaker.
On Christmas Day, his parents are bringing Manny, his little boy, for a visit. When he tells me this, the excitement in his voice is unadulterated and real. I picture him smiling on the other end. Jenny, Manny's mum, is out of rehab and has weekend access.
I met Rommy's family when he was first sent away and we were clearing out his property. Myself and Manny, a beautiful looking boy of Aussie and South-east Asian mix, kicked a semi-inflated plastic soccer ball around the carport, while his grandparents scrubbed bedroom walls I had told them not to worry about as we were having professional cleaners through before new tenants would take over.
During a break, Manny's grandfather, a jovial, optimistic man, tells me of having to leave their homeland because of poverty and corruption. Sustained by their strong faith, they pray constantly for their son and ask themselves if coming to this country was worth it. They haven't written Rommy off, but have told him their focus is now on Manny. He laughs and says Rommy has put on weight since being inside.
The remainder of my shift is spent delivering children's gifts and food parcels and nailing down client safety plans. Mid-afternoon, I clean my desk, turn off the computer, hug colleagues and head off on a month's break.
Early evening, Eloise and I drive through rain and traffic to my sister's house where a family gathering is held in her honour. Grandparents, cousins and aunts make a fuss and load her up with presents. After dinner, the kids play hide and seek.
When I drop her home, Linda has suitcases and Christmas presents piled in the hallway for the drive to Canberra. I tuck Eloise in and she reminds me to not forget to visit and feed Fifi, the rabbit, and to place a rock over the hole she's digging in the floor of her cage..
This is going to be our first Christmas apart, something I knew months ago, but had stuffed in a compartment at the back of my mind to worry about later. The full weight lands as her little blue eyes peer up at me. A wave of shame I can't deal with sweeps through, so I kiss her on the head, hold my cheek to hers, tell her I love her and retreat out the door.
I sleep poorly, as if being shaken by the shoulders every hour. Saturday morning, I tip percolated coffee down my throat, put on loads of washing and negotiate the unaccustomed extra hours I have to myself.
The silence of my two bedroom man cave, usually a source of restoration and protection, is now threatening. Grief and loneliness – two emotions I have rarely experienced – sit on my chest and shoulders and seep under my skin, into my bones. The sound of passing traffic, usually barely perceptible, is amplified. The walls close in.
A family member's words are on replay in my head: 'This doesn't happen to us'. He didn't mean anything by it but they hit like a knife to the chest.
Linda calls and says she can't find the cord for the DVD player. It's going to be a long day on the Hume.
I fight my natural urge to hide away and decide the best way to deal with this is by getting out of the house. I sit in the shade for a while and watch local cricket, do a bit of last minute shopping at Northland, and interrupt a mate's afternoon for a quick drink.
Eloise phones early evening to say they've arrived. Her cousins are calling her so she doesn't have time to talk.
My little niece plays an angel in the Nativity Play on Christmas Eve. Afterwards, we eat and watch Carols by Candlelight.
Christmas Day goes well. The Cleary Clan gather in Oakleigh and I'm carried through the day by the swirl of people. A member of the extended family in a similar situation to mine reminds me Eloise gets to enjoy two Christmases and is surrounded by people who love her. That's all that matters.
Before bed, Eloise tells me she has had an ok Christmas, but her cousins scored better from Santa. She's already placed orders for her 7th birthday in April. Everyone's heading to Manuka Pools tomorrow.
On Boxing Day, under a perfect blue bowl sky, during the Welcome to Country, I close my eyes and the sun settles gently on my face. I exhale with relief; Christmas has come and gone, as it always does.
New Years Eve in Bannockburn, at Aunty Helen's 70th, and her and Uncle Rob's 50th wedding anniversary, Eloise bashes around the backyard with her cousins. Myself and the East boys laugh about all the trouble we used to get into as kids over Christmas time, each blaming the other.
Life goes on.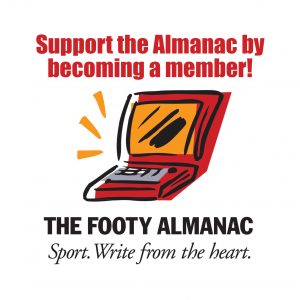 Read about Almanac membership HERE.