It is an unseasonably warm day for rugby.  28 degrees in Adelaide on May 1st.  A good day for we spectators in the shade, not so much for the players.
Old Collegians are playing Adelaide University.  There is no denying that Uni's all black strip is a good-looking kit.  Simple yet effective.
Adelaide University is the team of our boy, the second-year politics student.  He has no interest in sport, US politics is more his game.  He had a busy 2020 with the US election and aftermath and is already looking towards the 2022 mid-term elections next November.  He can identify past US election results by their red and blue electoral college maps.  The boy has better things to do on a Saturday than watch rugby.  Plus, there is the Tasmanian election coverage for him to follow.
All grades are at home today.  I find myself seated on the outer edges of the women's team.  They were supposed to be playing Woodville at 5pm, but their opponents had to forfeit late in the week due to a lack of numbers.  Bit of a shame.  They seem like nice girls.  Love their rugby.  A few of us have a shared interest in inkwork.  That said, I probably don't need to find myself seated again on the outer edges of the women's team anytime soon.
The club is running their standard BBQ this week.  The wife ventures over to check out the offerings.  She returns with the obligatory sausages in bread and a box of hot chips.  The sausages hit the spot.  There are no complaints.  The hot chips are satisfactory, but it is hard to get a real gauge on their quality.  Most people put sauce on their chips, the wife prefers to have some chips with her sauce.
Old Collegians are under-manned on paper.  Not that it is immediately apparent to me as I am still to learn the names.  Looking at the faces in premier grade, they appear under-manned.  Most obvious is the tighthead prop in premier grade.  He limped off early in the reserve grade last week with a lower leg injury, probably an ankle.  I saw him leaving the ground later that day and he looked like he was done for at least 4-6 weeks, maybe longer.  He is watching the Thirds this week in his club shirt and tie.  I assume he is here to support his mates.  I next see him in his warmup strip doing pre-game drills with the Premier Grade squad. What the ……?  He plays a solid 60 minutes in Premier Grade.  I christen him Lazarus.
Old Collegians win all senior grades comfortably, but it is a day full of entertaining, open rugby.  Plenty of line breaks and kicks chased down.  Quite a few errors but plenty of decent hits along the way.  I miss Uni's highlight of the day.  I am adjusting my 'shirt as a cushion' on the cement clubhouse steps as the Premier Grade kicks off.  I take my seat and Uni are 5-0 up!  I have no idea what happened.  Old Collegians even it up at 5-5 shortly after and control the game from thereon in.
Being such a warm day, I tend to drift in and out of the games.  There is a reasonable crowd in attendance and it is easy to engage in a spot of people watching.  Players and supporters pass before us all day, the bar does a good trade.  They are an eclectic bunch.  Each club provides its share of characters.  Plenty look like they have come straight from a 'Game of Thrones' or 'Vikings' casting call.  We agree that the guy in front of us looks like English comedian Rob Beckett, just with smaller teeth.  A solid young lad wanders past in his playing kit holding a couple of steak sandwiches.  We hope that it is a post-game feed, not pre-game.  A Uni player is a Kyle Chambers doppelganger.  In a sea of questionable haircuts, another Uni player wins the 'Worst Haircut' award.  It is one of those awful half-head mullets with the short front half and shaggy back half.  I will always respect a decent mullet or mudflap, but this style deserves a red card.  The lad backs this up with the 'Worst Dressed' award when he runs out in Premier Grade.  Ultra-short shorts coupled with ankle socks.  Come on son!  He is probably a commerce student.
Dogs abound.  They feast on purchased sausages and spilled chips.  There are plenty of families in attendance.  Young children chase blown bubbles.  They all want to pat the dogs.
All in all, it is just a good day to sit on the steps and appreciate some warm weather with rugby as the backdrop.
The Tigers (Covid) Almanac 2020 will be published in 2021. It will have all the usual features – a game by game account of the Tigers season – and will also include some of the best Almanac writing from the Covid winter.  Pre-order HERE
To return to our Footy Almanac home page click HERE.
Our writers are independent contributors. The opinions expressed in their articles are their own. They are not the views, nor do they reflect the views, of Malarkey Publications.
Do you enjoy the Almanac concept?
And want to ensure it continues in its current form, and better? To help things keep ticking over please consider making your own contribution.
Become an Almanac (annual) member – CLICK HERE.
One-off financial contribution – CLICK HERE.
Regular financial contribution (monthly EFT) – CLICK HERE.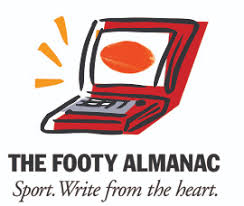 About
Dour opener and close-checking fullback. Peaked early.