Almanac Rugby League – NRL Round 7: Welcome back Harry and Turbo
Later in the season we might look back and say that the comp received a breath of new life in Round 6. Harry Grant lit up AAMI Park, Turbo Tom heralded a possible renaissance for Manly at Mudgee, the much-maligned Luke Brooks showcased his talents and even the Broncos showed that they really do have a bit of ticker. On the downside, Latrell Mitchell did his reputation no favours and will have a month or so on the sidelines.
Melbourne's domination of the Roosters was something to see. It showed me that Harry Grant and Brandon Smith can both be on the field at the same time. Harry dominated that game coming off the bench – quite a feat! Turbo Tom demonstrated that class is permanent, it doesn't need a few games to come back after a long layoff. Manly looked a new side! And how do you explain Luke Brooks? Enigmatic is the word, I think. And how much will the Warriors miss RTS next season?
What about Round 7? The Panthers wobbled against the Broncos but, like all very good teams, won the big moments and the game. The Knights played well at home but are much less of a force away. I'll stick with the Panthers tonight.
In a similar way, the Titans go well on the Gold Coast but were just awful in Mudgee. The Rabbitohs? I'm still making up my mind about them. Mitchell may be missing but with Adam Reynolds in great form, I think they might steal this one from the Titans.
The Eels gave Canberra a towelling-up in the capital and I think they'll do the same to the Broncos in Darwin tomorrow night. Brisbane showed real character against the Panthers but couldn't find the right play at the business end of the game. It will come eventually – I hope.
The Sharks are inconsistent but that should still be enough, especially at home, to beat the consistent Bulldogs, consistently bad, that is. You have to feel for Trent Barrett – there's only so much a coach can do with such limited talent available.
The Cowboys have won two in a row but their Townsville base won't be enough to hold off the Raiders. After a poor effort last weekend, 'Sticky' will be right into his men this week and it will be the Cowboys who feel the brunt of it come Saturday.
The best games all come on Sunday. The Tigers v Sea Eagles could be a cracker if last week is anything to go by. Manly have the advantage of coming off a win while the Tigers went oh so close, thought they'd won it and then had their hearts broken. Will that crush them or inspire them? Are Manly back now that TT has returned? Lots of questions will be answered at BankWest Stadium. I favour Manly.
Last time losers the Roosters and Dragons meet in their traditional Anzac Day clash. I can't see the Bondi boys playing so poorly two weeks in a row and I'm not sure the Dragons have arrived just yet. Let's hope both teams do the day proud.
Finally, the Storm host the Warriors in Melbourne. The locals were awesome all over the park against the Roosters and I can't see the Warriors providing much opposition, as much as I admire their commitment.
So my winners this week are the Panthers, Rabbitohs, Eels, Sharks, Raiders, Sea Eagles, Roosters and Storm.
Thursday April 22
Panthers v Knights, Panthers Stadium, 7.50pm
Friday April 23
Titans v Rabbitohs, Cbus Super Stadium, 6.00pm
Eels v Broncos, Darwin, 7.55pm
Saturday April 24
Sharks v Bulldogs, Nestrata Jubilee Stadium, 5.30pm
Cowboys v Raiders, Queensland Country Bank Stadium, 7.35pm
Sunday April 25
Tigers v Sea Eagles, Bankwest Stadium, 1.45pm
Roosters v Dragons, SCG, 4.05pm
Storm v Warriors, AAMI Park, 6.15pm
Venues and times are current at the time of publication but please check for late changes.
To return to the Footy Almanac home page click HERE.
Our writers are independent contributors. The opinions expressed in their articles are their own. They are not the views, nor do they reflect the views, of Malarkey Publications.
Do you enjoy the Almanac concept?
And want to ensure it continues in its current form, and better? To help things keep ticking over please consider making your own contribution.
Become an Almanac (annual) member – CLICK HERE.
One-off financial contribution – CLICK HERE.
Regular financial contribution (monthly EFT) – CLICK HERE.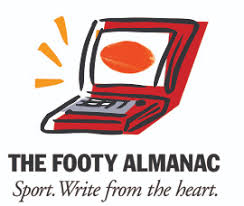 A relaxed, Noosa-based retiree with a (very) modest sporting CV. A Queenslander through and through, especially when it comes to cricket and rugby league. I enjoy travel, good coffee and cake, reading, and have been known to appreciate a glass or three of wine. As well as being one of Footy Almanac's online editors, I moonlight as an editor for hire - check me out at www.writerightediting.com.au