Almanac Rugby League – NRL Round 21: Tight at the top
The life of the footy tipster is never easy.  I thought I was good for at least 7 last weekend but ended up with just five! The Warriors have cost me heaps this year but I continue to admire them for their resolve. They had only 20 fit players to choose from, several played out of position, no RTS, and yet they still beat he Tigers who really do give their coach and supporters a hard time with their inconsistency. The Raiders must be driving 'Sticky' crackers – everything to play for against a misfiring Knights outfit and they couldn't even get close.
At least we now have a season with some life in it after Round 19 concluded on Monday night. The top three places seem settled with the Panthers and Rabbitohs vying for 2nd and 3rd. The Eels and Roosters are fighting it our for the precious 4th position but, if they slip up, Manly might be ready to pounce. Then we have five teams slugging it out for the final two spots in the top eight, even if they are really no chance to go far into September.
Round 21 offers at least three major clashes at the top of the ladder. But first the Knights take on the Broncos tonight at Suncorp. Both are coming off useful wins. The Knights looked so much better with Best and Ponga in good form and, with one of those last finals spots still possible, I think they'll have enough firepower to win. The Broncos seem to be looking to the future and are likely to continue to choose youth ahead of likely departures. The loss of Staggs also robs them of their main attacking weapon.
Tomorrow night the Raiders and the Dragons will continue their search for a finals spot. The Dragons are still suffering from 'Barbquegate' and have done nothing of late to inspire any confidence. Ricky should have the Raiders primed after their miserable effort last week. (Respect to Jarrod Croker, now the third highest point scorer in the game's history.) Jack Wighton needs to lift and if/when he does, the Raiders will play in September for a week or two.
Then the increasingly shaky Eels meet the 50+ per week Rabbitohs. The Eels will be looking for Moses to lead them out of their recent decline. Their forwards seem to have lost their grunt and the optics last week against the Roosters didn't look good either. Meanwhile, the Bunnies are romping their way to big scores. But, if you check their draw, this is their first game against another top four side since they played the Eels in late May. So perhaps we'll find out a bit more about their strength this weekend. I still expect Souths to have far too many guns.
The admirable Warriors start the Saturday afternoon programme against the Sharks. The latter are in that battle for a finals spot but have been less than impressive. No Shaun Johnson no Sharks? The NZ lads somehow soldier on and I'll let my heart rule my head and go for them this weekend.
Later in the afternoon, things get serious. The Roosters keep losing players ('the other Morris' this time) but keep showing up. As I predicted, their experienced players took over last weekend and, on the back of that, young Walker had a picnic. Manu is likely to come back into the centres where he is even more dangerous. The Panthers also played without several first choice players but couldn't cover for them. They need Cleary back on board – desperately. I expect the Roosters to dominate up forward and win to move into the top four while Penrith will slip to third.
The evening's Sea Eagles v Storm game is the highlight of the weekend. Manly are looking good at the right time of the year but remain heavily reliant on the Turbos and DCE. I fear that they don't have that across-the-field steeliness to threaten the Storm. Melbourne just keep suffocating and then dominating their opponents. They really went to town on the Panthers. What a luxury to have Harry and Paps coming off the bench! They'll miss Kaufusi but whoever replaces him this week will get the job done. The Storm to win and consolidate their hold on the minor premiership.
On Sunday, the 'who cares?' game is between the lamentable Bulldogs and the 'should be swabbed' Tigers. I'll go for the Tigers because they, at least, do have some talent in Adam Doueihi. Then the Titans will be looking to hang on to 7th spot when they take on the Cowboys who were more than a little disappointing against the Broncos. On form, you'd have to go with the Titans and the chance of September participation should be sufficient incentive for them to go on with it.
So my winners this week are the Knights, Raiders, Rabbitohs, Warriors, Roosters, Storm, Tigers and Titans.
Thursday August 5
Knights v Broncos, Suncorp Stadium, 7.50pm
Friday August 6
Raiders v Dragons, Cbus Super Stadium, 6.00pm
Eels v Rabbitohs, Cbus Super Stadium, 8.05pm
Saturday August 7
Warriors v Sharks, Cbus Super Stadium, 3.00pm
Roosters v Panthers, Suncorp Stadium, 5.30pm
Sea Eagles v Storm, Suncorp Stadium, 7.35pm
Sunday August 8
Bulldogs v Tigers, Cbus Super Stadium, 2.00pm
Titans v Cowboys, Cbus Super Stadium, 4.05pm
Venues and times are current at the time of publication but please check for late changes.
To read more Almanac pieces by Ian click here.
To return to our Footy Almanac home page click HERE.
Our writers are independent contributors. The opinions expressed in their articles are their own. They are not the views, nor do they reflect the views, of Malarkey Publications.
Do you enjoy the Almanac concept?
And want to ensure it continues in its current form, and better? To help things keep ticking over please consider making your own contribution.
Become an Almanac (annual) member – CLICK HERE.
One-off financial contribution – CLICK HERE.
Regular financial contribution (monthly EFT) – CLICK HERE.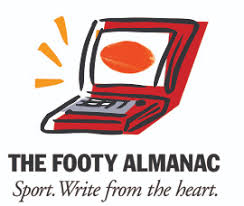 A relaxed, Noosa-based retiree with a (very) modest sporting CV. A Queenslander through and through, especially when it comes to cricket and rugby league. I enjoy travel, good coffee and cake, reading, and have been known to appreciate a glass or three of wine. As well as being one of Footy Almanac's online editors, I moonlight as an editor for hire - check me out at www.writerightediting.com.au