Almanac Pro Running: The Bull of Stawell (Part I)
ON EASTER MONDAY, Luke Versace felt the pressure build, as if it was in his blood. But in his mind, he knew nobody was going to run him down. Inside the last metre of the Stawell Gift, Australia's oldest and richest sprint, he threw himself through the line and tumbled. As he hit the Central Park turf he was overcome with one prevailing emotion.
Devastation.
He picked himself up and could see his mother sobbing on the other side of the fence. She understood just how much this meant to her son. Versace faked a smile, thinking this woman had cried enough tears.
"I just felt sick. I'd let my parents down. I'd let everybody down," says Versace recalling the moment almost five years to the day.  
"I couldn't have done anything more in the last twelve months, and I couldn't have done anything more in the last twelve seconds – but the fucking twelve years before…?"
And now it was over.
# # #
THE NAME OF THE BULL that tore a couple of two-inch holes in his leg was Burrante, which loosely translates to 'The Sign'.
On his way to surgery, years of mistakes oozed over the blankness of lying in a Spanish hospital bed and he lost control. The sorrow of the 19-year-old's failures hung in his chest like a weight.
It started in primary school in the late 1980s. Versace knew he was quick. Nobody could pass him until secondary school, and when they did, he didn't want to run anymore. Not for a few years at least, and not until his teacher bailed him up in the hallway and told him he was "going to amount to sweet FA". It was then his competitive drive kicked in again. He told his teacher that he would win everything when the next sports day rolled around. And when he did – and he did – his teacher could "stick it up his arse".
When Versace ran at the Mt Gambier interschool carnival in 2001, he won everything again. In only his third competitive run, and now running for a different school, Versace ran a 10.84 over 100 metres – a seriously quick time for a schoolkid and one that gave rise to the idea of running professionally.
Versace's first professional run was on the first Saturday of December in 2001, in his hometown Gift. He made the final, only to pull his hamstring barely a third of the way through. Versace's hamstring issues wore him down at the national titles, and ended his first run at Stawell in the Easter of 2002. It was on Easter Monday that he decided that his next run would be with the bulls at Pamplona.
In The Sun Also Rises, the novel that popularised the Festival of San Fermín in Pamplona and the running of the bulls, Ernest Hemingway wrote that "You can't get away from yourself by moving from one place to another." It was something the 19-year-old Versace was yet to learn. His awareness of the running of the bulls had come not from a book, but from watching it on Nine's Wide World of Sports as an eight-year-old. He told his mum he was going to do it. He told practically everyone he knew that he was always going to do it.
# # #
IN JULY 2002, four weeks into a five-month trip around the world, the kid who was told all he'd amount to is a fuck up is in Madrid.
It's hard to be a saint in a city 17,000 kilometres from home, and coming off a three-day bender in London, Versace is barely a few hours in Spain, when he is mugged. With no money, no passport and nowhere to stay, he finds the Australian Embassy and is told not to run with the bulls until his documentation is in order. His mother also tells  him not to run.
"Fix the last mess you created before making another one."
But Versace is all about high adventure and risk and flies to Pamplona for the Festival of San Fermín, undocumented and broke.
On the flight, Versace meets an Australian girl who invites him to stay with her friends. That night he goes after it hard, and it's all a bit of a blur bar two pieces of advice about the event: one,  that a firecracker would be set off when the first bull came out and another when the remaining bulls came out; and two, that if he ends up on the ground,to stay there as it's better to be trampled than have the bull's horns go straight through your chest – a message that would've been sobering were Versace still not drunk the next morning. His fear was not getting speared in the heart, but that he wouldn't get close enough to the bulls to make it count. His vision is one of dancing in between bulls.  
But with minutes to go before the first bull was released, Versace oscillates between fearlessness and fretfulness. Deep in his stomach, he feels something terrible is about to happen. But when you're 19 and on the other side of the world, you don't back out at the last minute. Not after telling people your whole life that this was your dream.
Versace chooses to run from the Cuesta de Santo Domingo, at the base of a steep rise where the bulls first come thundering out of their corral. In a profile on the running of the bulls for Esquire in 1970, James A. Michener said of the men who chose to run here: "It is they who fall before the bulls. It is they who are lugged into the hospital."
Versace hears a firework go off, followed almost instantly by another. He figures there must be a firework for every bull that comes out. What he doesn't know is that six half-tonne fighting bulls have all come out within two seconds.
The bulls charge up the hill and the runners begin to part. It is only when the bulls are about 30-metres away that Versace realises others are climbing fences. He hadn't thought that either possible or advisable. He's committed to staying the course regardless. Those looking to escape elbow him three times in the face. The bull is only 10 metres from him now as it slips over on the cobblestones wet from hosing down the Sangria and broken glass of the night before.  The bull finds its feet and locks its gaze on Versace.
This is the choreography that precedes the violence. This is where bravado and intoxication collide, the way they can at Pamplona.
# # #
THE NEXT THING Versace remembers was getting absolutely smashed and thinking, "I'm done." But it was over in an instant. As he laid on the ground as the bulls moved on, he said to himself, "I've just been charged by a bull, that's crazy!" His adrenalin returned and he tried to get up, but his leg wouldn't take the weight.
Versace's first thought was that he had a nasty bruise, but looked down to see blood on his shorts. He pulled up his shorts to see two holes in his leg that laid bare his connective tissue and the white of his femur. He couldn't believe what he saw. It was too surreal. He pulled his shorts down, sat there for a few seconds and lifted his shorts a second time and realised it was real. Very real.
Versace managed to pull himself through a fence and saw the blurry light of an ambulance. Nurses spoke to him in Spanish and plied him with needles. In his mind he was talking calmly to himself, "stay in control, don't get hysterical," but his body was convulsing in shock.
He came to in a Spanish hospital, in the bed next to a matador who'd met a bulls' revenge in the form of a lacerated scrotum. Yet it was Versace who was the first called in for surgery. The doctors told him they were pretty sure he'd broken his fibula and refused to reassure him that he wouldn't lose his leg.
As he drifted into an anaesthetic fog Versace recited to himself over and over, "If I get through this I will win the Stawell Gift. If I get through this, I will win the Stawell Gift."
Three hours after surgery, Versace struggled to determine if he still had two legs before he slipped out of consciousness. He woke hours later, felt his leg and the relief was profound.  But it was an ephemeral state of mind.
For four days, Versace had felt no pain, dragged first by adrenalin and then a Spanish cocktail of painkillers. But when he removed his pants to go to the toilet for the first time since he was gored, he saw that half his body was black and his mind went to a place so dark it shaded towards horror. It reached a point where Versace had a visceral fear that made him physically ill – that his brother would die in a plane crash while flying over to Spain to bring him home.
That would be Versace's fault as well.
# # #
THERE ARE MANY TIMES he has told his story, and the bull is in every one.
To spend some time with Luke Versace is to know this is just the start of the story, and also that he is a good storyteller, conscious of detail and pace with the tale unfolding in three clean acts.
On his twentieth birthday, three weeks after the bull gored him, Versace, who was in a wheel chair, flew back to Australia with his brother. The most painful thing about the whole experience for him was not the two holes in his leg, but seeing what it had done to his parents.
"My mum was 44 when I went away, and when I got back she looked about 60," says Versace. "She had a giant scab in the middle of her head, and she refused to tell me how she got it." As it happens, his mother had literally rubbed a hole in the middle of her forehead from worry. She hadn't slept for a week while her son was in a hospital bed on the other side of the world. "The only real positive to come out of it was that mum used to be a smoker, but she smoked a thousand cigarettes that week and didn't smoke again after that," he recalls.

It also cost Versace's parents $25,000 to bring him home. Insurance companies are prone to stamp your policy void when you put your own life at risk. The guilt he felt would feed his desire to win at Stawell and get him through a "brutal" 18 months of rehabilitation.
##
It was when Versace returned to athletics that he met fellow runner Dave Vicino. It would be the start of a story about how two men can be made better just by sharing each other's company.
"I was being coached by a bloke by the name of Terry McGarityout in Braybrook," says Vicino. "Terry also had a bit to do with some athletes in Mount Gambier, which is how Luke came to know Terry, and through him, me." Versace and Vicino were both living in Melbourne's eastern suburbs and getting to the other side of Melbourne in peak-hour traffic was a crawl for two sprinters. So they decided to train together.
"We both distinctly remember the first training run at the football ground at Deakin University at Burwood. It was a cow paddock," says Vicino. "It was appropriate for where I was at," says Versace, ignoring the opening to drop a bull metaphor.
Vicino, ten years Versace's senior to the day, had taken the young sprinter under his wing. But the early run-throughs were clunky and awful, and they spent more time talking about girls and football. "I felt bad," says Versace. "I'm wasting this guy's time."
The first thing Versace said to Vicino was that he was only there to win a Stawell Gift. "Had he run it that year, he would've lost his heat by about 30 metres," says Vicino.
"By the time I met Luke, my career was coming to a close," says Vicino. "I was still holding my own, but Stawell was beyond me, mainly because I'd blown my handicap." But in Versace, Vicino found a central truth – the same desire that McGarity had seen in him. "I thought if Terry was prepared to take a chance on me, who am I to say it's not going to happen?"
In 2004 Versace made his second trip to Stawell, where he lost his heat and missed the final of the Novice 100, a race open only to those who have not won an athletic event worth more than $300. But it didn't diminish his sense of self-belief. He believed he could win it in 2005. Not the Novice 100, the Gift. After all, wasn't that the point of it all?
"I knew that I could get to a handicap of about 9.5 metres," says Versace. "That would mean if I could run under 11-seconds, I'd be right there."
Not once did Versace doubt the moment would be too big for him. "I thought if I was physically good enough, I'd be fine." The sense of self-belief that he would produce in the moment was not an issue.
When they returned from Stawell, Versace and Vicino isolated themselves from McGarity's stable. "Terry had been usurped by an old-stager, John Henry, who'd come back on the scene once he got wind that Terry had built a good stable of athletes, and by stealth took over the sprinters," says Vicino. "Henry's quite an aggressive former sprinter, and bookmaker as well. Neither Luke nor I felt like he was our coach and if anything, his abrasive style pushed us further away from the stable. He was an old-school prick. I hated his guts."
Henry would give Versace and Vicino the stable's training program, and they'd rip it up and do their own thing. It was around this time that Versace came to realise that Vicino would be a man he'd forever call a friend.
"We were doing pre-season training together at Fawkner Park in South Yarra. At the start, Dave was beating me by about a dozen metres over the 150, but week on week I was catching him." In sprinting it is generally accepted that it's easier to chase than be the guy out in front. Despite having a few inches on Vicino and a longer stride, Versace would collapse in a heap and the end of each 150. "Dave would be yelling 'Get up! Let's go!' but sprinters have egos to the point where they tend to be delusional, and even when I was collapsed in a heap, I knew there'd be a day when I caught him and got past him," says Versace. "Dave's ten years older than me and has been busting his arse ten years longer than me. He provided me the example for how to train and the intensity that's required."
And the day came that Versace did pass Vicino.
"The moment I ran past Dave, he turned to me and said his biggest career goal now wasn't crossing the line himself, it was seeing me win a Stawell Gift. It was selfless. I was indebted to Dave from that time on."
Vicino says that he always thought Versace had the ability. "But once I found myself having to hang on for dear life in a run-through, it didn't take me long to say to myself, and then to Luke, 'we're going all in on this'."
# # #
Luke Versace at the 2001 Mount Gambier Gift (From Luke Versace collection)

VICINO TAUGHT VERSACE the game.
At Braybrook, the game was to win sashes. As John Henry would say, 'You're going today, we want you to win a sash'.
"My handicap got blown by naivety and those guys wanting sashes and a cut of the winnings," says Vicino. "But Luke could learn from my mistakes."
Versace would go under the radar.
"After running a comfortable fourth in the Geelong Gift, we were cock-a-hoop and the betting started to play in to what we were going to do," says Vicino. "A few weeks later, we bump into Johnny Henry who is supposedly still our coach, but he's also a bookmaker."
Henry wants to know what's going on.
"We tell him Luke has done a hamstring," says Versace. "It was almost a throwaway line, but I thought it might inflate the odds."
On Good Friday night, Versace and Vicino arrived at the Stawell Town Hall, which, built in 1872, only predates the Gift by six years. It is on this night the bookmakers frame their market. "All our mates pooled their cash together and started to unload at 100-1," says Versace. By the time they walked out, Versace was a 2-1 favourite.
"Johnny Henry's come up to me, grabbed me in his typical way and barks 'What the fuck's going on with Versace?!'," says Vicino. "I just said he's got a lot of mates from back home in Mount Gambier who want to bet on him… who knows?"
On the Saturday, Versace ran the fastest heat, and was just as impressive when he ran his semi-final on the Monday. He was a real chance.
Standing at his 9.75 metre mark before the final, he thought that should nothing ever happen to him again in sport, he was satisfied.
"I was thinking how good is this, I'm in a Stawell Gift Final," says Versace. "I got gored by a bull three years ago, this is awesome!"
But in the final Josh Ross, who won the Gift two years prior and ran from scratch, ran him down and won again with a metre to spare. Versace would run the same time as the second-placed Mark Hignett, but be officially bumped down to third.
"It was admirable but I was too happy to be there… I was too happy to be there," says Versace. "Little did I know how unsatisfying it would be."
Versace's mates got their money back and then some. "We backed him each way," says Vicino, "we weren't that confident." But it was Versace who bore the cost.
"Some of the powers-that-be, including John Henry, were suspicious and happy we didn't get it done," says Vicino. "There was a lot of people saying that Luke was complacent, that he'll never win it, that he went there thinking it was easy and didn't know what hard work was."
It was a contempt that Versace was happy to cultivate to help build himself into a durable monument of the Gift.
"You've got ten years, TEN YEARS! You've got ten goes at this," said Vicino after the final. "You'll win it!"
And then they started burning those years.
# # #
IN 2006, VERSACE admits he turned up "as fat as a house", starting the season more than 15kg above his running weight. He busted his hips and the whole year was a write off.
Having shed a few kilograms in 2007, Versace was standing at the starting line in Heat 4 of the Bendigo Gift. In the three heats prior, the times were quick. Almost too quick.
"I'm watching these guys who are running amazing times. And while they're peg-to-peg faster, they're chumps in terms of the Stawell Gift, as they're blowing their handicap," says Versace. "And I think I can't run this race, I'll blow my handicap."
Versace walked across to one of the stewards and asked what he had to do to scratch himself from the heat, preferring to take a 28-day injury suspension over disclosing himself with a lightning-quick run. He is told all he simply had to do is not run.
By now, Versace has become something of a curiosity in pro-running circles and his withdrawal from Bendigo propagates into intrigue bordering on conspiracy – to a point where he again becomes the Stawell Gift favourite.
But Versace had no intention of running. "I'm going to get on the piss, go to the footy and take a break."
At six o'clock that Easter Saturday, Versace got a call from Vicino.
"Mate, you've been given a one-year suspension for bringing the sport into disrepute."
Versace's discretion was that having entered the Gift, he was obliged to officially tell them he was not going to run – a requirement unique to Stawell. Nine runners were guilty of the same offence that day. Eight were fined $50. Versace was fined $500 and given a one-year suspension.
If we look to Aristotle for guidance, there are three possible types of bad actions – mistakes, misadventures and acts of injustice – and now Versace had collected the set. But he was far from philosophical about the outcome.
"I told Dave he had to be fucking kidding me."
The next morning, Versace was driving to the McDonald's drive-through in Richmond when he tuned the radio to the local sports station, SEN.
"They pasted the shit out of me," says Versace. "I'm sitting in my car yelling 'I didn't even know it was a rule!'"
He was labelled disrespectful, a brat who deserved a year's suspension. It scarcely bore any resemblance to what he's always wanted, an unflattering version of himself that made no sense and outbid the way he had always wanted to carry himself.
"I was wild. I was angry."
But it was as much at himself as at anything.
The suspension was overturned in June. By that stage, Versace had started law school and entered an athletics bardo. He continued to catch up with Vicino, but when they'd run he would just go through the motions.
"It got to the point where we didn't even bother training," says Vicino. "We just caught up and talked shit."
And so they kept burning through the years.
By 2010, Versace had been written off in athletics. He was barely even an afterthought.
"I was going absolutely nowhere," says Versace. "I was in pretty good form, but after the AFL Grand Final I went out on a bender that lasted right through to nine on the Monday morning."
Determined to do the right thing after again letting himself down, Versace trained that afternoon and ran himself into the ground. But he was in such a condition, all he achieved was to exhaust himself to the point where he became chronically sick for two months.
And burning through the years.
The following two years were something of an athletics void, with Versace immersing himself in a law degree in Malaysia and a sea full of shit in Thailand – the latter resulting in a malevolent bacterial infection following a midnight swim at a Phuket beach after a storm had polluted the Andaman Sea. It appeared that Versace's athletics career, if not his life, was equipped more for farce than it was for happy endings.
By 2013 it was clear the 30-year-old Versace needed a new environment. He again nudged 100 kilograms, checked baggage above his running weight, and is carried the usual laundry list of injuries a runner has when he's so out of shape. There had only been five guys aged over 30 who had won the gift. None that busted out of a 36-inch waist.
And none that had finished in 170th of 175 the year before, which is where Versace had run after an ill-prepared and ill-advised return to Stawell.
"As I was getting ready to start my heat in 2013, I looked for my fiancé by the fence. When she saw me she couldn't stop laughing at me and the condition I was in."
Not wanting to further ridicule himself, Versace would work a future training schedule around an intensive program of dancing and singing lessons, the latter to impress his soon-to-be wife with a serenade of Elton John's 'Your Song' at their wedding that June. It was indicative of his newfound mindset, and Versace felt he was finally mature enough to make the sacrifices required to realise an increasingly unlikely dream.
"We were on the ten-year precipice," says Vicino.
Critical to Versace's new environment was a new coach. At 29. Brad Armstrong was two years younger than Versace and in the Gift's history, no winner had been older than their coach.
"Brad an I met on the blocks of the 2004 Stawell 70," says Versace. "Most guys were pretty serious, but I knew I was only coming back into it and I was looking over at this big tall guy who was pretty nervous and I simply said to him, 'how are you going mate, are you having a good Easter? And that's how we became friends."
The topic of coaching was casually broached over a red wine nine years later. Armstrong had a very strong idea on what it would take to win the Gift, and unless Versace was prepared to dedicate himself to that, he'd be better not to waste his time. Versace was either in or out. Behind Versace's eyes, Armstrong sensed voltage. He was in.
"Brad is meticulous as a coach," says Versace. "His birth certificate says the 1980s, but he's old school… he's the 1950s."
From very early on Armstrong had set goals in place and Versace went about reaching each one. But he just couldn't drop the weight. A dietician was brought into the camp, and he slowly began to lose the weight he needed. As the weight dropped, his strength increased.
In the lead-up to the 2014 Stawell Gift there were ups and downs in terms of injuries," says Versace, downplaying the three times he found himself on the verge of going to hospital with what they thought to be diabetic episodes. "But in terms of professionalism, it just couldn't have been any higher."
# # #
WHEN 2014 ROLLED AROUND it was last and irreversible roll of the dice. And it was crazy before a race was run.
In a very open field it would be Versace who again would start as the bookmaker's favourite after Vicino unloaded at 20-1.
"That emboldened me," says Versace, "because it made me feel like I was, that I was relevant again."
But after he lost his heat, the odds were stacked against Versace. There had only been one other runner who had lost their heat and won the Gift. Most of those watching wouldn't have given Versace a chance. The winner of the heat, Isaac Dunmore, had him covered. "But I knew he wouldn't beat me again," says Versace. "When I crossed the line in my heat, I'd pulled back because of my experience, I knew we'd run a time to get through to the semi-finals, so I didn't want to injure myself."
It was now that he felt that everything had started to come together, that the whole fucked up journey seemed to start to come together. The enthusiasm of his old training partner and mentor was insatiable.
"It was based on the fact of the work I'd see Luke do over the past 12-months," says Vicino. "But I'd also seen him at his worst. And when I say worst, I'd seen him almost steal a Stawell Gift in 2005 when his head wasn't right and he didn't know just how hard you had to work… but he still had his natural ability to fall back on." Vicino knew better than anyone that Versace was a better runner now, that he'd done the work.
"He was more confident and more mature than I'd ever seen him. I'd be fucked if anyone was going to beat him."
One thing that was different with Versace in 2014, was that he could now visualise winning the Gift.
"I came to think you couldn't win or achieve a goal unless you 100 per cent believed it," says Versace.
Reaching this moment took some time, and it included such tactics as standing on one side of the fence at training and having imaginary conversations with his parents after having won the Gift.
"I honestly did this every week of the 12 months prior to the 2014 Gift. I was highly emotional the entire year," says Versace. "I could not stop crying because I was so tormented by not being able to believe that I could win. My mind was playing tricks on me."
But Versace's mind wasn't done with him yet. Not by a longshot.
One of the lessons Versace has learned from 2005 was that emotionally, you can't stay up the whole time. Versace had a playlist on his phone that weekend, that ranged from Jay-Z and Rhianna's 'Run this Town' to Kid Rock's 'Cowboy'. "When I talk about emotional manipulation, I also understand how different songs resonated at different times to get me in a particular state of mind." But nothing resonated at that moment quite like 'Some Nights' by Fun. "For me that was right on point," says Versace, reworking the lyrics to ten long years, I've missed my mum and dad for this, no one will ever know what I've been through for this.
Earlier that night, Versace joined Armstrong and his wife for dinner, where he talked about his fears and anxiety.
"When the doubt came the Sunday night it came hard. I went into the darkest hole that I'd ever been in. It was savage."
But because he was flat, Versace knew that he needed to go down.
"I had to go to a super dark place on the Sunday night. I don't think there's a part of my running that's elite other than emotional regulation. That was the thing after ten years that I'd nailed." For an outsider to understand that requires the resources of science and the inventions of myth.
Come Monday morning, Versace knew there were no second chances.
"By the time I go to bed at the hotel that night, I'll either be a Stawell Gift winner for the rest of my life, or I won't be. I knew that. I understood that. That's it."
That was the last dark place. He called Vicino early that morning and asked him to come over.
Twelve years of mistakes and misadventure had taught Versace to understand who he needed around him and the times he needed them and he needed the enthusiasm and confidence of his mentor.
"Brad's strength for me is that he is measured and serious, and those traits had brought me back from the edge of Stawell Gift oblivion," says Versace. "But right then I didn't need measured and serious, I needed someone pumping my tires."
Vicino did that, and almost every success Versace had ever enjoyed came back to him on the morning of his race. When they left for the track that morning, he was ready. He knew that he'd win his semi and go through to the final.
"I was in a good space. And it sounds dramatic, but it's because I went to hell and back on that Sunday night."
When Versace met his coach that morning, Armstrong pulled him in and said, "look mate, I've never asked you to do anything for me, but fuck… please win this."
Running in the third semi-final, Versace is barely headed and his typical strong finishes sees him to pull away to win comfortably.
"When I crossed the line in the semi, I remember distinctly feeling I am going to win," says Versace. "Now is my time and I'll be fucked if anyone is going to beat me. Nine years. It had taken me nine years to get that feeling. Being in the final was not enough."
Versace recalls the measured seriousness of his coach after the semi-final win was in complete contrast to the bellicose bravado of Vicino.
Six months earlier, as part of his meticulous preparation for the final, Armstrong called in at Stawell to see if there was somewhere they could stay between the semi-final and the final. It is typical for athletes and their entourage to mark out a designated are where they can go between races, but Armstrong wanted a safehouse – somewhere away from the hype of the event. He knocked on the doors of those houses that were close to Central Park to see if they would be available. And soon enough, he'd secured the house of a local who went by 'Sleepy'.
"Sleepy had a man cave," says Vicino. "There were pictures of him with all these recording artists like John Farnham, a drum kit and guitars hanging on the walls." It also had a big-screen television that had the Stawell Gift on. Armstrong immediately grabbed the remote and turned it off. "We're not watching this. It's irrelevant."
At the safehouse with Vicino and Armstrong was Versace's father. "That hour was just magical," says Versace. "My dad and I had conversations that I'd dreamt about."
Versace let his father know that the lessons he had tried to teach the "heard-headed kid with his head up his arse" hadn't fallen on deaf ears. "I felt as though every lesson that my father had tried to teach me about getting the best out of myself, I had learnt. To have a moment where I could look at him, having had done the work, and tell him that was just beautiful."
There was a moment in the conversation where Versace's father reassured him there was no pressure. But Versace knew that wasn't true. There was pressure. There was pressure because everyone else had done their bit and now it was up to him. There was pressure because winning would mean that moment mattered.
As they walked back to Central Park, Versace recalls there was just such an authentic feel of "this is it" we are getting it done, right here, right now.
"It felt like leading a title fighter into the ring," says Vicino.
# # #
AFTER A DEAD-HEAT in fourth semi-final between Ryan Camille and John Adams, the 2014 Stawell Gift final would be the only one to ever field seven runners. Versace has run in lane seven of his semi-final heat and had worn black as a result. As the front-marker, he would again be in the outside lane and again wear black.
When Versace ran the final in pink in 2005, the wind was blowing from right-to-left. But as he walked down the track nine years later, he plucked a blade of grass, tossed it in the air and saw the wind was blowing left-to-right. In 2005, Versace broke the wind for every other runner in the field. Today that burden would fall on the backmarker, Sam Jamieson.
"Maybe that helps Luke Versace," suggested race-caller Peter Donegan, a veteran at Stawell. "We know how strong he is at the end."
# # #
VERSACE LOOSENS UP and jogs through his lane, projecting an inner calm and a measured confidence. Next to him in the pink silk is Camille, a finalist the year before, who looks a ball of anxious energy in contrast. Chris Innes-Wong, a pro-runner for barely 12-months is in green, and plenty of it has come for him with a huge betting plunge with the bookmakers, and a good lump of that from his father. In the yellow silk is the 23-year-old Augustine "Gus" Carty-Cowling who had already been a runner-up twice that year in the Ballarat and Stonnington Gifts. Adams in blue is the roughie, and the only man in the field older than Versace. In pink is Dunmall, the teenager from Queensland that beat Versace in his heat. He was a semi-finalist the year before, but this is his first Stawell final. In the traditional red of the backmarker is Jamieson, the 2008 winner. To win Gifts six years apart would be a feat unequalled in the 132 runnings of the race. Coming off 4.75 metres he is giving his nearest runner more than a three-metre start.
Maurice Campbell, the starter in a coat and hat that's three shades whiter than his beard, makes his way along the line. "Congratulations on making the final. All the best. All the best, mate. Congratulations. All the best. All the best. Congratulations," and to Versace, "All the best."
It washes over Versace. His primary – or more accurately, primal – focus is on the 120 metres in front of him. "I distinctly remember standing at that starting line thinking 'this is my time, it's going down right here right now'."
Like a publican roaring on drunks in a pub brawl, Campbell barks "Walk to your blocks!"
Runners jump knees to chests, slap their thighs and stretch their necks.
"Get on your marks!"
Twenty-four seconds pass.
The starter's gun goes off like a firecracker.
Versace is passed by Camille, immediately to his left.
Both Armstrong and Vicino had told Versace not to worry about it, it was going to happen, although perhaps not so early.
"We always knew his start was awful," says Vicino. "Even if we'd trained for another ten years, his start would still be awful."
Typically, as soon as the front-marker is caught, that's the end of his race. But Vicino had known Versace long enough, and had trained with him for ten long years to know that he was still in it. He'd lead him on all those run-throughs at Fawkner Park, and as the sessions wore on Versace would start pulling away from him. The back-end of Versace's race was always his strength. And a strong back-end up the hill at Stawell would always count for something.
"The one thing he had through the entire journey, even when he was the rubbish runner I first met was the strength over the 120," says Versace.
There was no panic.
With fifty to go Versace has stuck with Camille and has a metre on the rest of the field.
"Luke's got a confidence about him, if he's in the race with fifty to go, nobody's running faster at that point," says Vicino.
"No one in this fucking race finishes fucking harder than me today," Versace had told Vicino after the semi-final.
With about thirty metres to go as the runners hit the hill, Versace takes the lead.
The idea of the hill is perhaps steeper than its gradual three-foot climb. "You don't notice the hill," says Versace. "When you're running, it's not like, oh, I'm going up a hill now, you just know that compared to other events, it's harder to finish out."
A lot of it is because in pro running Stawell is the event, and there is a penetrating want to do well that makes athletes tighten up.
"I remember watching Chris Toohey in 2004," says Versace. "After his semi-final, he declared 'It's my time. It's my time. I'm going to do it.' And in the last twenty metres he tightened up so much going up that hill." Had it been on a flat ground that day, Versace believes Toohey wins. "The psychology of it is hugely important."
Versace genuinely believes nobody is going to run quicker. "Nobody will do the last thirty quicker than me."
It is delusional. Carty-Cowling and Jamieson's last thirty were always going to be faster than Versace's. But delusion is a by-product of the insane confidence required to win the thing.
With the two-metres and less than half-a-second to run, there is no separating Carty-Cowling and Versace. If there is anything in it, you sense it favours the former.
Two months earlier, Armstrong had asked Versace, "Mate, if you're going to win this race, what are you going to do as you finish?" He had a real concern that Versace was going to get carried away with himself. "I was thinking, I'm not going to do anything like that," says Versace. "If this gets tight, I'm going to be going arse-over. I promise you, I'll be throwing myself through that line, because it's when your chest crosses the line that counts."
Versace throws himself through the line. His momentum carries him ten metres before he falls in a heap and tumbles over the sponsor's logo.
(Clip courtesy of YouTube)
If you really enjoy stories like this and want to ensure the Almanac continues in its current form, and better, help keep things ticking over please consider making your own contribution.
Become an Almanac (annual) member – CLICK HERE
One off financial contribution – CLICK HERE
Regular financial contribution (monthly EFT) – CLICK HERE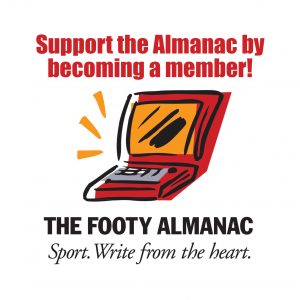 "Faith without works is dead" -- James 2:17