Almanac Politics and Footy: Who was in government when your team won the flag?
The week off between preliminary and grand finals has given me time to think about the role of politics in football.  I often hear people talk about footy politics but rarely does anyone go back and consider party politics in relation to footy.
One of my many sisters has been banging on about how Melbourne last won a granny when Sir Robert Menzies was in power.  She feels that noose around their neck needs to be removed.  For those wondering, she's right.  Melbourne last won the granny in 1964 – Sir Robert's second last year as prime minister.  Australian history buffs will recall that Menzies came to power in December 1949 and retired on 26 January 1966; his is still Australia's longest serving prime ministership.
Interestingly (stick with me), all bar one of Melbourne's premierships have been won while a conservative government was in power.  Menzies was the sitting prime minister for eight of Melbourne's premierships. The other conservative leaders were Lord Stanley Bruce (1926) and Sir Arthur Fadden in 1941 – although Fadden led the Country Party at the time.  The only "Labor Flag" that Melbourne has won was in 1948 when Ben Chifley was the prime minister.
For the Bulldogs, it's a much easier task as they have only two premierships to their name, unlike the Dees who have twelve flags – one of which was before federation when Australia did not have a prime minister, per se.  Both of the Bulldogs' premierships were won while conservative governments were in power.  The first, in 1954, when Menzies (the Carlton supporter) was prime minister while of course the most recent premiership was in 2016 when Malcolm Turnbull was prime minister.
In looking at success of footy teams in terms of the type of Commonwealth Government in power, only Essendon has won more premierships with a progressive government with eight flags under Labor and seven under a conservative government.  West Coast has two flags each for conservative or progressive governments.  My own team (pay attention! – Hawthorn!) is closely divided with seven wins to a conservative government and six wins to a progressive government.
Looking at the "working suburbs", Collingwood has an 11:4 ratio, favouring the conservatives while Carlton has a 10:6 ratio – again favouring the conservatives.  Some readers might find the table below interesting, or not!
Of course, I could break this down into the gender of prime ministers but given we've only had one woman as PM, it won't take long to read – a bit like the involvement of women in AFL more broadly.  Julia Gillard was prime minister over three grand finals and oversaw diversity in the premierships:  Collingwood in 2010, Geelong in 2011 and Sydney in 2012.
Our longest serving prime minister (remember?  Menzies) reigned when six different teams won a flag – Essendon, Melbourne, Geelong, Hawthorn, Collingwood, and Footscray.  Most of Bob Hawke's premierships were won by Hawthorn in the glory years of the 1980s (five premierships), although Tony Abbott surprisingly also won a couple for the Hawks.  Note I have now segued to awarding premierships to prime ministers rather than teams.  That's what happens when you live and breathe politics and footy, and also live in Canberra!
Noting that West Coast has equal numbers of conservative and progressive premierships, Paul Keating is responsible for both of the progressive wins.
Prime ministers who won just one flag are Arthur Fadden (Labor) who won the flag for Melbourne in 1941, Joseph Cook (Commonwealth Liberal) who supported Fitzroy to a flag in 1913, and George Reid (Free Trade) who also supported Fitzroy to a flag in 1904.
What does all this mean for the grand final weekend?  I'll leave it to the experts to calculate the statistical significance of these data, but given that we've all become experts in all sorts of fields since Covid began, I would say there's no significance here!  Both teams have won more premierships under a conservative government so neither is favoured over the other on this basis!
Stand by for my next instalment when I might look at the colour of the players' hair!
PREMIERSHIPS BY GOVERNMENT SINCE FEDERATION (1901)
TEAM
CONSERVATIVE
PROGRESSIVE
Adelaide
2
0
Brisbane/Fitzroy
7
2
Carlton
10
6
Collingwood
11
4
Essendon
7
8
Footscray
2
0
Geelong
6
3
Hawthorn
7
6
Melbourne
10
1
North Melbourne
3
1
Port Adelaide
1
0
Richmond
10
3
South Melbourne/Sydney
4
1
St Kilda
1
0
West Coast
2
2
83
37
NO PREMIERSHIPS SINCE 1901
Fremantle
Gold Coast
Greater Western Sydney
To return to our Footy Almanac home page click HERE.
The Tigers (Covid) Almanac 2020 will be published in 2021. It will have all the usual features – a game by game account of the Tigers season – and will also include some of the best Almanac writing from the Covid winter.  Pre-order HERE
Our writers are independent contributors. The opinions expressed in their articles are their own. They are not the views, nor do they reflect the views, of Malarkey Publications.
Do you enjoy the Almanac concept?
And want to ensure it continues in its current form, and better? To help things keep ticking over please consider making your own contribution.
Become an Almanac (annual) member – CLICK HERE.
One-off financial contribution – CLICK HERE.
Regular financial contribution (monthly EFT) – CLICK HERE.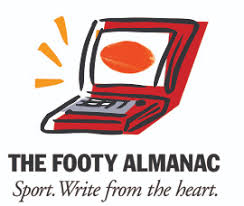 One of the first females to be admitted to membership of the G. Thank you Mr Cain. Nicknamed The Hyphen by Alamanac Editor, despite the fact I don't have one.