Almanac Poetry: Murray Cod
Murray Cod
Men building the early bridges
across the River Murray
caught Murray Cod
off half-finished structures
with fencing wire.
Some fish were enormous,
bigger than the blokes who hooked them.
Old photos from newspapers
of Riverina country towns
and stuffed specimens
above the bars of riverside pubs
tell vivid tales
of men and mythic monster.
These days, though, the big Murray Cod
are more elusive than ever.
Locks, weirs and barrages
put across the river,
as well as other interventions
of the human kind,
mean the fish have little chance
of growing to their former giant size.
But I cannot help but wonder if,
in quiet backwaters,
dappled with shade and lazy sun,
some fish of mythological
proportions remain,
log-heavy, somnolent relics,
one day to rouse
from the quietude of ages.
Read more from Kevin Densley HERE
Kevin Densley's latest poetry collection, Sacredly Profane, is available HERE
Read more Almanac Poetry HERE
If you would like to receive the Almanac Music and Poetry newsletter we will add you to the list. Please email us: [email protected]
To return to our Footy Almanac home page click HERE.
Our writers are independent contributors. The opinions expressed in their articles are their own. They are not the views, nor do they reflect the views, of Malarkey Publications.
Do you enjoy the Almanac concept?
And want to ensure it continues in its current form, and better? To help things keep ticking over please consider making your own contribution.
Become an Almanac (annual) member – CLICK HERE.
One-off financial contribution – CLICK HERE.
Regular financial contribution (monthly EFT) – CLICK HERE.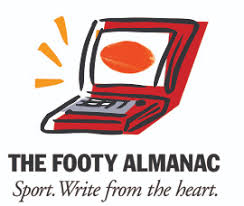 About
Kevin Densley is a poet and writer-in-general. His fourth book-length poetry collection, Sacredly Profane, has just been published (late 2020) by Ginninderra Press. He is also the co-author of ten play collections for young people, as well as a multi Green Room Award nominated play, Last Chance Gas, which was published by Currency Press. Recent other writing includes screenplays for films with a tertiary education purpose.