At Moorabbin, Derm and Spud go toe to toe,
and the Animal Enclosure watch the show.
In the second quarter, Frawley whacked the Kid,
and the larrikins applauded what he did.
In the final quarter, Dermie's out for blood
and derails him with a god almighty thud,
and as Frawley picks himself up off from the mud,
all the larrikins are barracking for Spud.
Become an Almanac (annual) member – CLICK HERE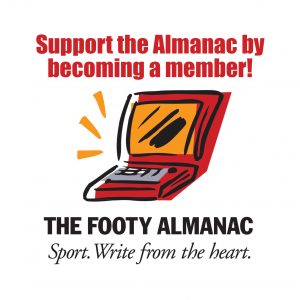 Damian Balassone is a delusional Collingwood supporter who writes poetry and fiction. He is the author of 'Strange Game in a Strange Land'.