Almanac (Military) Life: Expect to be shocked
ANZAC Day is nearly upon us.  It is a day where we remember those who have served, and those who have fallen in service of their country.  These days the various football codes put a lot of time and effort into planning their respective ANZAC rounds. Coupled with this, the St Kilda Football Club has recently introduced Spud's Game: Time 2 Talk, an initiative designed to tackle mental health issues within the community.  So, in the lead-up to ANZAC Day I would like to take this opportunity to talk about a significant issue within the community.
I recently wrote a piece on sportspeople dealing with the situation where their identity as a person was not being separated from their identity as an athlete.  Upon completing this piece, I began to think about the feelings of loss of identity that can occur upon enlistment in the Australian Defence Forces and what is now being described as an "epidemic" of veteran suicides and "one of Australia's most pressing problems". (1)
The Prime Minister has finally bowed to mounting pressure and announced a Royal Commission into veteran suicide. Mr Morrison had resisted calls for a Royal Commission since December 2020. Now an announcement is made in the week leading up to ANZAC Day.  I will reserve comment on the Mr Morrision's initial reluctance, the timing of this announcement, and his comments when making the announcement. I am just happy that a Royal Commission has finally been called. I support Independent Senator Jacqui Lambie on this matter.  She has led the push for a Royal Commission within Parliament and has demanded the that the inquiry's terms of reference be as "wide as possible". (2)  She is right when she says: "People are going to be shocked out there when (veterans) come forward" (2).
I set out with grand plans. However, when I read back over my late drafts of this current piece, I became somewhat reticent about releasing it into the public domain.  It is a fairly personal piece and puts a lot of my past thoughts and behaviours under the spotlight. But we cannot address this issue if people are not willing to talk honestly about it. The announcement of the Royal Commission was the final push I required. So, this is my story.
I need to stress that the anecdotes and views expressed in this piece are derived from my own experience as a member of the Australian Defence Force from 1991-1995. My experience may have differed to others who served during this period, and others who have left the service.
At least 500 Australian veterans have died by suicide since the start of the Afghanistan War in 2001 (1).  To put that in context, at the time of writing we have suffered 43 service casualties in Afghanistan and recorded a further four casualties in the ten years of the Iraq War (3).  Australia suffered 500 casualties in the Vietnam War between 1962-1972 (4).
What is a veteran? The Department of Veteran's Affairs defines a veteran as anyone who has served one day or more in the ADF, regardless of whether they were deployed overseas. Some soldiers and civilians still believe that only those who have seen combat qualify as a veteran. Then there is the misconception that veteran's mental health is purely linked to combat operations. Post-traumatic stress is not caused by combat alone, and it has been demonstrated that there is a higher suicide rate among those who have not served on combat operations than those who have (1).
Lieutenant General John Caligari (retired) previously served as Commander of the Army's 3rd Combat Brigade in Townsville (approximately 3,500 personnel), and now heads up The Oasis, a veterans' community hub in that city.  The Oasis is designed to act as a starting point for veterans to connect with the specific services they need, such as medical and mental health treatment, financial, housing and employment services.
Drawing on his 30-plus years of experience commanding soldiers, General Caligari offered the following assessments in December 2020 (1):
"The real issue is the transition out of a very structured, orderly life into what I describe as the chaos of civilian street.
"We spend a lot of time training them to join the Army and we don't teach them much about how to join civilian street.
"Some of them have never been there; they've left mum and dad at 18 and they didn't know what living on their own in society was like."
That is a pretty accurate assessment.
I enlisted in the Army in August 1991, on the day after my 19th birthday (hints of Copperhead Road and Redgum?).  It will be 30 years this year. In early 1991, Australia was at the tail end of a recession and there was quite a demand for ADF jobs. Prior to enlistment my life revolved around football and cricket. I had played both sports at a higher level than I could ever have imagined, and while I was no star, I was still a part of clubs that were then a part of my identity. But my football and cricket could not put a roof over my head or food on the table.  A childhood friend who was a far better footballer and cricketer joined the Air Force on the same day.
The loss of identity was felt once we drove through the gates of the training establishment and the busload of new recruits was handed over to the training staff.  We arrived after sunset so were unable to get our bearings or an understanding of our environment. From that moment on, every bit of our previous lives was stripped away. Hair was shaved, civilian clothes and possessions were removed and locked away, old routines were replaced with new ones, there was now a new way to perform even the most basic functions. The most telling loss of identity was the removal of first names. We were now to be known only as Recruit such-and-such, accompanied by our service number in more formal situations. Amongst our fellow recruits we were known only by our surnames.
The previous versions of ourselves no longer existed. We were to be rebuilt in the Army's own image. We would be better versions. To try to cling to some part of your old identify was a futile exercise.  ou needed all your energy to deal with the here and now.
Basic training was hard, physically, and mentally. Living 24/7 in an intense Army environment was tougher than one ever could have imagined. The recruiting brochures didn't do it justice.  From 6am to lights out, there was no let up. Everything had to be done a certain way and it had to be done right. But 'right' seemed to be somewhat of a moving target. A fair enough concept, but the mental side of living in this kind of environment proved to be tough. For someone with a propensity for anxiety (then undiagnosed) and nervousness, it was mentally draining. You then pile the physical workload on top of that.
To draw attention to yourself in basic training was to invite trouble. So, I became the quintessential 'grey man'.  I tried to blend in, to disappear into the crowd of recruits and not draw attention to myself. I wanted to make it through basic training without any of the training staff remembering my name. I kept my head down, my mouth shut, and counted down the weeks.
We got there in the end, having shed just a few along the way*.  And so it was, that in November 1991, having completed basic training I was deposited in Canberra, to await further job training**. From there the next 46 months was a steady progression of postings and training courses throughout the eastern states (Canberra, Sydney, back to Canberra, short Canungra trip, back to Canberra, Melbourne a couple of times, back to Canberra, Sydney again, Canberra, a few months in Melbourne, Canberra, Wagga Wagga, back to Canberra).  I have counted 15 different 'homes' in this 1991-95 period. Considering that I had lived the first 17 years of my life in town in the one house in a small country town (population under 2,000) it was quite a shock to the system. There were a lot of new environments to experience and understand.  My propensity for anxiety and nervousness remained with me.
Still, 1991-95 was a relatively quiet time for the ADF.  The Cold War was ending. The first Gulf War wrapped up fairly quickly.  There was some action in Somalia in 1992-93, along with limited postings to Cambodia with the UN. The Army I joined was still somewhat in the shadow of the Vietnam War. There were still senior soldiers and officers that had seen action in Vietnam as young men. Our field work in basic training was undertaken in Vietnam-era kit with Vietnam-era weapons and covered Vietnam-era tactics. The rank-and-file soldiers had no real idea of when and where the next conflict would be. Iraq?  Done and dusted.  Afghanistan?  No chance! We were an Army looking to break free of the past, but with no clear target to focus on.
A young soldier living on base could have a lot of free time. Your meals were taken care of, dinner was served early.  There were very few bills to pay or commitments to attend to. You could only sit alone in your room at nights for so long. Drinking to excess was not frowned upon, provided you showed up for duty the next day, and it was quite easy to drink heavily on base. You had your own bars, reasonably priced booze, and your bed was within walking distance.  Some people liked to let off a bit of steam and add some fighting to their drinking (not me, I preferred the full-size billiard table).  It was a testosterone-fuelled, male-dominated environment. It was not a place for women, and definitely not a place for 'civilian' women.
Some of this time was spent living 'off base' but the majority of time was spent living and working (and drinking) on base. There may have been times when the work offices were 'off base' but even then, you returned to base to live. You lived and breathed the military life 24/7.  Living 'off base' did offer some respite from military life, but you still felt like an interloper who had wandered into this civilian world.  You did not quite fit there.
Yet, the travel in the Army was good to me in some respects. Importantly it sent me to Melbourne in the winter-spring of 1994. I attended the AFL grand final (on a scalper's ticket) and can still remember the silence of the train ride home from the MCG with a carriage full of shell-shocked Victorians, having witnessed the West Coast Eagles win their second flag in three years. Weeks earlier I had experienced a Carlton finals loss to an under-manned Geelong at a freezing Waverley (a part of me is still searching for a way out of that carpark). There were trips to VRC Derby Day (Blevic) and the Melbourne Cup (Jeune), in the penthouse one day and to the outhouse the next. Even then I still felt somewhat out of place, as after the day's activities I was returning to the confines of the base. It felt like being on some kind of day release.
1995 rolled around and by then I'd had enough of this lifestyle, and the kind of people that inhabited this environment. I had no idea what I wanted to do; I only knew what I did not want to do anymore. My four years were up, and I was free to leave. I was discharged from the Army in September 1995, having served my required four years (plus one extra month, you're welcome!).  I had a couple of stripes on my arm, but not much else.  It was then that I found myself in the predicament that many ex-service personnel*** still find themselves in.
I had no clear direction. I had no relevant skills. There was a meaningless job cleaning at a local club to earn some money. Early starts during the week and a night shift roster on weekends, terrible pay and a two stubby daily allowance. It was a good day if there were desserts left in the restaurant fridge  I reckon I 'ghosted' them when I left Canberra for Adelaide before Christmas. There was another meaningless entry-level admin job at an Adelaide psychologist's clinic for a while.  The clientele was largely made up of a ragged assortment of wife-beaters, problem gamblers, addicts, and deviants.  In my eyes, none of these people would have made it through the Army's front door.  I had no compassion for them.  I hated them****.  The administration training that I was compelled to attend was mind-numbingly simple. I could take charge of 30-odd soldiers in training and had a 'top secret' clearance, and I was reduced to this? I hated everything about the job.
I tried to return to football and sought the familiarity of the club environment.   had not played a serious game in close to five years but was still only 23.  I found myself a new club in Adelaide's amateur league and gave it a decent crack.
My body gave out.  I could run on hard ground in army boots but developed painful shin splints from football boots on grass. I received a bad lower leg knock when cleaned up by a teammate in a marking contest (his fault). The final straw was when my back gave way.  A bulging disc led to sciatica in my right leg. I was tired of being in pain. I gave footy away before the season was out. I still had not turned 24.
Playing in constant pain, I was never able to perform at anything close to my best. I would look at the A-grade side and know that I was capable of playing at that level. I resented the younger guys who were playing in the A-grade. I knew that my best my as good as theirs, if not better, but I couldn't show it.  I felt that they were cocky, just because they were young and had played some A-grade footy.  Did they know the kind of stuff that I had done over the past four years?  In my eyes they had done nothing.
After four years of service, I was lost.  I was uncertain and confused.  I was resentful and quick to anger. Hateful even. I reached out to old friends but got nothing in return.  I was trying to reconnect with family as a changed person (plenty can change between 19 and 23 at the best of times). I hated work and football left me in pain.  I am thankful for the support of my girlfriend (now wife) during this time.  She had moved to Adelaide with me and stuck by me as I tried to figure myself out.  But by the end of 1996 I was out of work again, overweight, and bed-ridden with sciatica.
I was lucky.
A few months prior, a co-worker at the psychologist's clinic had encouraged me to apply for university entry and sit the Special Tertiary Admissions Test. I scored well in the test and in early 1997 I was offered a place at the University of South Australia. I loved university and worked harder than I ever had before. Even as a mature-age Accounting student amongst a bunch 18 and 19 year old kids, somehow I still felt as if I belonged there.  After a lost 18 months, I had found a meaningful path.
I know that I was lucky.  An opportunity came my way at just the right time*****.  I have not given any thought to what would have happened if I did not find a way out of my lost period.  It is a moot point. But I do get the feeling that a lot of people have trodden the same path over the past 20 years, and not all have come out on the other side.  My story will be relatively tame in comparison.
I hope that people will think of them on ANZAC Day.
Many of their stories will soon be told.
Expect to be shocked.
* Some attrition is inevitable.  People get injured.  Others can't meet the standards to progress and are held back until they can.   Some just could not cope.  Suicides do occur.
** This is another story in itself (for another day).  It is a strange feeling to suddenly go from a tightly controlled, group environment with no freedoms to a sparse room in a suburban Canberra hostel.
*** Personally, I am still not comfortable calling myself a veteran.  I prefer ex-serviceman.
**** That was my feeling at the time, and I acknowledge now that I was wrong to view these people in this way.  Whatever their errors and problems were, they were there trying to get help.  They were having to face up to their mistakes.  I do not condone these behaviours, but I do have a lot more compassion and understanding these days.
***** That does not mean that I have not had my share of difficulties in the years since then.  I was just able to clear a significant 'hurdle' at a crucial time and keep moving forward.
Sources:
(1)  Concerns over increase in veteran suicides as support organisations search for answers.  Siobhan Heanue. ABC North Qld.  6 December 2020.
(2) Scott Morrison announces royal commission into veteran suicide.  Finn McHugh. NCA NewsWire news.com.au. 19 April 2021.
(3) Deaths as a result of service with Australian units. Australian War Memorial awm.gov.au
(4) Australian casualties in the Vietnam War, 1962–72.  Australian War Memorial awm.gov.au
To return to our Footy Almanac home page click HERE.
Our writers are independent contributors. The opinions expressed in their articles are their own. They are not the views, nor do they reflect the views, of Malarkey Publications.
Lifeline  is a free and confidential support service which can be reached on 13 11 14.
Beyond Blue  can be reached on 1300 22 46 36.
Do you enjoy the Almanac concept?
And want to ensure it continues in its current form, and better? To help things keep ticking over please consider making your own contribution.
Become an Almanac (annual) member – CLICK HERE.
One-off financial contribution – CLICK HERE.
Regular financial contribution (monthly EFT) – CLICK HERE.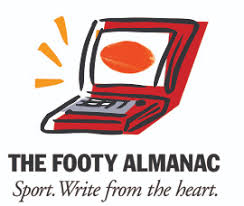 About
Dour opener and close-checking fullback. Peaked early.