Almanac Memoir: The late Herald
It is a miraculous thing to be able to pick up a smartphone and read all about a football match minutes after the siren. Outside the era of COVID-19 that activity, of course, can be any old time over the three or four days of a round of football, whereas all six VFL games used to begin simultaneously sometime after 2 pm. The live telecasting and then webcasting of games, and the gradual fragmentation of the fixture to maximise broadcasting contract value, have made it hard to recall – or for younger readers, to understand – the certain rhythms of a Saturday in Colac in the 1950s and 60s. Let's say sometime around 1963, when I was turning ten …
The weekend really began on the Friday afternoon. We were a newspaper-reading household. Not long after the end of school (that would be Colac West School No. 4064, which I believe educated at least one other Almanacker), the Herald, with "City Extra" printed as a red disc in the top corner alongside any late-breaking news, which was headed "Stop Press", would arrive. The delivery boy would poke the paper into that cylindrical holder that nobody has any more above their letterbox. In it, the match of the round would be previewed by Alf Brown on the front page of the back section of the broadsheet, continued on the next, and the other five games in separate articles by John Craven and others over subsequent pages. You wanted your team's game to be previewed by Brown, because his style was the most lively and opinionated, sometimes blunt ("Wade will beat Barry"), sometimes witty ("The only way McMaster-Smith will beat Skilton is to poke him in the eye with his hyphen.") Such detailed previews, which in total would cover three or four pages, would be impossible now because they largely comprised analysis of the expected head-to-head contests – remember those? – all over the ground.
The Saturday morning papers brought the opportunity for more footy reading. I would emerge in my pyjamas when I heard the scrunch/clunk of the paperboy's delivery and return to bed lugging two fat piles of classified advertising interspersed with news. There I would check whether we had been favoured with a back-page Lou Richards preview in the Sun, or Percy Beames in the Age, which my mother insisted on getting of a Saturday. Organized sport for little kids was not then a thing, so breakfast to lunch was pretty much a waiting time for the main purpose of the day, to listen to the footy on the wireless.
Melbourne radio stations in those days worked in a public-spirited manner unimaginable today, cooperating so that all six VFL matches were always broadcast. As a Geelong supporter, I was privileged along with my mother and one sister to be able to enjoy the uninterrupted call on 3GL by Ivor Grundy and Leo O'Halloran.* Maybe Bruce Peake had joined them by that time. The radio broadcasts were blessedly unencumbered by statistics, but one tradition still existing today was omnipresent: the in-broadcast sponsor name-check. A child's understanding of that concept, in the absence of a personal visit to Kardinia Park, led me to infer that on 3GL the Murray's Menswear scoreboard was so named because it was in some sense a structure provided by that very tailor, possibly with his name on it.
If the Carlton- and Collingwood-supporting family members were lucky they would have their transistor radios tuned to 3LO, 3AW or 3KZ – maybe 3XY too at that time – which dedicated their afternoons to football. If your game was on 3DB or 3UZ, which gave priority to horse racing at 40-minute intervals, tough luck – you lost about half your coverage. So up to five of us – my big sisters would be playing hockey at some time in the afternoon, watched by a parent or two – would spend three hours or so listening to different calls, and in my father's case following the horses as well. Somewhere around this time he backed in a seriously long-odds quaddie, and calculated that the win meant he had broken even over a lifetime on the punt, which he rightly thought an exceptional result.
So each of us would win and crow, or lose and sulk, and as night fell after the final siren and the last race, we might go to the home of my grandparents, who had a television, and watch the replay. More often, our own house would fill with the aroma of a pot of tomato soup and racks of toast, or if we were lucky an oven full of Hulm's pies. In the TV-free quiet after tea, one of us kids whose team had won would probably pipe up: "Dad, can we get a late Herald?"
That was what we called it. The opaque coding of the City, Late and Final editions of the Herald, and their Extra variants, was and remains an abiding mystery to me. The paper sold in Colac on weekdays after school time was the City Extra edition, but the paperboys (they were all boys in those days) from their fixed spot, or in erratic orbit around each of the Murray Street pubs, simply called out "The Herald", omitting consonants, in a traditional sing-song that sounded something like "Ee-air-OL".
It was one of the later editions that my father would sometimes venture forth for on a Saturday night. Not to the Union Club hotel – pubs were closed at 6pm in those days – but to the Trocadero café. On a mild night the Troc was an island of noise populated by an overwhelmingly male set of diners and coffee-drinkers, with Colac's vibrant Italian community strongly represented. To this young boy it was exciting and always slightly scary. Dad might stop for a quick chat, then he would buy the Herald, and maybe a Sporting Globe if Carlton had had a good win, and we would head home to divide the spoils among eager readers.
This edition of the Herald boasted "LAST RACE ALL SPORTS". In a time when nothing much else happened on a Saturday in Melbourne, sports reporting was its raison d'etre. A novice reader hoping for a full report on a footy match would, however, be disappointed. Alf Brown and five colleagues would each have reported on three quarters of a match, dictating the copy over the phone. That report would be in black and white, including the inadequate list of "Best players (to three-quarter time)". The final scores (and, I think, a ladder) could be found in blurry red ink in the Stop Press column, printed at the last moment before the stacks of papers were whisked away to Spencer Street station for their journey west. I imagine dwellers closer to the city might have been favoured with complete accounts in a later edition, but three quarters was as much as we ever got. It was worth it, though, because there were no Sunday papers: the first complete printed accounts of the Saturday football arrived in Colac on Monday morning.
Back home, the paper would be divided up in an attempt to give all interested parties a sheet or more that they could work with. The full broadsheet page of comics (about ten of them, including Ben Bowyang, Blondie, Garth, Presto, and later on, Peanuts) on the back of the front section was a useful stopgap if you were waiting for the part with your club's report. Eventually, having digested the three-quarter report – and though I was too young to judge, I fancy it was rarely a penetrating analysis – there was nothing else for it but bedtime, and the interminable wait through a paper-free Sunday. Only on Monday morning, almost two days later than we would now take for granted, did the footy weekend resolve itself with full and proper reportage.
*Musical coda
The 3GL broadcast was introduced by a stirring piece of orchestral music in 6/8 time that served as a kind of overture to the winter Saturday at our place. It was also used extensively elsewhere as a sporting theme, notably to introduce channel 7's World of Sport, and segments within it, for a period around the 1960s and 70s. I can't find a version of this music online that starts right at the beginning, with its fanfare-like opening, but the 30 seconds of background music at the opening of this YouTube clip comes from it:
https://www.youtube.com/watch?v=ffRzWVR3qiI
I would be grateful if any Almanacker can identify it.
Our writers are independent contributors. The opinions expressed in their articles are their own. They are not the views, nor do they reflect the views, of Malarkey Publications.
Do you enjoy the Almanac concept?
And want to ensure it continues in its current form, and better? To help keep things ticking over please consider making your own contribution.
Become an Almanac (annual) member – CLICK HERE
One-off financial contribution – CLICK HERE
Regular financial contribution (monthly EFT) – CLICK HERE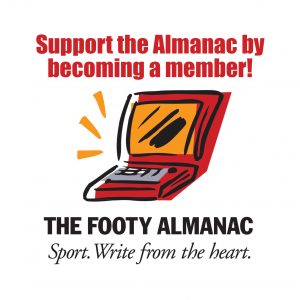 Andrew used to do computers; now he does books and writing. 1963, 2007, 2009 and 2011 were particularly good years in his football-following life.