Almanac Memoir: Geelong with All Five Senses
T & G Building, Geelong
Geelong with All Five Senses
Many places leave distinctive sensory impressions that stay forever. Geelong, where I was born and raised, is certainly no different. Visually, for me, the image of compact Corio Bay at the bottom of the city centre is prominent, even if that particular view of its natural beauty has always been undermined by the smoky factories of North Geelong on one of the not-too-distant shores. Buckley's Falls, near Queen's Park, whether raging in winter or trickling in a dry, hot summer, is another vista prominent in my mind's eye, because it was part of the semi-rural area of the city in which I spent my childhood.
Aurally, an important memory is the hourly tolling of the bell of the clock in the tower of – at one time – Geelong's tallest office structure, the T & G building in the city centre. This sound was even more memorable because it was made by a statue of two men (meant to be a father and son) which slid out of a doorway below the clock, near the top of building, into public view – each one of the men struck the bell with a hammer. Geelong-ites of times past would remember this very well; also, until not so long ago, if Geelong Football Club made the finals, the statues would be decked out in their distinctive blue and white hoop guernseys, with the numbers of star players on their backs.
In terms of taste, perhaps the main sensory impression for me and many Geelong inhabitants of a certain vintage is the glorious meaty and pastry excellence of a Timms pie. There is virtually no Geelong person of a particular age who will not declare that Timms pies are the best meat pies they have ever eaten. These pies have not been available for decades – almost needless to say – but were part of an era when Geelong had many of its own bakeries, not little boutique ones, but large family concerns that served multiple suburbs. The Podbury and Fitzgerald families gave their name to two of these bigger baking operations.
When it comes to memories related to touch, the feel of the cold clean water of the Barwon River is prominent for me, as I'd quite often swim in the river near the Queen's Park bridge, where there was also a Tarzan rope hanging off a tree on a nearby bank. So many Geelong kids and adults, including me, would have climbed this tree, swung off the rope, and ended up with a bomb-like splash in the middle of the river.
When it comes to smell, it's a bit harder to say what's at the forefront in my memory, though the powerful, greasy, somewhat 'off' odour emanating from the tanneries at Breakwater and the woolstores near the waterfront come quickly to mind. My mother once told me that her first-ever job lasted a day – it was in the office of one of the waterfront woolstores, Dennys Lascelles Ltd – and she left almost immediately because she couldn't stand the smell.
But perhaps the strongest sensory memory of all connected to when I was growing up is the sound of radios tuned to Geelong's local station, 3GL (which became K-Rock in 1990) on a Saturday afternoon during the VFL football season. If you walked around any suburb of the city on one of those afternoons, during this era, the Geelong Football Club game would be on the radio in what seemed like almost every house one went past, often wafting through a window, or from a workshed or backyard. It was the soundtrack to Saturday afternoon life at that time of the year. When I was growing up, the main football commentators at 3GL were Teddy Whitten, Brian Brushfield (or 'Bushy', as Teddy called him), former Geelong wingman Wayne Closter, and Peter Le Grand. Often, during that era, one would see Ted striding purposefully along one of Geelong's central thoroughfares, such as Moorabool or Ryrie Street. He didn't do anything half-hearted, it seems – even the act of walking was done with power and intent. I can still picture him now – chest out, arms pumping, looking like he'd bowl you over if you got in his way, though knowing Ted's reputation, if he did so, he'd be equally ready to help you up again, with a humorous quip and a grin on his face.
For more from Kevin, click HERE.
The Tigers (Covid) Almanac 2020 will be published in 2021. It will have all the usual features – a game by game account of the Tigers season – and will also include some of the best Almanac writing from the Covid winter.  Pre-order HERE
To return to our Footy Almanac home page click HERE.
Our writers are independent contributors. The opinions expressed in their articles are their own. They are not the views, nor do they reflect the views, of Malarkey Publications.
Do you enjoy the Almanac concept?
And want to ensure it continues in its current form, and better? To help things keep ticking over please consider making your own contribution.
Become an Almanac (annual) member – CLICK HERE.
One-off financial contribution – CLICK HERE.
Regular financial contribution (monthly EFT) – CLICK HERE.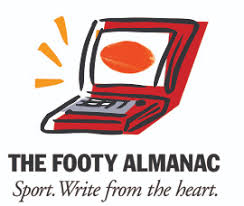 About
Kevin Densley is a poet and writer-in-general. His fourth book-length poetry collection, Sacredly Profane, has just been published (late 2020) by Ginninderra Press. He is also the co-author of ten play collections for young people, as well as a multi Green Room Award nominated play, Last Chance Gas, which was published by Currency Press. Recent other writing includes screenplays for films with a tertiary education purpose. He laments the extinction of Cascade Pale Ale and Kiwi Lager.