Almanac Memoir (and Music): Words Are Not Enough
Words Are Not Enough
(Newtown, Geelong. 1978 / Myer Music Bowl, Melbourne. 1978)
I went to secondary school at St Joseph's College, Geelong. Its grounds were at one end, the highest point, of leafy Aphrasia Street in the suburb of Newtown. I walked to school along this lengthy street from my home in nearby Austin Street. It was a pleasant, picturesque walk, and in the warmest months there was the almost deafening, but nevertheless wonderful, sound of cicadas screeching in the trees as I went by.
The main part of the walk, especially in Years 10, 11 and 12, was passing Sacred Heart College, the Catholic girls' school not far from St Joseph's. The girls would be arriving at school as I walked past, and waiting for parents or buses as I went home. Going by Sacred Heart was a good time to connect with the girls from the school – chat and pass on notes. (No mobiles or internet in those long-ago days, of course.) Somehow I got to know four Sacred Heart girls who often hung around together – Joan, Deirdre, Rosemarie and Fiona. I recall an extended pashing session with tall, dark-haired Rosemarie at the St Bernard's Disco and taking her to the Geelong Show in Year 11, as well as going out for a couple of months with pretty, blonde, witty Deirdre in that balmy time following the end of Year 12 – but this is to jump ahead a little.
I remember that Rosemarie thought I looked like the bass guitarist from Cheap Trick, Tom Petersson, which was cool with me, as I played bass guitar in a school rock band at the time – and I liked Cheap Trick – while Deirdre quoted from a hit song of the period in a letter three of the four girls wrote to me. (Fiona wasn't with them in the Sacred Heart library when they wrote it, which is mentioned.) The letter was passed on by Joan on one of those afternoons walking home from school. Rosemarie penned the longest bit, and underneath her section Joan and Deirdre made their contributions. Deirdre simply added something at the end, quoting from Jon English's hit, Words Are Not Enough, its identical opening line, "Words are not enough". The second line of the song went "To show the way I feel about you". I particularly enjoyed Deirdre's bit, even if she was just trying to be amusing, as she was the one of the four I liked best.
Later that year, I went to the Myer Music Bowl with some mates from school – guys I played with in the rock band, actually – and we saw a bill which included Thin Lizzy, Wha-Koo and Jon English. I distinctly recall Jon English singing "Words Are Not Enough", and the amusing thing he did when he came to its last line "And as long as you're here that's all I ask". He reworded it and sang "And as long as you're here you can kiss my ass". He was particularly emphatic in the way he enunciated those last three words.
From Deirdre's whimsical wit to Jon English's more profane variety: the yin and yang of the universe I suppose!
And I still have the letter I received from the three girls.
It's a treasured possession.
(Acknowledgement: an earlier version of this piece appeared on the Stereo Stories website, 2019.)
Read more from Kevin Densley HERE
Kevin Densley's latest poetry collection, Sacredly Profane, is available HERE
Read more Almanac Poetry HERE
If you would like to receive the Almanac Music and Poetry newsletter we will add you to the list. Please email us: [email protected]
To return to the www.footyalmanac.com.au  home page click HERE
Our writers are independent contributors. The opinions expressed in their articles are their own. They are not the views, nor do they reflect the views, of Malarkey Publications.
Do you enjoy the Almanac concept?
And want to ensure it continues in its current form, and better? To help things keep ticking over please consider making your own contribution.
Become an Almanac (annual) member – CLICK HERE.
One-off financial contribution – CLICK HERE.
Regular financial contribution (monthly EFT) – CLICK HERE.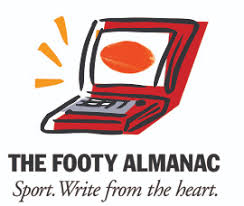 About
Kevin Densley is a poet and writer-in-general. His fourth book-length poetry collection, Sacredly Profane, has just been published (late 2020) by Ginninderra Press. He is also the co-author of ten play collections for young people, as well as a multi Green Room Award nominated play, Last Chance Gas, which was published by Currency Press. Recent other writing includes screenplays for films with a tertiary education purpose.