Almanac (Finals) Memoir: A few days in September
I sit here on the Monday of Grand Final week, in this most bizarre and troubling of years, in mid-October. October! Richmond has made it to another grand final: their third grand final in four years. It does not sound quite right – "their third in four years". As though another person has written it. It is the stuff of outrageous dreams. Only 3 years ago, I sat here reflecting on Richmond's fresh 2017 grand final win – such an aberration then – and my joy was profuse. But three nights ago I sat with my daughter in the drizzle at Adelaide Oval and in the tense final minutes of that brutal game, I sensed a small part of me willing Port to fall over the line. Port! Normally I would be near-paralytic with apprehension, craving a Tigers win; it caught me by surprise, then, this traitorous sense of ambivalence towards a Richmond preliminary final triumph. And for a moment it left me unsettled. It was not hard to entangle, however: the feeling experienced when your team makes it to the last game of the season – when you experience that for the first time ever, or the first time in a long time – thati s a feeling that you want people to experience, even if they barrack for the opposition. Even if they barrack for Port Adelaide!
With the settling of the dust, though, tribalism and personal history has re-asserted itself above altruism in my emotional hierarchy, and I will be fiercely willing the Tigers to the 2020 premiership over Geelong. When the good footy times come, we must cherish them, for they may not come again, or at least for many decades (you need only ask the supporters of the Demons, or the Saints). In 2017, it was I who had never seen his team in a grand final, not in three decades of loving the Tigers. And as I basked in the afterglow then of their drought-breaking grand final appearance (and win!), the words tumbled onto the page, as I recounted the unlikely story of how I actually made it to the MCG on that last Saturday in September.
This is what I wrote.
A few days in September.
I have been asked countless times over the last five months how it is that I came to barrack for the Richmond Tigers. Bemused patients of mine, noticing Dylan Grimes' signed, unwashed guernsey from the 2017 Round 20 Alannah and Madeleine Foundation match versus Hawthorn, now framed and hanging on the wall of my Kangaroo Island general practice consulting room, raise an eyebrow in my direction. "Tigers? Are you from Victoria?"
No, I tell them, I was born in Adelaide. Born in 1980, two months after Richmond 'last' won a premiership.
It was always Sturt when I was a boy. The Double Blues. That was my team. My father and his three brothers had grown up barracking for Sturt during the golden age of that football club. Sturt had dominated the SANFL through the late 1960s and early 1970s, winning their premierships often at the expense of Port Adelaide.  I remember playing with a football as a boy on the dusty no-through-road outside my grandparents' house on the Fleurieu coast, one uncle swooping towards me with arms outstretched in pantomime exaggeration as I struggled to pick up the ball, which bobbled chaotically on its end and then on bits of gravel. Another uncle and my father whooped "Bagshaw!" from a distance as my uncle wrapped me in his arms. "Baallllll!"
Where Paul Bagshaw was their hero, mine was Greg Whittlesea. I remember the pride I felt when he won the 1988 Magarey Medal; as though my support had contributed to his medal-winning. And that back page of The Advertiser stayed on my bedroom wall for years. Wins like that had to be relished, you see, when you supported Sturt in the late 1980s and early 1990s. They were perennial wooden-spooners; eight consecutive wooden spoons, in fact, between 1989 and 1996, including one completely winless season in 1995. I am sure (although you never know to what extent memory such as this is invented) that I came to identify then, loving Sturt as I did, as a supporter of the underdog: the loser, the hapless and 'the down-on-their-luck'.
Which brings us to Richmond, An eastern Melburnian parallel. Endless loser. Hapless. Down on its luck.
From season 1986 to 1994 the Tigers finished no higher than 10th on the ladder and won no more than 8 games in a season, whilst as a club they fought to Save Our Skins, though I doubt I knew then just how close the Tigers were at that time to financial ruin and non-existence. I was also unaware of what a powerhouse of the VFL Richmond had once been.
So the VFL wooden-spooners became my team.
Maybe I did know, intuitively, as a 7 or 8-year old, that the tide eventually would turn, and that success for the underdog would be all the more exhilarating and rewarding when it came; that I could shout out loud to anyone who would listen that I had followed them all my short life! Just imagine that premiership when it comes – the hapless Tigers winning! My Tigers! My underdog! Back from the dead!
What I did not intuitively know, I suppose, is that I would be waiting until September 2017 to claim that redemption.
Many times I nearly did not make it to the 2017 AFL Grand Final and get my chance to shout out loud. I should not really have been there. But remarkably, I was.
I have my close friends Chris and Annabelle to thank for that privilege. Chris, my friend for over 20 years; a friendship that really took off when, as 16 year-olds, we identified a fresh and unjaded common interest in golf and met at the Hahndorf Golf Club one wintry day in the school holidays for what would be the first of many days walking and hacking our way around various fairways together. Our respective Mums dropped us off and picked us up that day. Neither of those two incredible women are alive now – both taken by cancer – and the picturesque Hahndorf Golf Club went under years ago and exists only as cow paddocks these days. Chris and I have shared much since, from weddings to funerals, and everything in between.
What we do not share, however, is allegiance to the same football club.
Chris is passionately Crows – usually referred to by him, I never know whether reverently or mischievously, as 'the Camries' (either way, Toyota would be pleased to know). I remember sitting next to Chris watching on television the 1997 and 1998 Crows grand final wins and wishing I could share more wholly in the excitement experienced by him and my other close Crows-supporting mates.
And now Annabelle, his wife, either infected by Chris' enthusiasm and joy in all things AFL or resigned to the necessity of finding with her husband a common interest between March and September (I actually suspect the former), is a signed-up Camries diehard.
And so grand final week 2017.
I see Chris on the Monday. It's a sad occasion. One of our closest mates' Mum has died. She was another gem. Bloody cancer again. We meet before the funeral. Mention of the grand final is muted but talk naturally turns to the weekend, despite the subdued chatter and the brutal dose of perspective. Still: Chris has a guaranteed ticket (Camries gold member). Annabelle does not, however: how to get one? I can see Chris' mind is ticking it over. As for me, my September jaunts from Kangaroo Island to Melbourne are done for the year. I feel privileged and jubilant to have been at Richmond's qualifying and preliminary finals at the MCG this year and have memories already to last me a lifetime. I will sit down with my girls to watch the grand final on the telly and I will lap it up, win or lose. I just can not envisage a way to get my hands on a golden ticket – even the ticketed grand final supporter event at Punt Road has sold out!
I ring midweek. Chris is excited. Of course he is. He loves the build-up. Grand final week with the Crows involved is just one big unimaginable treat for Chris. But he's also nervous. Not nervous about the Crows – in fact, he's unusually bullish about their chances – but because he and Annabelle have hatched a plan to get her into the MCG on Saturday. Born of their mutual love for Fox Footy's AFL360 with Gerard and Robbo, their plan is far-fetched to say the least, and even I, an eternal optimist, am dubious. Gerard Whateley has announced on the Tuesday night show that AFL360 will be giving away two grand final tickets at their grand final eve show on Friday night, live from outside the MCG… to the best dressed member of the attending audience.
By 5am the following morning – after lying awake thinking of a costume befitting such a prize – he has ordered online two matching full-body Mighty Morphin Power Rangers outfits.
"What?!"
"Yep, full body. Including mask. Crows jumpers on top."
"Ok…."
"Yep, we're going to stand in full pose. For as long as it takes."
By full pose of course he means the 'Power Rangers stance' that the whole Crows team have adopted during the national anthem at the start of both their finals so far, standing alone, staring down their opposition, legs wide apart, arms outstretched by their side. I like Chris' idea. It's topical. And brave. What I don't mention right then is that I think the Crows look arrogant and foolish when they adopt the stance.
I'm glad I don't mention this.
For his next sentence signals a remarkable change in destiny:
"Wells, if we win (and I think we can), you can have my winning ticket."
"What?!"
"Yep, if you can get to Melbourne."
"What do you think your chances are of winning? Give me percentage."
"1, maybe 2."
"That high, eh?"
"Perhaps 3."
"Ok. Great."
After our conversation I check online for flights to Melbourne from Adelaide on Saturday morning. Just in case, you see.
There are none. All sold out. Which means driving. From Kangaroo Island. Through the night. If they win the tickets.
For the next 24 hours, Chris and I and two of our other closest mates text each other with tips: Norm Smith, most goals, final margin. Gosh, it's exciting! Just thinking about Richmond being in a grand final. I am envious of Chris and our mate Greg who will be in Melbourne for the parade.
"Do you know what I'm looking forward to most, Wells? Well, maybe not most, but heaps? Waking up Saturday morning, knowing it's grand final day, getting out early into Melbourne, soaking up the atmosphere, sitting down with a coffee, maybe an Eggs Benedict, you know, and reading the football section of every newspaper I can find."
I know exactly what he means and I revel vicariously in his excitement and anticipation. It certainly won't be how my Saturday morning runs.
On Thursday night Chris texts two photos to us all: one of him and one of Annabelle, respectively in full kit. Annabelle is 25 weeks pregnant with their third child. She's standing in their bathroom in full head-to-toe Power Rangers regalia, striking the pose, Crows guernsey adorning her second trimester bump. It is convincing. It is masterful.
I think they might be a chance.
I feel comfortable about driving to Melbourne through the night. What a small price to pay for the chance to see Richmond break a 37-year premiership drought. I might not make it for the Eggs Benedict, but I would be there for the game in very good time. To drive to Melbourne, however, I need to get off this island. The last ferry off the island (a 45-minute crossing) on Friday night is at 8.30pm. There is an earlier crossing at 7.30pm. I won't find out if Chris and Annabelle have won the tickets or not until about 8.30pm, at the earliest, I'm told. That will be too late to make a call on whether or not to get on the 8.30 ferry and so 7.30 it will have to be, finding out on the other side, the mainland, whether I carry on driving through to Melbourne. If they don't win I will just turn around and come back on the last ferry to the island for the day, at 9.45pm.  Easy. The plan is set. It is a ridiculous notion, of course: $180 and a return ferry crossing with my car for, what, a 3% chance, optimistically speaking? That's miracle territory! A fool's errand if ever there were one, but to my mind it is entirely logical.
Friends and colleagues during the day ask me what I'm up to for the weekend. They look at me quizzically when I tell them I might be driving to Melbourne overnight if my friends dressed as Power Rangers win a fancy dress competition; otherwise catching a ferry to the mainland and straight back again on a whim.
Others think it is a grand adventure and tell me they'll be watching AFL360 and wishing my friends and me every bit of luck.
I am not quite sure what my wife thinks – 'bemused' does not quite cover it – but my 5 year-old daughter is distraught when she finds out that I plan to be away for yet another weekend watching football. Her tears flow. This is something of a reality check for me. What is this game that is dragging me away from my family? How have I allowed myself to be dragged into this vortex? I can extricate myself still, surely. No need to catch that ferry. Enjoy the game from home with your girls. They've all learnt the Tigers' theme song and they love the national anthem. It will be fun! Cheering for Dusty and Rioli together. Not too late even to invite a few friends around for a barbie, perhaps, although I know I would be bad company and a poor host at any barbeque tomorrow, transfixed on the television, unlikely to fetch anyone a drink, agitated by small talk during play, intolerant of the girls' requests to go outside and play with them when they inevitably get bored of watching.
And after all, I am hardly the most diehard Tigers supporter there is. I am lucky to make it to one or two games a season, and even let my membership lapse for a season some four or five years ago. Maybe that was during the era when Mario from Doncaster was microwaving his membership card. But I have ridden this particular season hard, turning to my own surprise into one of those absurd barrackers who gets so nervous he occasionally has to walk out of the room to calm down during tense final quarters, and whom neutral observers at the pub cast sideways glances at when they see a grown man with his head buried in his hands at the final siren, unable to speak. Regardless, I am far from the most dyed-in-the-wool heartland supporter, especially when I think of those gathered at the Punt Road End, week after week.
In truth, however, I can not extricate myself from this; I am already on a journey that feels pre-destined. In fact, the whole Tigers season has had that inexorable quality to it. Even the heartbreaking series of narrow losses seemed at the time like important stepping stones to greater glories. The unnerving links to the Tiger's drought-breaking premiership of 1967 – 50 years ago – had been a constant presence in my mind, thanks to Tony Greenberg's superb nostalgic reminders on my weekly Talking Tigers podcast. Stretching my confidence further in grand final week was the striking serendipity of Sturt having beaten Port Adelaide in the SANFL Grand Final that Sunday just gone, as they did, yes, 50 years ago, in 1967. I had missed Sturt's one-point triumph this year, being instead in Melbourne watching the Tigers' VFL team lose their own grand final by less than a kick. The Double Blues' wooden spoon days are long behind them.
I had even announced mid-season (I think perhaps after a rare win against our inexplicable nemesis over the last decade, the Kangaroos), to my wife, who undoubtedly missed the significance of such an announcement, that I thought "this might just be the Tigers' year". I remember stopping myself mid-sentence before daring to finish it: this was something I had never said before. Ever! And had never even thought of saying! "This could be our year" has not been in in the Tiger supporters' vernacular for over three decades. Furthermore, I think I might even have said it with something approaching confidence and not just faint hope: as in, "I really do think that we can win it this year, Nic."
Crazy, irresponsible behaviour!
Whether through unstoppable destiny or through selfish pig-headedness, I end up driving away from my forlorn daughter on grand final eve in the direction of the MCG, consoling myself that there is a minimum 97% chance I will be home again by midnight and there to greet her in the morning. It is, nonetheless, a fraught moment, thick with self-examination.
The water is smooth and the air is light at the ferry terminal. I have already received word from Chris that they are in position at the live show and have got there early, got a good position, right near the stage. He'll be incommunicado for a while now, frozen in Power Ranger stance for 2 hours in this last desperate attempt to win a grand final ticket for Annabelle. And me! By the time the ferry departs Kangaroo Island, the show is halfway through. The text messages are coming now from friends now invested in my madness, watching Foxtel from their lounge rooms on the island and in Adelaide:
"I can see them!"
"They're in with a chance!"
"Gerrard and Robbo love them!"
A friend on the island sends me a photo taken of the telly screen; it is of Chris and Annabelle (not that the uneducated would know), two focused and stationary figures in predominantly red costume superimposed with the Crows' tricolor, directly next to Mike Brady, who is singing his classic Aussies Rules song, 'One Day in September'. Brady is bemused by the Power Rangers and even throws a comment in their direction during a key change on the guitar: "why so serious?" This I am told, of course, because there is no footage on the ferry that I have access to. I am reliant on text message and social media. A WhatsApp group of mates spread across various states has started running hot. We normally chat about the Socceroos, and cricket, and the Spring Racing Carnival, but tonight it's all about Grand Final tickets, and AFL360, and getting me off the Island. Suddenly our chances aren't 3% any more. I reckon they're 50 and rising fast! What a story this will be. I'm already writing it in my mind. That, and planning where on my drive to Melbourne I'll stop to snooze.
I arrive on the mainland. No stretch of water now between me and the MCG. I park the car on tarmac overlooking the terminal and wait nervously, receiving updates on WhatsApp. The night is quiet. I can't stay still. I sit at the wheel, then on the bonnet of the car, then pace around the carpark.
Then, at 8.27pm, my hopes are dashed. A message comes through from Palash in Adelaide: "Tiger train???!!?! They lost. Back to KI you go."
The Tiger Train had beaten Tex's Power Rangers. Nobody had expected it. Funny, that. To the victor, the spoils…
I am defeated and deflated. I had been looking forward to the drive through the night. A small part of me considers driving onwards anyway, just to be in Melbourne, to be a part of the atmosphere in the city for that one day in September. But this folly had gone on long enough now. It is time to get back to my family and enjoy telling others the story of how I nearly got to the 'G for Richmond's first grand final in my living memory.
My ferry home is not until 9.45pm. A phone call comes through from Chris. He's finally dropped out of character and retrieved his phone.
"Sorry mate."
"Sorry?! Mate, I'm sorry! You were so close! What an effort!"
"It's pretty cold here, we're freezing."
"Time to go home and get ready for tomorrow. Thank you so much for giving it such a crack. Memorable."
"We might go home. But… the thing is… we're hearing there are 2 more tickets being given away by Bounce."
"Bounce? What's that?"
"It's this other Fox Footy show. It's on after 360. We never watch it. Annabelle is just checking with the producers if it's worth sticking around for… [Bella? What do you reckon? You want to? I don't mind]…"
"Mate, I probably won't be able to wait and find out to be honest, the last ferry is at 9.45…"
"Yep! We're on! We're staying. Bella wants to win. We're staying."
My heart lightens a little.
We wish each other luck, and as he signs off Chris tells me they should find out the result at 10.15pm local time – that's 9.45 where I am in SA.
9.45pm. Last ferry of the day. The ferry company is known for its punctuality and normally have all cars packed on and ready to depart a good 10 minutes prior to departure. I can't see this working. I check ferry details for the next day, hoping there is an early ferry back to the island, determining that if Chris and Annabelle miss out on the tickets again (as they likely will), I can sleep in my swag overnight and get back home for breakfast the following day. But all ferries are booked out until 7pm the following day. The start of school vacation and lots will be travelling to our popular little island as tourists and holidayers, leaving no room on the boat till the evening. 9.45 tonight it will have to be. I slink inside the terminal to the check-in desk, and regale the woman there with an abbreviation of my story so far. She hears me out with good grace and, whilst I think the idea of driving to Melbourne for a football game is something of an anathema to her, she agrees to relay my story to the Captain in the hope that he might allow me to drive onto the boat at the last possible moment, giving me every chance to hear the result of Bounce's ticket giveaway before committing to sailing home.
I wander down to the car deck on the ferry, currently empty, where the crew are waiting for the first of the last boat home's cars to arrive at the terminal. I fill them in and they laugh, humoured by my fruitless crossing and sympathetic to my timing predicament. "No worries doc, we'll call you on at the last minute." I give them a wry grin of thanks and apology and head up to retrieve the car.
Meanwhile, on WhatsApp, my good mates are heavily invested in this new outcome and love the drama that this scheduling dilemma now poses. They are going to ride it all the way.
By 9.35 all other cars were packed away. In truth, the ferry might have left ahead of schedule were it not for me, still parked on the bitumen, but generously they wait till the scheduled time.
"Any word?" one of the crew calls out.
"Not yet," I reply, and signal back to him, waving my phone in the air. I am barely daring to breathe. I feel self-conscious and apologetic: I do not normally enjoy 'rocking the boat' or making a fuss. Normally I'm the one apologising if a shop assistant gives me too little change. But by hell I am not going to drive onto that ferry until they give me no choice but to.
9.44 and I have one eye transfixed on WhatsApp and the other on the ferry gate.
It does not look good.
They haven't even talked about giveaway tickets yet on Bounce, I'm told. And the show is running overtime.
9.45.
"Anything?" I type.
No response.
9.46. The ferry guys are being very generous but I can see them making moves now towards the gate.
"Danny Frawley's just crapping on about something," someone types back.
Damn. The great Danny Frawley, former Richmond coach. Come on, Spud, come on.
Another thirty seconds pass. Slowly.
"Anything?" I type again. I don't think there's an Emoji which emotes frantic desperation.
"Nothing. Sorry Sean (my nickname, a story for another day)."
Finally I get the call up.
"Sorry mate, we gotta go. Any luck?" says the relaxed deckhand.
I shake my head and shrug, but thank him for their patience.
"Just head up then reverse down onto the boat."
I put my phone on the passenger seat next to me, still open to WhatsApp, praying that someone will text through the news that will stop me from reversing onto this boat. I move forward and up with one eye still fixed on the seat next to me. I brake and then slowly, reluctantly, I pull the gear into reverse. This is it then. A deep breath. No Richmond grand final. It was always an implausible mission – how did I allow my hopes to be jacked this high? Why does this feel so unnatural? Surely there must be one last-minute twist to this tale, I think. Surely! Inching backwards towards the lower ferry deck, undoubtedly as slowly as anyone has ever reversed a car onto that ferry in history, I pick up my phone and shake it, willing some good news out of it. But instead only the clunk of my wheels hitting the bridge and then the shudder as I roll across it onto the deck. The crew are quick to close the gate so they can finally set sail and get home for the night before doing it all again tomorrow. Before I even have time to turn off the ignition, the bridge has been hoisted up and the ropes set loose from the wharf. The ferry is free and there is now water again between me and the 'G.
I realise the heavy feeling at the bottom of my chest is adrenaline and so step outside the car to breathe in deep plumes of diesel, salt water spray and sheep manure.
By the time I climb up to the upper deck to buy a coffee we are a few kilometres off shore, powering toward the island once more.
I spy one of our medical students, Brad, built much like an AFL centre half-forward himself. He graciously takes off his headphones and listens to me as I start to pour out my story of the night so far. I can feel myself talking fast and talking loudly, animated. The adrenaline is still coursing through me, I suppose. Strangers on the boat are listening in and, from down the row and across the aisle, shooting smiles and even sympathetic laughs in my direction at the appropriate flash points in my tale. It looks as though their initial irritation at discovering the identity and cause of their delayed departure has now been over-ridden (thankfully) by their interest in my curious excursion. Then, my story-telling flow is interrupted by a flurry of text message alerts from the phone in my pocket.
I take it out and open the first message.
"What?" Brad asks, sensing distress.
I look at him and hold his gaze. I think he sees something in my eyes now approaching mirth, because he smiles back, still wanting more information. "What's funny?"
But it's not really funny. Inside I feel sick…
"They won."
Brad himself doesn't know whether to laugh or sob on my behalf. I look around the boat to find that my fellow passengers, the welcome eavesdroppers, are all looking in my direction too; some grinning, a couple looking as though they had accidentally stepped on a baby bird.
Brad, ever optimistic, is undeterred: "It's not too late."
Yes it is, Brad. In case you haven't noticed, we're a third of the way across Backstairs Passage, and I turn to look behind me at the receding lights of the mainland to make the point.
"You can fly there in the morning."
"Nah, I've already checked – there are no flights left to Melbourne tomorrow morning. None!"
"Just check."
I open the Webjet site on my phone as much to prove my point as out of any hope that the situation might have changed. To my astonishment, there are many flights now available from Adelaide to Melbourne in the morning. I check the date. Yes, Saturday 30thSeptember, 2017. I have it right. Seats aplenty!
"Told you," says Brad, a glint in his eye, recognising that this is a rare opportunity for a medical student to say this to a medical mentor. But I am ever thankful.
He fills in the gap too. "Probably Cats fans from Adelaide who've cancelled their flights now that Geelong aren't playing in the GF." Hailing from Canberra, Brad is a take-it-or-leave-it Geelong Cats fan and recovered quickly from their preliminary final loss last Friday. He's probably right. I can't think of another explanation to explain this sudden glut of availability.
I open WhatsApp for the first time in a good twenty minutes to find that there has been much activity from the group, at first decrying the irony of my situation; secondly, assiduously examining how best to get me to Melbourne tomorrow (they are much further down the track than I, each having nominated the preferred ferry-flight combination for the morning); and finally realising that I haven't been online, which has led to conjecture that maybe I didn't even get on the ferry in the first place, or have perhaps jumped off in a desperate attempt to swim back. One labels the ordeal a Shakespearean tragicomedy.
What none of them have realised is that there is a regional airline which flies at least twice daily between the island and Adelaide. There is a flight tomorrow which leaves at 10.30am. It would arrive in Adelaide at 11, leaving me (just) enough time to make the 11.30 flight to Melbourne which is the last available flight that would conceivably get me to the MCG for the first bounce. It's workable. WhatsApp doesn't like it. "What if the first plane doesn't get there on time? It'll blow the whole plan!"… "Will the 11.30 really get you to the 'G on time?" The first ferry off the island tomorrow, however, at 8.30am, would be leaving it just as tight. A quick calculation has me arriving via ferry then road at Adelaide airport at 11am as well – if all goes smoothly. Besides, I feel tired just thinking about being back at the terminal in the morning for yet another sea crossing. Moreover, a 10.30 flight gives me a couple of hours in the morning to spend with the family before flying out again. My daughter will be pleased.
There is no more to think about. I book the flights. I can scarcely believe it.
I ring my GP colleague, Gerome, who had kindly agreed to cover my anaesthetic on-call duties for the weekend should I be successful. I explain the new plan. He is excited for me; an avid surfer, he will take the opportunity to drive an hour south in the morning to find some waves, but will be back to cover the hospital by the time I fly out.
A call with Chris and Annabelle on speaker phone: mutual congratulations; shared anticipation of the momentous day ahead. It turns out they gave up big bucks to keep the ticket safe for me – four figures offered to them by witnesses to their incredible win. But the insistent propositions were politely declined and the precious tickets pocketed. Safeguarded.
One of the spectators to my Friday night adventure has sent me grainy footage of the winning moment on Bounce. It was only going to be a one-ticket giveaway for a few terrifying moments of hindsight. It seemed only a plaintive acclamation of Annabelle by Chris for having stood in the cold Melbourne night for hours whilst 25-weeks pregnant got the double ticket over the line! Though I think Danny Frawley was just razzing them. It was always going to be 2 tickets. I will be forever grateful to them both. And Spud.
Saturday 30thSeptember. I am woken before dawn by a little knee in the small of my back, as is often the case. Normally this is accompanied by a groan but today, I smile. It's the last Saturday of September. I am wide awake. "Clare," I whisper. "Do you want to go on a mission?"
Clare, our five year-old, is surprised and happy to see her Dad returned. Her favourite activity at the moment is taking one or both of her parents on 'spy missions', where we venture with stealth into the scrub adjacent to our house, having packed basic provisions and toilet-roll binoculars, where Clare lets her imagination run wild with suspense and suspicion and thoughts of elaborate booby-traps. It is a bright morning and Clare and I are tracking our way around one of the old grazing soaks in the sand dunes when my phone dings. It is still early: 7.15am. Surely it is Chris, with a text message full of unbridled enthusiasm for the day ahead. But no. It is a message from the regional airline on which my first critical flight is booked. My knees wobble. "Your flight from Kingscote to Adelaide today (30 Sep 2017) has been delayed. Our current Estimated Time of Departure is 12.20pm. Sorry for inconvenience."
Inconvenience?!
This is not inconvenience, this is a forceful unescapable message from the universe that my quest to be at Richmond's first grand final in 37 years is over.
A message I ignore.
For there is one remaining option: I leave for the ferry now. With the spy mission brought to a spontaneous early completion, I bundle a rucksack into the car, don my Tigers guernsey, hug the girls apologetically and set off for the ferry terminal, half an hour away. A phone call to Gerome first to catch him before he gets in the surf. "Sorry mate, do you think you could head back in range to cover the anaesthetics? I have to leave early." Gosh, the favours people are doing for me to get me to this match.
The ferry booking office is not yet open for the day and it is too close to the 8.30 departure for the website still to be taking bookings, so it is yet another leap of faith. Arriving at the ticket office, the ferry is booked out, and so I am directed to the standby lane where the lucky losers might score a last-minute spot on the vehicle deck if there is space. I am lucky today: the crew are the same crew that chuckled at my plight the night before. With raised eyebrows, they see me sitting in my car in the standby lane and fretting that I might be kept off for this crossing. "It's ok, doc, we'll get you on," one says, with a wry grin. And they do. And once again – for the third time in 24 hours – I am being shipped across the 16 kilometre stretch of water between my island and the mainland, with hope on my side, but anxiety nagging at my sleeve.
It is a 95 minute drive from where the ferry docks to the airport, and I will have only 100 minutes to do it if I want to catch my flight to Melbourne. That does not leave a lot of wriggle room.
Right now, however, as we sail Backstairs Passage, there is nothing I can do about that and so there is time for a coffee. Behind me in the queue at the onboard cafe is a local Member. He has heard about my journey (word travels fast on a small island) and, like most politicians, can't resist value-adding to someone else's story. "Hope you're not taking your car to the airport, Jeremy. You'll never get a park in shortstay," he insists with a slightly self-satisfied smirk. I smile and shrug at first, by habit inclined to ignore him. As I make my way off the ferry, however, his words won't leave me. What if he is right? Looking for an elusive park might cost me that crucial five minutes, and prove the difference between being on that plane or coming all this way in vain. I actually can not afford to take the chance that the local pollie is simply grandstanding.
So the final part of this exhausting plan is constructed. I ring a friend, Palash, who lives (roughly) en route to the airport.  Palash has been riding this epic hard via the WhatsApp group and is thankfully invested already in my successful arrival at the MCG in time for the bounce, and so is keen to help. We arrange to meet out the front of his house so that he can drive me the rest of the distance; he will be ready to go, so all I will need to do is park outside his house and then jump in his car. A drive-by drop-off will take away all the risk of having to find a park quickly. The plan is perfect. But nearing his house, with nerves starting to take hold, I panic, and take a wrong turn. Flash has been following my journey on the Find My Friends App, watching the dot of my car steadily approach and then fly past his road. He rings me, incredulous. "You've gone too far you idiot! Turn around!"
With the aid of GPS, I finally make it to his house. Time is now really tight. Barely a minute to spare. I bound into the passenger seat but before I close the door he whispers, "Close it quietly." His toddler daughter is asleep in the back of the car and it had taken a while driving the local streets to get her off.
So it is that the last surreal leg of my journey to the airport is done in whispers, trying not to wake up a toddler, and eating the most delicious fresh Turkish bread I have ever eaten (an abiding memory of the day). It is 11.05 when Palash drops me at the airport, for an 11.30 departure. We bump fists and I jump out, easing the car door softly to a gentle close behind me. And then I'm away, sprinting across the plaza and then through the airport (slowing briefly to pass through x-ray) at a pace I like to think would rival that of the Tigers' Connor Menadue, who would later take out the official grand final sprint at half time at the 'G. I am the very last one to board the plane, and with my boarding pass zapped, I can pause to take a photo of myself, grinning, hat lifted in triumph, passing through the boarding gate, for posting on the WhatsApp group, whose members are waiting to hear the outcome of my mad dash. Unequivocal joy! And in a stroke of luck I am seated in row 3, enabling me an hour later to be first off the plane and sprinting again through the airport at Tullamarine to find the first taxi in the queue which will take me to the MCG, allowing me to greet Annabelle with a grateful hug at the otherwise empty Gate 1 turnstile, just in time to hear Mike Brady belting out 'Up There Cazaly'.
Much has been written about that holy afternoon, and there is much more I could write still about the pride and the triumph (and the shock!) that came from watching the Tigers dismantle the Crows that last day in September. But this story was about a journey that started, really, at the age of 7, and finished as I jogged up Jolimont St, smiling (puffing a little bit), with the humming cauldron of the Melbourne Cricket Ground looming large in front of me, yellow and black streamers wrapped around the lamp posts.
By way of postscript: the following day I stopped in Yankalilla on my drive back down to the ferry to return home. I had been listening to ABC's replayed call of the grand final on the radio in the car, and when I arrived in Yankalilla, a little town nestled between the hills and the coast of the Southern Fleurieu, it was three-quarter time in the call, Gerard Whateley at the microphone. I pulled in at the oval for a stretch of my legs on the grass, and pulled out an old Sherrin I kept in the back seat. I felt an impulsive need just to dob the ball a few times at goal before continuing with the drive. As I skipped across the boundary line of the forward pocket, I realised with a gasp that I had landed (instinctively?) at the home ground of the Yankalilla Tigers football club, where I remembered at that moment that my boyhood hero Greg Whittlesea had seen out his final playing days before retirement. And just for a moment, as the serendipity of that particular moment dawned on me, I felt the universe pause for a nanosecond, in a flash of yellow and black, before moving on.
To return to our Footy Almanac home page click HERE.
Our writers are independent contributors. The opinions expressed in their articles are their own. They are not the views, nor do they reflect the views, of Malarkey Publications.
Do you enjoy the Almanac concept?
And want to ensure it continues in its current form, and better? To help things keep ticking over please consider making your own contribution.
Become an Almanac (annual) member – CLICK HERE.
One-off financial contribution – CLICK HERE.
Regular financial contribution (monthly EFT) – CLICK HERE.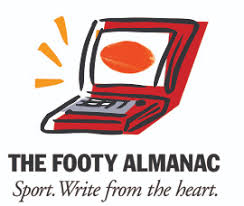 Rural GP on Kangaroo Island, with a longstanding love for the Richmond Tigers.