Almanac Life: The Year We Fell Down The Rabbit Hole
In a normal year, winter days are short; darkness eats into each end of the day. Purpose and projects are overtaken by a desire to procrastinate. To curl your legs beneath you, wrap yourself in a favourite blanket, clutching a mug of hot tea. Soothing comfort against the wind, rain and snow that thrashes outside.  Winter brings the need for comfort and familiarity; a familiar movie, or the words of your favourite author. We count the days until the first signs of spring begin to fight their way through the chill. Green shoots, daffodils, or a clear day where the sun shines warm onto your back. The first signs that the biting tongue of winter is almost behind us. That is a normal year.
2020 was the antithesis of normal. The perfect storm of a year in which we slipped down the rabbit hole, to find ourselves, as Alice did, looking at the world in a different way. Though this new world we found ourselves in was familiar, it had been turned upside down and subjected to all manner of Mad Hatter distortions and discombobulations. Without warning, and allowing us no time to prepare ourselves.
Last winter, especially in Victoria, days were interminably long. The calendar was stuck on a single month. I wondered if the clocks were playing tricks. The hands appeared to move, yet time would never change. Each day seemed much like the one before it. In this unfamiliar world our free choice was removed. Invisible bonds kept us firmly in place across the state. Our state of pandemic.
We were forced to contend with winter in isolation. Comfort was required in even greater doses. Our lives slowed down. We learnt how to send mail again, and care packages filled with small, familiar items that said 'I'm thinking of you'. We held these trinkets instead of the loved ones separated from us by hard, hidden borders. Instead of leaving our houses, towns and country, we were forced to stay. Forced inside by winter's wretched weather and the unseen assailant wreaking havoc on all the corners of the world, not just our own.
The Arts were what we turned to during those Victorian winter months. Despite the closed doors and the darkened stores, people managed to buy books and subscribe to journals; devouring the words of those captivating word smiths—writers. We found an escape in books. In words. Words to inspire us, to remind us of far-flung places, to fulfil us and nurture us through those times when we felt scared and alone. Words helped us to escape where we were, but also to recover those memories of people and places that had made up our before. When the world didn't make sense and words seemed to escape us, replaced with our tears and fears, the words of others held us together.  They were a gift. An offering from the writers which helped to keep us whole in that state of panic and unrest that we found ourselves in.
As it always does, winter passed. As did the masks and the borders. Spring gave way to summer. We have renewed freedom. Renewed passion for the important things that were withheld in those long months of lockdown. Joy for the simple things, which we quickly realised were also the important things.
With our renewed freedom comes greater choice. As Alice chose the little cake that read 'eat me', so must we continue to pick up the little worded delicacies that surround us begging 'read me'. We must continue to support the writers and their words. In turn, they will continue to nurture our recovering souls. The words remain, and so must our love of them.
Nicole Kelly is a writer who lives in country Victoria. Her novel Lament was released in October 2020. Visit www.hawkeyebooks.com.au/lament/ to order your copy or you can visit www.hawkeyebooks.com.au/nicole-kelly to contact her. Otherwise follow her on Twitter @ruralvicwriter
The Tigers (Covid) Almanac 2020 will be published in the coming weeks. It will have all the usual features – a game by game account of the Tigers season – and will also include some of the best Almanac writing from the Covid winter.  Pre-order right now HERE
To return to our Footy Almanac home page click HERE.
Our writers are independent contributors. The opinions expressed in their articles are their own. They are not the views, nor do they reflect the views, of Malarkey Publications.
Do you enjoy the Almanac concept?
And want to ensure it continues in its current form, and better? To help things keep ticking over please consider making your own contribution.
Become an Almanac (annual) member – CLICK HERE.
One-off financial contribution – CLICK HERE.
Regular financial contribution (monthly EFT) – CLICK HERE.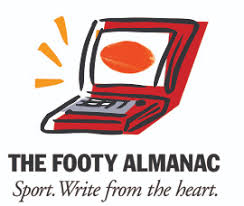 Is a teacher, mother, writer and all-round lover of words!