Almanac Life: Ten Things I Hate
Ten Things I Hate
1. Cauliflower – anything that is like eating a small shrub is not for me.
2. The sheep-like mentality of people, expressed in such behaviours as hoarding toilet paper during a pandemic. If everyone did their 'business as usual' (pardon the pun), there would be absolutely no need for this.
3. Sporting clichés, such as 'playing a role' and 'learnings' – as well as clichés in general.
4. The concept of 'social influencer'. Almost invariably, these individuals are the kind one would not want to be influenced by.
5. Jazz music that uses a synthesizer – anytime I see a traditional jazz instrument used in conjunction with one, I immediately want to put in earplugs.
6. A bad pizza. This usually – but not always – involves a thick, rock-hard, floury base.
7. Infomercials.
8. A Test Match – or indeed a cricket match at any level – that is entirely rained out. (And if one is directly involved, waiting for the rain to stop is a kind of purgatory-on-earth.)
9. Loud noise from neighbours in the middle of the night, even if it sounds like they are having a very good time.
10. A bad beer – though after you've had a few glasses, your taste buds seem to go on holidays.
For more from Kevin, click HERE.
To return to our Footy Almanac home page click HERE.
The Tigers (Covid) Almanac 2020 will be published in 2021. It will have all the usual features – a game by game account of the Tigers season – and will also include some of the best Almanac writing from the Covid winter.  Pre-order HERE
To return to our Footy Almanac home page click HERE.
Our writers are independent contributors. The opinions expressed in their articles are their own. They are not the views, nor do they reflect the views, of Malarkey Publications.
Do you enjoy the Almanac concept?
And want to ensure it continues in its current form, and better? To help things keep ticking over please consider making your own contribution.
Become an Almanac (annual) member – CLICK HERE.
One-off financial contribution – CLICK HERE.
Regular financial contribution (monthly EFT) – CLICK HERE.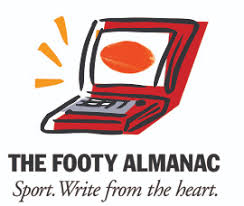 About
Kevin Densley is a poet and writer-in-general. His fourth book-length poetry collection, Sacredly Profane, was published in late 2020 by Ginninderra Press. He is also the co-author of ten play collections for young people, as well as a multi Green Room Award nominated play, Last Chance Gas, which was published by Currency Press. Other writing includes screenplays for educational films.