Almanac Life: 'But what will I tell John?'
The John Harms (aka JTH) family has moved close to us in the Barossa Valley and we are looking forward to meeting up with them. John and I share a friendship with my best mate Ian Hauser (aka IJH).
When I meet John soon his first question might well be – 'Did you play football (the AFL kind)?'
Ian and I wrote about our Primary School sporting achievements in a previous article for the Almanac site. Like wearing thongs instead of socks inside sandals, playing footy and supporting a footy team were prerequisites for a smoother transition for me as a Ten Pound Pom into becoming an Aussie.
I will proudly tell John that I was a reasonably proficient winger in the Warrandyte South Primary State School side, and hope that he doesn't ask what happened after that.
You see, as a secondary student I was always the smallest and weediest male member of the class. I'm not sure what happened to my bodily enzymes, but being a late maturer meant that, although I still enjoyed kick-to-kick during lunchtimes, my back was often used as a stepladder for boys growing hair from every orifice.
I could run fast, had good hand-eye coordination and loved sport, so although I took to the softer sports like tennis, hockey and volleyball, the Luther College Football team coach talked me into giving footy a try.
It was a cold, windy morning and my first experience of a cold, grey cement changeroom. My classmates, seemingly comfortable in this environment had turned mildly feral, testosteronal, those with mature bodily parts displaying as much as possible and growling threats on their forthcoming opponents. Those, like me, white and hairless, remained goggle-eyed and hidden behind towels. When it was my turn I slapped on the liniment and tried to growl too.
I'm not sure that I want to remember much of the game. I know I played in the forward pocket and was constantly threatened and bumped by my opponent. We were on the end of a shellacking, so the ball didn't come up our end much. When it did I somehow managed to get in the clear to receive a perfect pass. The football bounced off my chest and so wasn't even recorded as a possession.
My next game of football came about 40 years later. By now I had grown taller and stronger, mainly due to proper nourishment provided once I married. My more active career as a sportsman had finished when I was invited to play in a social footy game between a Nuriootpa church and our Tanunda church.
My trepidation increased when it was discovered that Nuri were a few players short, and I was duly handed over to them.
You might find this difficult to believe, but I found myself being a ball magnet. It helped that, for some unknown reason, I didn't have an opponent. Pastor Dave Preuss (playing for Tanunda) kept yelling out, 'Who's on Andy Thurlow?' – but nobody seemed to notice him.
I happily ran around the forward line gathering possessions. Three times I was about 30 metres out and streaming towards the goals … and 3 times I stuffed my kick only to hit our leading full-forward on the chest! They thought that was intentional. At one point the full-back kicking out muffed his kick, and I sent it back over his head! It was terrific fun but, by three-quarter time and about 20 possessions later, I was totally whacked – and happily retired to let a Nuri player on.
So there you have it. I love footy, was an inaugural member of Port Adelaide Power, enjoy AFL Fantasy football, and who knows where my obvious footy skills might have taken me if only they had been matched with quicker developmental hormones.
But what will I tell John?
Editor's Note: What he didn't tell you –
Far from being a bit namby pamby (his words), as the above suggests, Andy actually has a pretty solid sporting CV. He played a mean game of tennis (winning pennants) and was a skillful, creative, tactical schemer on the volleyball court where he won titles at State Reserves level. During a teaching stint in Port Lincoln, he played 'A' Grade hockey in the key centre-half position for Port Lincoln Marauders, winning the club's B & F in a premiership year, and went on to represent Port Lincoln in Country Cup Hockey carnivals in Adelaide. In more social settings, he rolled his arm over to tweak a few leggies in Adelaide's Church Association cricket, scored a few baskets for the OneWonders basketball team, and won countless Church adult picnic sprints. My memory also recalls that, sometime back in the 70s(?), Andy was a member of the successful four-man 'yacht' in the Henley on Todd Regatta in Alice Springs. In short, he used his brain and skill instead of relying on brawn! On the court/field/track, he was a great team man, an encourager who brought others into the game, a leader by example and the essence of good sportsmanship.
The Tigers (Covid) Almanac 2020 will be published in 2021. It will have all the usual features – a game by game account of the Tigers season – and will also include some of the best Almanac writing from the Covid winter.  Pre-order HERE
To return to our Footy Almanac home page click HERE.
Our writers are independent contributors. The opinions expressed in their articles are their own. They are not the views, nor do they reflect the views, of Malarkey Publications.
Do you enjoy the Almanac concept?
And want to ensure it continues in its current form, and better? To help things keep ticking over please consider making your own contribution.
Become an Almanac (annual) member – CLICK HERE.
One-off financial contribution – CLICK HERE.
Regular financial contribution (monthly EFT) – CLICK HERE.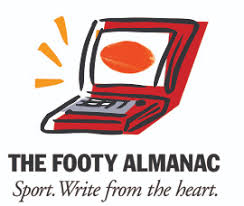 About
Born on Guernsey in the Channel Islands, my parents migrated to this wonderful country when I was 7. As teachers, my wife and I 'worked' in some pretty SA and Queensland tourist locations and ended up in the Barossa Valley, where I enjoy gardening, socialising, reading, writing, sport, travel, handyman projects and wine. Since retiring I've written 3 published biographies about Kieran Modra, Rolph and Marg Mayer and Margaret Ames. I started a Valley social cycling and coffee-ing club called the 'Sprocket Rockets' https://www.facebook.com/cyclingfunbarossa/ After some success at hockey, volleyball, tennis, golf, Church picnic sprints and the 'Henley on Todd' regatta, I've settled down to walking, cycling, Fantasy Football and watching sport, particularly AFL and cricket. A Queenslander described me as an 'Ex-Pommie, ex-Victorian who barracks for Port Adelaide' so it can only be up from there!