Almanac Life: A Nissan Exa, Eagle Super Beer and The Farrell Flat pub
In 2007 the UN announced that our world population was now more urban than rural.
The migration had been happening for centuries and like many global trends it only travels from the abstract to confronting reality when viewed up close, and late on a Sunday I saw it in Farrell Flat.
I'd never been there, but it's only a short drive from Polish Hill so off we went through Mintaro where the fire bucket was ablaze in the Magpie and Stump beer garden, and past the paddocks, tinting towards green under the winter sky.
With wide streets and snug old homes Farrell Flat is appealing. The primary school is the focal part of town, as schools should be, and the main drag's inviting with rows of tidy shops sitting under gum trees.
Driving east there's the tennis courts and a golf course. While the fairways need rain, the black scrape of the 18th looks well-used and I peer into the clubhouse window for that wizened knot of golfers clunking their beers together before settling into their post-round ribbing of each other.
However, the school's shut, permanently. As are the tennis and golf clubs. Every shop in town is empty. On the way in we spot the park where the once-celebrated dog trials were held, but the last of these was in 1996.
We stop to take a photo of a white Nissan Exa. It sits rusting in a yard. Two dogs bark at us. This Exa is missing several panels. I owned one from 1991 until 2003 and at the end my odometer was frozen on 297,000 kilometres.
In the middle of the pub's front bar is a Harley. On a wall is a sign advertising Eagle Super which was last brewed in the 1990s. Across from this there's a montage of old photos featuring 1950s Hollywood sirens like Marilyn Monroe.
Behind the bar is Chef, the publican. He is a chef by trade and is from Darwin. He owns the Harley, and tells us, 'The pub gives me somewhere to live and pays for my food and fuel.' He adds that, 'I can go for three or four days and not have a customer.'
I want to offer my sympathy, but more than the wide wooden bar separates us from Chef.
There's a TV high in a corner however the screen is blank. There's no music. I order a beer which is a Coopers stubby from the fridge. Kegs are long gone. Claire orders a brandy. It comes in a large tumbler.
At Chef's suggestion we tour the pub and various silent sitting rooms as well as the guest bedrooms. Pausing in the large dining room I imagine a far-flung Saturday night with farmers, footballers and young families, all buzzing with laughter and talk of rainfall and the school fête and upcoming weddings. Late on this Sunday it's dark and still. The fireplaces are cold.
There's plenty of room for a beer garden too, but I see only weeds and dirt.
Back at the bar another couple is there. We chat about their day in the surrounding wineries like Pikes and Paulettes and where they're from in Adelaide. Taking advantage of Farrell Flat's free camping they've escaped with the caravan and left their teenage boys at home (one recovering from his private school formal).
Claire buys a bag of chips. Like the town and pub itself Chef seems as if his past was more optimistic than the present. He has a low opinion of the community's future and its aged citizens.
Mintaro's Magpie and Stump pub was closed for about a year before the current owners took over and reinvigorated it with spectacular success. Its publican told me that their first June long weekend they did over six hundred meals. It's now a destination pub.
Drinks done we say our farewells to the campers and to Chef.
Outside in the twilight we take in the Farrell Flat silo art. It depicts a train under full steam as it hurtles along by a wheat crop and under an effervescent, purple sky.
The vitality and hope are striking, and I'd like to think that in this handsome hamlet life might imitate art, but just as with the relentless march of urbanisation, greater forces may have already spoken.
The Tigers (Covid) Almanac 2020 will be published in 2021. It will have all the usual features – a game by game account of the Tigers season – and will also include some of the best Almanac writing from the Covid winter.  Pre-order HERE
To return to our Footy Almanac home page click HERE.
Our writers are independent contributors. The opinions expressed in their articles are their own. They are not the views, nor do they reflect the views, of Malarkey Publications.
Do you enjoy the Almanac concept?
And want to ensure it continues in its current form, and better? To help things keep ticking over please consider making your own contribution.
Become an Almanac (annual) member – CLICK HERE.
One-off financial contribution – CLICK HERE.
Regular financial contribution (monthly EFT) – CLICK HERE.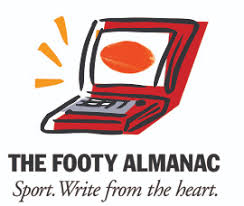 Favourite film: The Shawshank Redemption Favourite song: Khe Sahn Favourite holiday destination: Gold Coast Favourite food: steak Favourite beer: VB Best player seen: Dogga Worst player seen: Frogga Last score on beep test: 3.14159 Favourite minor character in Joyce's Ulysses: Punch Costello