Almanac Humour: Words That Make You Squirm
Words That Make You Squirm
Do you have words that make you feel funny, squirmy, uncomfortable, and you don't want to say them out loud or use them in any form of writing?
I do – and the one that immediately springs to mind is tummy.
Consider its use in the following sentences:
They were giving away free glasses of Best's Great Western Bin O Shiraz at the bar, and in our haste to get there JTH accidentally elbowed me in the tummy.
I was standing between Darren and a frosty pint of Chainsaw Cleansing Australian Ale and he went to grab it but, miscalculating, poked me in the tummy with his index finger.
I challenged Dips to a footrace from one end of Central Park to the other and when I took off, I felt something 'go' in my tummy.
Peter, nicknamed 'The Rock' (for obvious reasons), made a witty remark about Worcestershire Sauce, and I laughed so hard that my tummy hurt.
Luke put me at second slip and I was lucky that the cherry hit me in the tummy or I would have dropped the shiny red sphere.
I asked Colin if he knew of any poem that had the word tummy in it.
See? What an odd, shuddery, juvenile word tummy is. Makes me feel all sort of gooey and … bleh!
I think I'm about to puke. (Now there's another really weird word!)
For more from Kevin, click HERE.
To return to our Footy Almanac home page click HERE.
Our writers are independent contributors. The opinions expressed in their articles are their own. They are not the views, nor do they reflect the views, of Malarkey Publications.
Do you enjoy the Almanac concept?
And want to ensure it continues in its current form, and better? To help things keep ticking over please consider making your own contribution.
Become an Almanac (annual) member – CLICK HERE.
One-off financial contribution – CLICK HERE.
Regular financial contribution (monthly EFT) – CLICK HERE.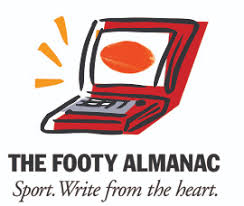 About
Kevin Densley is a poet and writer-in-general. His fourth book-length poetry collection, Sacredly Profane, was published in late 2020 by Ginninderra Press. He is also the co-author of ten play collections for young people, as well as a multi Green Room Award nominated play, Last Chance Gas, which was published by Currency Press. Other writing includes screenplays for educational films.