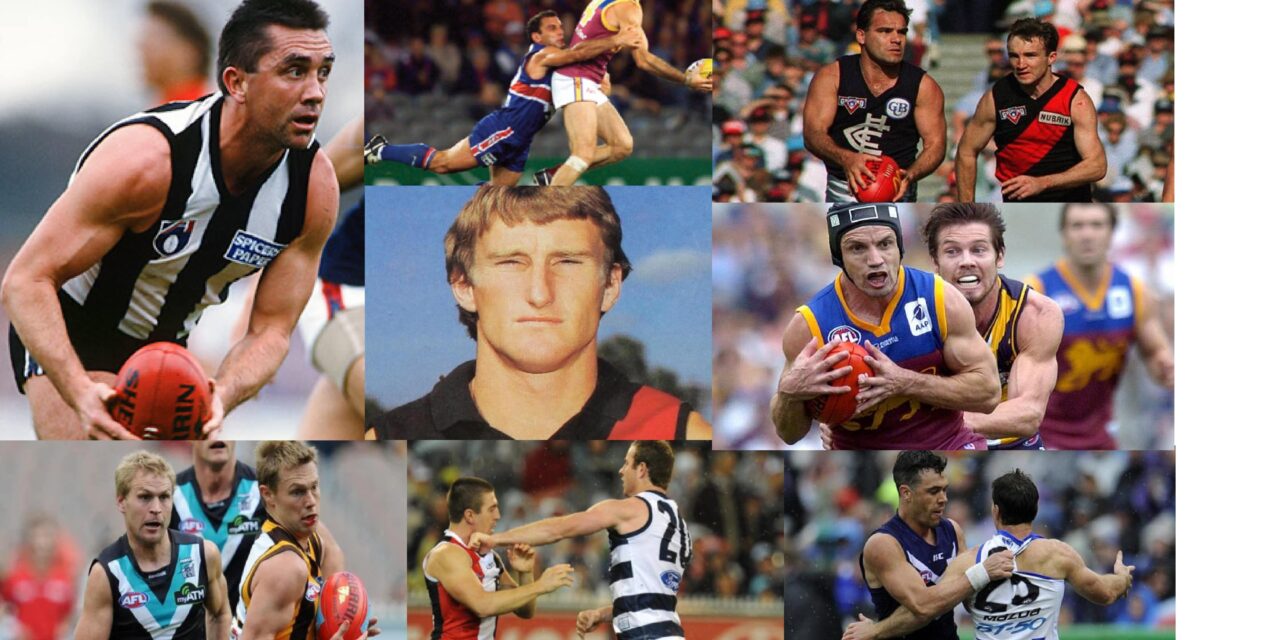 Centre – Shane Heard.  Top left and clockwise – Tony Shaw, Tony Liberatore
Sean Denham, Shaun Hart, Ryan Crowley, Steven Baker, Kane Cornes
Photos taken from Google images
AFL football has made some tremendous advances over the past twenty years, much of which I've loved and others that have been the result of coaches wanting to outsmart each other, unfortunately to the detriment of the game.
Terminology such as 'structures' and 'defensive shape' are now part of the vernacular and 'zoning', which was previously termed 'loose', is now ever present. What began as 'flooding' by the Sydney Swans in the 90s under Rodney Eade can now be constructed within seconds inside the opposition 50m arc due to the increased athleticism of today's players. Players are conditioned to run at maximum speeds for shorter periods utilising bench rotations, unlike past eras where coming off the ground was only prompted by injury or failure to perform.
Today's game requires a lot of uncontested football to work around these zones and penetrate crowded forward lines. This wasn't the case in the 80s and 90s when the emphasis was on contested, man-on-man football. Contested football still exists, of course, but it's mainly in congested situations around stoppages which can be very frustrating for players and spectators alike.
Despite the evolution of the game and level of intelligence available, there are still players who accumulate substantial possessions and inevitably play significant roles in destroying the opposition. Players such as Bontempelli, Oliver and  Martin are incredible players but on the rare occasion they have been effectively 'tagged' or 'stamped' by an opposition coach, their output has been reduced significantly.
I think it may have been Kevin Sheedy in the 80s who first introduced a bona fide tagger in Shane Heard. Heard was the perfect prototype for what was to come over the next couple of decades. He was a fitness fanatic and disciplined. I remember Sheedy played him on Robert Dipierdemico in the 1984 Grand Final to great success and I think Heard even wrote a book about the fitness benefits of a boxing apparatus, the speedball.
To be a tagger requires those qualities Shane Heard demonstrated and it also helps to be little bit crazy! A 'team first' attitude and high pain tolerance are essential because it's only a matter of time as a tagger that you will be on the receiving end of some payback. As the AFL finals approach, I can still see the need for taggers especially when there is the opportunity to dramatically lessen the influence of these stars who will ultimately rise to the occasion in the big games.
There are so few natural taggers recruited these days because coaches are reluctant to upset the delicate balance of their team structures. I thought we could go down memory lane to a time when players tagged for a living and pay tribute to some of the great pests of the past 30+ years.
Sean Denham, Essendon – Recruited from Geelong, the former Melton boy soon turned into a horrible pest and famously terrorised the legendary centreman and dual Brownlow Medallist Greg Williams. Nicknamed 'The Dunny Brush' by Rex Hunt, Denham ended his career of 186 games with a Premiership in 1993 and a B&F in 1997.
Tony Shaw, Collingwood – The 1990 Premiership Captain was frankly 'as slow as a wet week'. What he did have, however, was an enormous heart and courage. This was a man who would do anything for his teammates and club. 313 games, 2 x B&Fs and a Norm Smith Medal are testament to that. No one could get under an opponent's skin better than Shaw.
Steven Baker, St Kilda. Loved by his teammates and fans (me) and loathed by opposition players, Baker was notorious for misconduct and this culminated in a game v Geelong in 2010 when he attacked the injured hand of star forward Steve Johnson, which led to a suspension of 6 weeks. Primarily a hard-nosed defender, Baker was often shifted into the midfield to negate a dominant opposition player. Despite his limitations, Baker played 203 games and won a B&F in 2005.
Ryan Crowley, Fremantle. Coach Ross Lyon owes this man big time. Yes, Fremantle had its stars but across the board they were defensively poor. Lyon's defensive mindset was what they needed but it was Crowley who epitomised everything Lyon craved. Fearless, annoying and always with a psychotic smile on his face, Crowley was an underrated driving force behind the Dockers push into the 2013 Grand Final. He played 188 games and won the 2012 B&F.
Shaun Hart, Brisbane – A devout Christian, the diminutive Hart wasn't your archetypal tagger, however if sheer will counts for anything, he had few peers. A crucial cog in the 3-peat of Brisbane Premierships and a Norm Smith Medal Winner in their first flag of 2001, he played 273 games.
Kane Cornes, Port Adelaide – Despite what your feelings may be for Kane Cornes the broadcaster, he was one of the finest taggers the game has seen. In a career spanning 300 games, Cornes was often overshadowed by his older brother Chad but it was Kane who, week in week out, put his hand up to take on champion midfielders  like Judd, Voss and Cousins. An aerobic beast and mentally tough, he didn't need to verbal his opponents, preferring to rely on his relentless physical shadowing. A Premiership and 4 x B&Fs places Cornes in the top echelon of Port Adelaide greats.
Tony Liberatore, Western Bulldogs – There is a memorable scene in the 1994 documentary, Year of the Dogs where the incumbent coach Terry Wallace is discussing his team list for the following year. In the 'out' column is Libba, a club legend and Brownlow Medallist in 1990. Libba survived the cut, was transformed into a brutal tagger and played for another 7 years. He trained with his brother, a Greco-Roman wrestler, and became a tackling machine, helping his team reach numerous preliminary finals. Along with his cohorts, Romero and Dimattina, they were like hombres in a Sergio Leone film. 'Libba' is the only player in VFL/AFL history to win competition B&F's in all three grades (U/19s, Reserves, Seniors) and played 283 games.
A few other notables, certainly no less important and fine accumulators of their own possessions, were Geelong's Cameron Ling, North Melbourne warrior Anthony Stevens, Sydney's Brett Kirk and West Coast's Dwayne (Fatty) Lamb. All fearless role players within multiple premiership sides.
No doubt the coaches lucky enough to play finals this year will be urging their players to stick to the structures and, with the assistance of the high performance staff, ensure the rotations are in order to maintain fresh legs. But what happens when an opponent suddenly gets off the chain? Rarely are they clamped these days, not wanting to disrupt these finely honed systems and if the decision to tag is finally given, often the capability within the team just isn't there.
The aforementioned 'pests' weren't your regular run-of-the-mill athletes or even, in some cases, natural footballers for that matter. But they were selfless, team first, brave and importantly 'heart and soul' players. They were also the first picked every week and when you see what they achieved as individuals it's clear how valuable they were to team success.
I say bring back the pests!
To return to our Footy Almanac home page click HERE.
Our writers are independent contributors. The opinions expressed in their articles are their own. They are not the views, nor do they reflect the views, of Malarkey Publications.
Do you enjoy the Almanac concept?
And want to ensure it continues in its current form, and better? To help things keep ticking over please consider making your own contribution.
Become an Almanac (annual) member – CLICK HERE.
One-off financial contribution – CLICK HERE.
Regular financial contribution (monthly EFT) – CLICK HERE.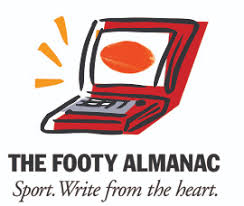 Former army aircraft mechanic, sales manager, VFA footballer and coach. Now mental health worker, blogger and coach of Eastern Warriors Over 35s (new players always welcome!). Lifelong St Kilda FC tragic and father to 2 x girls.