Almanac (Footy) History – Trade Week 1973: How Richard Michalcyzk got to the Kangaroos
When East Perth broke its premiership drought in 1972, Dick Michalcyzk played like a force of nature across centre half-back. In the second semi-final against Claremont, he was regarded as best on ground and he was among the best in the premiership win a fortnight later. A form guide to the sort of player he was, is that his sister's boy Dean Cox played 290 games for the West Coast Eagles.
Michalcyzk was what every club wanted, especially North Melbourne. The Kangaroos of the time were the corporate raiders of the VFL. If the current vernacular applied, a lot of blokes decided Arden Street was their destination of choice – mostly thanks to the bundles of twenty-dollar notes that came in paper bags.
In 1973 Ron Barassi was in charge and he already had Barry Davis, John Rantall and Doug Wade on the books. They then lured John Burns, fresh from his premiership win with East Perth, and wanted his mate Michalcyzk. Trouble was the defender had agreed to play with West Adelaide.
In mid-March 1973 Dick Michalcyzk made his debut – in a way – for West Adelaide and his performance in a single match earned him a place in football history and made North Melbourne desperate to see him wearing blue and white.
The match was a trial game between West Adelaide and Essendon at Richmond Oval. There seemed no drama that both teams wore red and black guernseys. These interstate matches had a certain frontier feel to them and so it was after a tight first quarter. As the Bombers started to pull away in the second quarter the niggle increased. When John Cassin took a straight-forward chest mark he was thrown to the ground. A show of strength by the Victorians resulted in a melee that was brought under control.
Then, as Cassin went to take his kick, a West Adelaide trainer ran onto the field and exchanged words with an Essendon player who threw an elbow at his throat. The trainer donged him and was himself upended as the blue flared again. A boundary umpire bear-hugged the West Adelaide trainer trying to get him away while the main umpire, Peter Mead, was caught in a rolling maul of bodies.
'This is silly business. There are punches going all over. This is bad, this is bad in a practice match," scorned Wally May on Channel Nine, although he could barely be heard over the laughter of his co-commentators.
The trainer was Dick Michalcyzk who was still waiting for his clearance from East Perth and so wasn't allowed to play. Sam Gallagher in The Sunday Mail called him 'an embarrassment' but North Melbourne called him a required player.
After the tribunal suspended Michalcyzk for his role in the brawl, North officials began trying to untangle the paperwork to get him signed. They could sort out East Perth (reportedly $30,000), but West Adelaide also needed compensation and negotiations broke down after the Kangaroos pleaded that they had run out of money. West Adelaide was in the middle of its wooden spoon period and didn't like the smell of things. Then came an inspired moment. They would make things easy if North agreed to a fundraiser. So Barassi flew to Adelaide with race caller Bill Collins for a show at the Colonial Restaurant on Glen Osmond Road. The coach was the featured speaker and Collins was MC – a role that included calling the bingo.
Among the large crowd was former West Adelaide (and Richmond 1943 premiership) player Jack Broadstock. In addition to being a legend at Westies for his play, he was a notorious gambler, SP bookmaker and general confidence man. Broadstock settled at a table with some of his mates who one onlooker described as 'the sort of blokes who have bits of their ears missing'.
Not long after Collins had called 'eyes down', one of Broadstock's mates stood up and, in a voice, similar to Lurch from The Addams Family said 'BINGO'. Collins said that it wasn't possible to win the pot with only a few numbers called but the alleged winner was now on his feet and walking toward him. Collins started making jokes about him and questioning his understanding of the simplest of gambling games. Titters of laughter broke out in the room that built into waves of laughter as the gags flew. Eventually, Collins called out to Broadstock 'tell your friend he hasn't won $2,000'.
Instead, Broadstock said nothing but slowly got to his feet. He had seen enough of his mate being humiliated. Collins didn't pick it immediately but 'The Accurate One' sensed the mood in the room was changing. Soon you could have heard a pin drop.
That trade event ended with a bingo pot being handed over to a mate of Jack Broadstock's, West Adelaide collecting the rest of the receipts from the night, Bill Collins and Ron Barassi flying home to Melbourne, soon followed by Dick Michalcyzk who managed 24 games for the Kangaroos in an injury-plagued VFL career. He has an honoured place at East Perth as a premiership player and at West Adelaide where he is, likely, the only player ever suspended without playing a game for his club.
The Tigers (Covid) Almanac 2020 will be published in the coming weeks. It will have all the usual features – a game by game account of the Tigers season – and will also include some of the best Almanac writing from the Covid winter.  Pre-order HERE
To return to our Footy Almanac home page click HERE.
Our writers are independent contributors. The opinions expressed in their articles are their own. They are not the views, nor do they reflect the views, of Malarkey Publications.
Do you enjoy the Almanac concept?
And want to ensure it continues in its current form, and better? To help things keep ticking over please consider making your own contribution.
Become an Almanac (annual) member – CLICK HERE.
One-off financial contribution – CLICK HERE.
Regular financial contribution (monthly EFT) – CLICK HERE.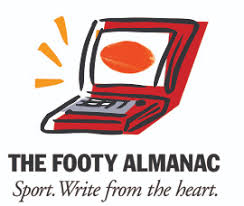 Michael Sexton is a freelance journo in SA. His scribblings include "The Summer of Barry", "Chappell's Last Stand" and the biography of Neil Sachse.