Round 10, 1904. Geelong, sitting on the bottom of the ladder, hosted a much improved Carlton side who the previous year had qualified for finals for the first time, finishing the season 3rd, losing to Collingwood in the semi-final.
With the Geelong Advertiser describing the weather as 'Cheerless", a strong south-easterly wind interfered with the game, as did several heavy showers that had an adverse effect on the game as a showcase. Much interest was taken in Carlton and Geelong matches in recent times, especially since the McShane boys had crossed to Carlton, after being exclusively Geelong names.
The game ended in a draw, due in part to the wet conditions, but also, as The Age reports, due to the Geelong forwards missing several gettable shots, especially Frank Bowey who hit the post from 20 yards (18m) out.
As tempers get during tight games, some of the crowd were not particularly impressed with the umpiring of 'Ivo' Crapp. The Bendigo Advertiser tells it that following the bell, a number of juveniles made several uncomplimentary remarks against Crapp as he was passing through the reserve.
Amos E Bradshaw, a hotel keeper of the Royal Mail Hotel, Yarra street Geelong, knocked Crapp down with a severe blow that left Ivo dazed. Police constable Gleeson was present at the incident but refused to take Bradshaw in charge, as they knew each other.
Seventeen days later in the Geelong Police Court, there was much interest as Amos did plead guilty but claimed that, as Ivo approached, he believed he would be attacked, so hit out. In contrast, Ivo Crapp gave evidence that he never saw his attacker until he had been knocked down. Amos also stated he had apologised to Crapp and the apology had been accepted.  As a result, Amos was fined 40 shillings and ordered to pay £3/10/6 in costs. The chairman of the bench remarked that he had got off lightly and, if such conduct were to occur again against an umpire, then that person would be sent to gaol without the option of a fine. Mr Patterson P.M. stated that 'If any man should be protected, it was an umpire, a man whose duties were most difficult'.
The Tigers (Covid) Almanac 2020 will be published in 2021. It will have all the usual features – a game by game account of the Tigers season – and will also include some of the best Almanac writing from the Covid winter.  Pre-order HERE
To return to our Footy Almanac home page click HERE.
Our writers are independent contributors. The opinions expressed in their articles are their own. They are not the views, nor do they reflect the views, of Malarkey Publications.
Do you enjoy the Almanac concept?
And want to ensure it continues in its current form, and better? To help things keep ticking over please consider making your own contribution.
Become an Almanac (annual) member – CLICK HERE.
One-off financial contribution – CLICK HERE.
Regular financial contribution (monthly EFT) – CLICK HERE.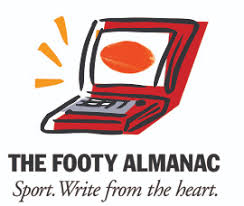 A host of the Kick to Kick Podcast, educator, fan