Almanac Footy History – Peter McLaren: The Champion of Glen Alvie
LESLIE PETER MCLAREN
THE CHAMPION

 
OF
GLEN ALVIE

 
A story written 
for the 
Oakley Family 
and the 
People of Glen  Alvie.
THE STORY 
OF 
PETER MCLAREN
THE CHAMPION OF GLEN ALVIE 
INTRODUCTION
Several years ago, while undertaking research regarding VFL clearances and permits in 1945, I   came across the name of 'McLaren of Glen Alvie' in regard to a country footballer securing a permit to play with Collingwood in Round: 7 that season. 
I telephoned Stan Oakley and we discussed the 'McLaren's of Glen Alvie' at some length.  Stan assured me that the McLaren family was well-known in and around Glen Alvie; and that Peter McLaren was regarded as a champion footballer and lauded personality in the local sporting competitions (e.g. cricket, golf and tennis) of earlier times. 
Leslie Peter McLaren 1923- 1996
Since that conversation with Stan, I have kept the name 'Peter McLaren' at the forefront of my thoughts; and jotted down any references regarding him as I trawled through newspapers and other documents regarding the history of VFL-AFL football. I am glad that I did;   because not only did I come to learn about an outstanding country footballer, but I gained an appreciation of why Peter McLaren was such an acclaimed person of Glen Alvie and the district. 
This is the story of Peter McLaren's one and only game for Collingwood. The story does not attempt to give a comprehensive portrayal of Peter's early years of football. Neither does the story offer any in-depth background of the McLaren family because that can best be done by local historians. 
This article simply focuses upon his selection, the VFL permit system and the aftermath of Peter's one and only outing with Collingwood FC in June 1945. 
LES  OR   PETER  MCLAREN ?
In early newspaper articles the name Les McLaren is used; but in later AFL records 'he' was called 'Peter.'  For purposes of this story, I have called the 'man in question' :  Peter McLaren.  
EARLY YEARS AT GLEN ALVIE F C 
Peter McLaren (born: 17th March 1923) began his senior football with Glen Alvie as a teenager and quickly gained a reputation as a player of some promise. In those days, Glen Alvie FC was affiliated with the Glen Alvie & District Football Association.  
The Field of Dreams 
Note: In 1945, the Glen Alvie Football Association and the Wonthaggi Football Association merged to form the Wonthaggi & District Football League. 
It is fair to say that Peter was just 'hitting his straps' in the GA & DFA when football and other national pastimes were forced to take 'back seat' to more urgent world-wide matters i.e. World War: II.  
WAR SERVICE   1941-1944
Like so many other Australians, the outbreak of war dramatically changed the life and fortunes of Peter McLaren. 
Peter was just one of thousands of men and women who responded to 'The Call to Arms';   and, in 1941,   he registered with the armed forces. The World War: II Nominal Roll states that Leslie Peter McLaren ( born at Trafalgar) enlisted in the Royal Australian Navy on  October 29th 1941 and served, as an Able Seaman  ( Service Number:  3894), until  June 8th  1944.
 Note: The McLaren family would be able to add much more about Peter's wartime postings, duties and experiences. 
Peter's base at the time of discharge from the Navy was listed as HMAS Inverell. The Inverell was a Bathurst Class Corvette which was engaged as a minesweeper, escort and patrol vessel. Initially, based in Darwin,   the Inverell later operated out of Fremantle (from September 1944).  It is known that at the later stages of the war, the HMAS Inverell was based in Morotai (i.e. Indonesia). 
For further   information about the HMAS Inverell follow this link…
 www.ozatwar.com/ran/hmasinverell.htm
1943:  THE DEATH OF GILBERT MCLAREN 
Peter was on active duty in 1943; and what a year of great sorrow it must have been for him, his family and friends. 
In September, that year, his Father passed away. The available records (e.g. Grantville Cemetery) indicate that William John McLaren died on September 9th 1943 aged 88 years. 
More devastating news was to follow in December of that year, when Peter's brother, Gilbert, was killed in action in New Guinea. At the time of his death, Gilbert (Service No:  VX 105006) was a member of 'C' Company 29th Battalion.  
The death notices, as shown below, give an indication of the esteem in which Gilbert was held by loved ones. The Garnham and McKay families expressed their sorrow in the bereavement notices…
"McLAREN.-On December 7, killed in action, N.G., VX106005, Sergeants- Gilbert (Gib), dearly loved husband of Freda, loved brother of Lindsay, Elva, Jean, and Peter (R.A.N.), brother-in-law of Annie, Alf, and George, dear uncle of Rex, Beverley, and Stuart. -He died that we might live." Source:  'The Argus' January 1st 1944.  Page: 2.  
The following cutting was also found in the same edition of 'The Argus'….  
The article below was published in the 'Weekly Times' on April 12th 1944 under the subtitle of: 'Sportsman's Honour Roll.' The column was a special section in the paper which dealt specifically with the passing of sporting personalities while on active service …
SPORTSMENS HONOUR ROLL
"…ONE of South Gippsland's most popular young sportsmen. Sergeant Gilbert McLaren, AIF of Glen Alvie,  has been killed fighting in New Guinea… 'Gibbi' as he was known to all, was a good all-round sportsman and took a keen interest in the welfare of the district."  Page: 20. 
It would have been a particularly sad, perhaps empty,   Christmas for the McLarens of Glen Alvie that year. 
BACK INTO FOOTBALL 
On May 7th 1945, Germany surrendered to the Allies; and although the war continued against Japan,  until the dropping of two atomic bombs, in August,  that year, the dreadful weight of five years of  unremitting conflict was lifted from the shoulders of the bulk of families throughout  Australia . 
The 'sadness and heartbreak of loss' would remain for evermore but the people were relieved that that war had ended; and all looked forward to brighter and happier times. For Peter McLaren, peace brought with it the opportunity to once again take to the football field. 
On May 28th 1945, 'The Argus' carried a brief comment regarding the possibility of Peter McLaren being selected for the game against St Kilda on June: 2nd… 
"…Pannam, Collingwood captain, could not play on Saturday, but should be well enough to play this week. Williams led the side and Mears filled the vacancy. McLaren (Glen Alvie), whose clearance is now in order, might also be chosen." 
As was often the case, in those days, the 'clearance' came in the way of permit.  In that era of VFL football, players could play on permit (i.e. VFL authorisation) for a VFL club and then return, at a later date, to their country or suburban club. Sometimes permits were granted in blocks (e.g. three games).  
Note: The question of permits was, at times, a source of discord between country clubs and the VFL. For younger readers, a classic case-study to highlight the inadequacies of the permit-clearance system, of earlier years, was the battle between the Sale FC and St Kilda FC over two young promising footballers (Alan Morrow and Bill Stephenson) in the mid 1950's. 
The following press cutting was found in 'The Argus' ( May 31st 1945;  Page: 16)  in relation to the decisions made by the VFL Permit Committee ( as it was then known) for the up-coming Round: 7 fixtures. Although the article is worn and indistinct, the wording: 'L.P. McLaren ( Glen Alvie)'  is  still decipherable.
VFL PERMITS
Permits granted last night by the VFL permit committee were:
To SOUTH MELBOURNE: P. B. Sullivan (Lancaster OB), J. Mundelein (Newport CYMS).
To COLLINGWOOD: T. W. Wallis (Northcote), L. P. McLaren (Glen Alvie).
To MELBOURNE: N. B. Edge (Rochester),D. Abbott (SA). K. E. Page (SA). J. D. Poole (Terang).
To HAWTHORN: F. J. Pianto (Eaglehawk).
HISTORICAL NOTES  ON THE ABOVE  VFL PERMITS 
Note: 1. T. W. Wallis was Tom Wallis who actually played his first game for Collingwood in 1942. At the start of 1945 season, Tom was named as the coach of Northcote FC in the VFA.  It seems as though Tom was cleared back to the Magpie so as to continue his VFL. There is no proof, but he may have received an inducement to return to Victoria Park. 
Note:2   F. J. Pianto was Frank Pianto,  the older brother of the Geelong champion rover Peter. Peter had four brothers (James, Frank, Joseph and Bernard)   who had played football for Eaglehawk.  Peter Pianto signed with Geelong on the 18th April 1951. 
Note:3  The VFL permit system was far from ideal;   and because of a  range of debilitating factors ( travel costs, distances,  accommodation, meals, remuneration, lack of support from VFL club officials and city life style) many promising country footballers (e.g. Jim Shaw Yallourn/ Melbourne) returned home and declined further offers to play VFL football. Furthermore, many country footballers received more money playing for their home-town club than they did as recruits at a VFL club.
 In some cases, the VFL permit system was a prohibitive factor to recruiting; and in 1948, the permit system became a matter of serious deliberation for football authorities…
"  Football Permits Zones to End Squabbles…Revision of . the system of granting permits will be one of the first things discussed at the impending conference between the standing committees of the' League and Association….It was learnt yesterday that both parties favour a return to an old  agreement  refusing permits /without  a clearance." – 'The Age'   April 29th 1948 Page: 2.
THE COLLINGWOOD CONNECTION
During the war years, most country football leagues went into recess or operated on an ad-hoc basis (e.g. the Central Gippsland Wartime League 1944-45 ).  The question, as to whether VFL football (and other major sports) should proceed during wartime, was a highly divisive debate which split many teams, clubs and towns.
The continuance of wartime football competitions was a bitter issue ; and, in the end,  most major and minor leagues,  understandably,  put the needs of young men in uniform ahead of others wishing to 'chase leather.'
Consequently, VFL football took a 'back seat' in those years of conflagration and recruitment of young players was virtually put on hold. 
The question that I often asked myself while researching Peter's McLaren's football career is:  "How did a young man, from a small country town, such as Glen Alvie, become a recruit for Collingwood during those years of war?" 
There are appears to be no definite answer but there is one strong link that may hold the key to Peter McLaren donning the Magpies' jumper in 1945. 
Marcus Boyall, one of the most talented players of the era, had played for Collingwood prior to be cleared to Glenelg in 1940. Marcus' clearance had been front page news; and the pronouncement that he was heading to the SANFL dismayed and shocked Collingwood supporters. 
Marcus Boyall could be a central figure in answering the riddle of Peter McLaren's association with Collingwood; because, as was the case with Peter, Marcus served in the Navy (HMAS Lonsdale) during the war years. 
Marcus (Service No: PA26668) was captain of the RAN Services team which played representative matches against the Army and the RAAF. Other well-known players who represented the Navy in that period included: Neville Way (St Kilda and Norwood), George Smeaton, Stan Heal and Bill Golding… 
"…Marcus Boyall, the former Collingwood star…In addition to his Saturday game with the Magpies, he has been included in the Navy team… The 'sailors' will also have the services of Smeaton (Richmond), Heal(Melbourne), O'Donoghue W.A.), Golding (West Perth, now with South Melbourne)  and Ford (Richmond)…" Source: 'The Age' June 11th 1941 Page: 4
It may be possible that Peter and Marcus were acquainted.  It may be more than just coincidence was that when Marcus played for Collingwood, in a brief stint in 1945, it was precisely at the very  same time that Peter trained with  Collingwood. 
Source: Sporting Globe April 19 1939
Marcus Boyall
Another pointer in the link between Marcus Boyall, the RAN and Collingwood is that Arthur (aka Bill) Robbins from Boolarra also played with Collingwood in 1944. Although, Arthur enlisted in the Army, it is documented that …
"Part of his service was in the 1st naval bombardment group on HMAS Shropshire."  
Source: Boyles Football Photos
Collingwood's Arthur Robbins (ex-Boolarra).  
Arthur Robbins was 24 years of age when he took the field with Marcus Boyall against Essendon in Round:7 at Victoria Park in 1944. Who knows but possibly Arthur Robbins and Peter McLaren had met while undertaking their duties in RAN?   Perhaps Marcus, Arthur and Peter were wartime comrades? 
PETER IS GIVEN NO: 26 GUERNSEY 
Peter McLaren wore the number: 26 that day. It was previously worn by David Newman in 1944 and Bill Twomey wore it in 1947. It must have been kept in 'moth balls' in 1946. Other well-known Collingwood players to have worn No: 26 over the years included:  Ernie Wilson, Leo Westcott, Keith Stackpole (Senior), Harry Sullivan, David Norman, Gavin Brown and Ben Johnson. 
PETER MCLAREN'S ONLY VFL GAME 
Peter McLaren was chosen to make his debut for Collingwood against St Kilda in Round 7 of the 1945 season at the Junction Oval. 
The Friday edition of 'The Argus' (June: 1st) carried news of Peter's selection. It was a fleeting referral (to say the least) but to the people of Glen Alvie it meant so much…
"…Collingwood will test two new players this week. They are Murrell (seconds) as full back, and McLaren, a Glen Alvie follower." Source: 'The Argus' Friday 1st June 1945, Page:  16.
The teams, as selected for the clash, were:  
ST KILDA:
Backs: Wells Walker   Williamson. 
Half-backs: Butler Comerford   Bibby
Centres: Williams Bray   M. Rippon  
Half-forwards: McIntosh   Le Lievre   Snell. 
Forwards: Kallady   Reynolds   Hall  
Followers: McIntyre   Knott   Rover: Wilkie  
Emergencies: Wallis (19th)   Burns Geddes Obst.
In: Williams   Bibby Kallady 
Out: Howe and Wilson (injured)   Willis  
COLLINGWOOD: 
Backs: Nelson Murrell Murphy  
Half-backs: Fitzgerald Boyall Wade  
Centres: Twomey Holten   Utting 
Half-forwards: Fothergill Mann Newman 
Forwards: Ryan   Brown Richards  
Followers: Williams   McLaren Rover: Pannam
Emergencies: Mears Herbert Eiffler 
In: Murrell McLaren   Pannam  
Out: Naismith and Dalkin (injured) Mears 
NOTES ABOUT   CERTAIN PLAYERS IN THAT GAME: 
Peter McLaren was 22 years and 78 days of age when he played for Collingwood in that game.


Although named in the line-up as shown above, Marcus Boyall appears to have been a late withdrawal from the team that day;

 

and his place seems to have been taken by

 

Ernie Eiffler (ex- Subiaco FC). There is no record of Marcus Boyall ever playing with Collingwood after Round: 6 that season.
The oldest player to take the field that day was: Eric Comerford of St Kilda (32 years and 334 days) while the youngest player was the 'wonder-boy' of Collingwood Len Fitzgerald (16 years).

 

Len played his first VFL game at the age of 15 years and 349 days.
Source: Kornies Swap cards -1948 series
Len Fitzgerald
The most experienced player on the ground was Alby Pannam who was playing his 170th game for Collingwood.
The average age of the St Kilda team that day was: 26 years and 70 days. The Collingwood team had a much younger player

 

profile with an average age of

 

22 years 266 days.
The respective coaches were: Jock McHale (Collingwood-shown below ) and Hugh Thomas ( St Kilda).



Jock McHale  
Other players, along with Peter McLaren, to make their VFL debut that day were: Murray Murrell and Ron Williams of

 

St Kilda. Murray Murrell was recruited from East Coburg and played only two games with the Magpies; while Ron Williams (ex-Prahran) played a total of seven games for St Kilda.
The 'Fothergill' selected for Collingwood that day was none other than the 1940 Brownlow Medallist, Desmond Hugh Fothergill. Football devotees may like to read further about the controversy that erupted when Des Fothergill crossed to Williamston,

 

without a clearance, in 1941

 

It was as though the 'end of the world had arrived' when he walked out on Collingwood. Des (Service No: VX131470) served in the Army during World War:II;

 

and was a member of the 55th Division Ordnance Workshop.

   
Des returned to CFC in 1945; and,  in total,  played 111 games for the Magpies and booted 337 goals. Des was selected in the Magpies' 'Team of the Century.' In short, Des was a 'super-star' of VFL and VFA football; and Peter McLaren was amid revered company on that day he made his VFL debut.  
Source: State Library of Victoria
Des Fothergill
The player named 'Snell' mentioned in the St Kilda line-up appears to be un-related to the famous footballing family of South Gippsland. Sam Snell was recruited to St Kilda from Barooga in 1936 and played 93 games for the Saints. Sam was a police officer and received a Bronze Medal from The Royal Humane Society for an act of bravery while on duty in 1942.
A Gippslander who made quite a splash in VFL football was Kevin Kallady who was selected in the forward pocket that day. Kevin (born: 1923) was a farmer from Jack River (near Yarram). Kevin had been serving in the RAAF from 1942-44 and had actually been listed by Richmond FC on its playing list in 1944…
"…STAR RECRUIT AT RICHMOND Saying that Kevin Kallady was one of the best recruits be had seen for some time, Jack Dyer, Richmond captain-coach, had him signed up last night. Kallady, who comes from Jack River, has been in RAAF for four years. He is a forward, 6ft and 14 stone Source: 'The Argus' April 21st 1944 Page: 12. 
Despite his undoubted ability, Kevin played eleven games in 1945 and returned in 1946 to play just two more. It is stated that Kevin coached Devon FC to an Alberton FL Grand Final in 1948. Kevin trained at St Kilda in early 1949 but was appointed coach of Narrandera Imperials FC in April of the same year.
ïThe legendary Lou Richards, named in the forward pocket, was playing his 64th VFL game that day. Lou would, in time, become a celebrated figure in football and was known by some as 'Louie the Lip.' Lou Richards played 250 VFL games

 

and was a star rover for the Magpies from 1941-55.
Source : The Argus
Lewis Thomas Charles Richards 
Max Rippon, who kicked one goal for St Kilda that day, was the nephew of the well-known Essendon/St Kilda footballer, hotelier and media personality Ted Rippon.
Twomey' as named on the wing for Collingwood was Bill Twomey (Junior) Bill was just 17 years of age that day and he was playing his seventh VFL game. With the passage of time, Bill became one of the finest footballers ever to play VFL football. Bill's father had played with Collingwood from 1918-22;

 

and his brothers Mick and Pat were also fine footballers for the Magpies.
Harold Bray (ex-Prahran FC

 

) was the star centre man

 

of St Kilda FC who 'almost' won three Brownlow Medals. Harold played 156 games with St Kilda and represented Victoria on six occasions. Harold ( Service No: VX76686) served in 9th Division Infantry Reinforcements during World War:II
Mac Holten (born 1922) was named in the centre that day for Collingwood. Mac played 79 games for Collingwood (1942-48) and kicked 83 goals. He was described in one text as a:

 

"…classy centre man and half forward from Old Scotch…" Mac was also a fine cricketer; and it is documented that he was vice-captain of the Melbourne XI at one stage.

Mac later stood as the Country Party candidate for the Federal electorate of Indi in 1958. He won that election and served as a Member of Parliament until 1977. It is known,  that between the years 1969-72, Mac Holten held the portfolio of Minister for Repatriation. He died in 1996. 
Tom Reynolds was the brother of football's most iconic figure, Dick Reynolds. Tom Partridge Reynolds was a brilliant forward in his own right but lived in the 'long shadow' cast by of his famous brother. Sadly, many people today are unaware of Tom's VFL impressive career. He started with Essendon in 1939 and played, in total, 113 VFL games and booted 369 goals. Tom crossed from Essendon to St Kilda in 1945 but only played four games.

 

He finished his career with Sandringham FC.

 
Source: Allens Football Cards  1939 series
Tom Reynolds
PRE-MATCH MINUTE OF SILENCE   FOR BILL HUDSON 
The game was played on June 2nd in front of crowd of approximately 12, 000 people. It is documented that,   prior to the  game, officials and supporters paid their respects by observing a minute of silence to honour the passing of Bill Hudson  who had played with St Kilda  and West Adelaide in the SANFL.  
Source: Adelaide Advertiser April 21st 1945
Bill Hudson 
Ross William (aka Bill) Hudson  ( born 1920)  died on active duty in New Guinea.   According to AFL Historian, Barb Cullen, Bill's   death was the result of an accident involving a hand grenade on 11th April 1945. 
Bill Hudson played only five VFL games with the Saints ( he was posted on military duties to Victoria in 1942).  Sadly, Victorian fans never saw the best of Bill Hudson but he had carved out quite a reputation for West Adelaide in earlier times…
"4 more goals and Bill Hudson will reach 100 for West Adelaide. He showed brilliant form at centre halt-forward against South Adelaide a fortnight ago. He had to stand down last week owing to injuries. He has played most or his football in League ranks at centre half-forward, or at centre and his tally of 96 goals for the 48 matches he has played, is excellent in the circumstances." Source: 'Adelaide Advertiser'  June 21st 1940 Page: 8
THE UMPIRE 
The match was umpired by Keith McLelland.  Keith officiated in 25 senior VFL games from 1945-47. On the day that Peter McLaren made his debut, Keith was in charge of his seventh senior VFL game. For younger readers, in those days there was only one central umpire in control of the game. 
ST KILDA V COLLINGWOOD  – JUNE 2nd 1945. 
St Kilda was completely outmatched by the Magpies that day at the Junction Oval. In fact, Collingwood kicked 'the sweep' and Alby Pannam and Des Fothergill led the way with eleven goals of the team's nineteen majors that afternoon.
Source: Boyles Football Photos
The Junction Oval 
The following match review was published in 'The Age' on June 4th 1945 (  Page: 6) under the column banner of: ' Collingwood's Brilliance' …. 
" Collingwood's Brilliance …
Collingwood gave a brilliant exhibition of fast non-stop football in defeating St. Kilda, who showed poor combination and allowed their opponents to play the loose man. In the first quarter play was congested, but St. Kilda, making full use of its weight, took an early lead of 8 points at the first bell. At the commencement of the second quarter, Collingwood, opening up the play literally swept the opposition off its feet with spectacular short passing, the Pannam-Fotherglll combination working smoothly. At half-time Collingwood had a winning break. In the last half St. Kilda with Williamson, Mclntyre and Snell using their- weight freely, livened up the play, and with the pace a cracker the game reached a high standard. Collingwood, with better forward work and a defence (Murphy outstanding) hard to break through, went further ahead to an overwhelming lead at the bell. Collingwood had given a splendid display of football, with its young players, Newman, Ryan and Fitzgerald, performing brilliantly…"  
MATCH  DETAILS 
QUARTER BY QUARTER SCORES: 
COLLINGWOOD:                     3.2    11.8     15.9   19.16 (130)
ST. KILDA:                                 4.4       5.8       6.9     7.12 (54)
GOALS- COLLINGWOOD: Pannam 6. Fothergill 5 Richards 3 Brown 2 Newman 2 Williams 1

 

GOALS- ST KILDA : Mclntyre 3, Snell 2 Rippon, Reynolds.
BEST PLAYERS- COLLINGWOOD: Fothergill

 

Pannam Fitzgerald Newman Murphy Ryan.

 

BEST PLAYERS- ST. KILDA: Bray Walker Wells Mclntyre

 

Wilkie Rippon.
HOW DID PETER MCLAREN  PERFORM?
While not listed in the better players or goal kickers for the Magpies, Peter was briefly mentioned in the 'Sporting Globe' on two occasions in the match review. As shown in the cutting below, one of Peter's passes resulted in an early goal to Des Fothergill.
Peter was also cited when Alby Pannam goaled later in the game from a stanza of play which involved Peter. The Collingwood Football Club website also briefly refers to Peter McLaren's performance that day….
" …McLaren did reasonably well on debut. He didn't make it into the best players but did feature in several important passages of play, including one that that led to a goal for Alby Pannam…" Source: Collingwood F.C. History (website). 
PETER SIGNS OFF WITH COLLINGWOOD 
It is difficult to gauge how Peter felt after the victory celebration and the short time that he spent with the other players in the Collingwood change room that evening.  Unfortunately it will never be known what Jock McHale said to Peter or whether the selectors had a 'word in his ear' about his football future at Collingwood. However, it seems that Peter's name had been pencilled in as a real prospect for the next game against Fitzroy. 
It is known that Des Fothergill was injured and 'under a cloud' for selection; however, the training notes, as shown below, gave no indication that Peter's place in the starting line-up  was in jeopardy.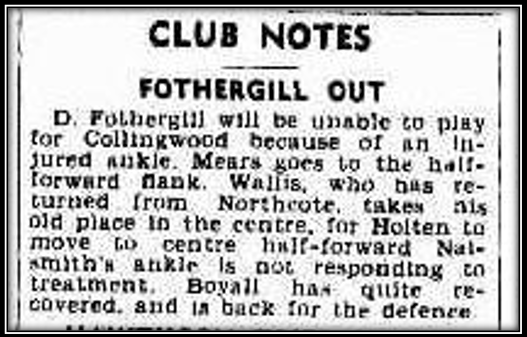 Source: 'The Age' June 8th 1945 Page:  5 
However the line-up, as published below, indicated that Peter McLaren , Murray Murrell , Des Fothergill ( injured ) and  Ernie Eiffler had been omitted from the team . ** Marcus Boyall, Gordon Hocking Tom Wallis and Harry Mears were named in the starting nineteen. **Records show that Marcus Boyall did not play against Fitzroy that day.
Note:  There was only one reserve allowed in that era of VFL football. 
THE  NEXT SATURDAY  : FITZROY  CRUSHED COLLINGWOOD  AT THE BRUNSWICK STREET  OVAL 
AFL archives indicate that Peter McLaren did not play against Fitzroy at the Brunswick Oval on Saturday 9th of June.  In a stunning result, Fitzroy thrashed the Magpies by 95 points.  Former Norwood forward and ruckman, Peter Dalwood, kicked seven goals in a brilliant solo display and he proved to be the trump card for the Gorillas ( as Fitzroy FC  was known from  approx. 1938-1957). 
Peter Dalwood was on leave from the Army when he played in that match for Fitzroy. Peter was a Private (Service No: S40374) in the 79th Australian Mobile Searchlight Battery.
In the training notes for Collingwood on the 13th June, Percy Taylor, one of the most respected football scribes of the era, made mention of Peter McLaren's non-appearance at the game at Brunswick Street…
"Collingwood is still mystified about the drubbing they received on Saturday. One opinion is that the handball was overdone, and that Fitzroy's forceful play crumpled the opposition. "It was so bad that it could scarcely happen again," said Bob Rush. Fothergill had a rub only, and Naismith trained lightly…McLaren was travelling from his farm at Glen Alvie on Saturday when his car broke down, and he spent the rest of the day getting home again. He is not available this week." Source: 'The  Argus'  June 13th  1945 Page: 6.  
TROUBLE ON THE ROAD FOR PETER MCLAREN  
The Collingwood website explains the unfortunate mishap of Peter McLaren as follows…
"…Nevertheless he (McLaren) was dropped for the next week, as a host of bigger names returned from injury. That's when fate intervened. McLaren was driving to Melbourne from the family farm the following Saturday, presumably to take his spot in the reserves, when his car broke down. 'The Argus' reported on the incident the following week, noting that it had taken him the rest of the day to make his way back home. The newspaper also reported that he wouldn't be available for the following week. And that, in a nutshell, was Peter McLaren's League career." 
Peter's experience again underlines the major shortcomings of the permit system in those days. It is fair to say, that 'the boys from the bush' faced obstacles that often dissuaded many young men to forget about football in the 'big smoke' and return home to family, friends and local football.  
 Thankfully things have improved for recruits trying to break into AFL. Modern-day 'rookies' have the best possible inducements and support in taking the next step in AFL football without battling such barriers as long-distance travel, suitable accommodation and financial hardship.
 Compared to Peter McLaren's weekend in June 1945, modern day recruits are 'in clover' in their efforts to 'make the grade' in AFL football. 
BACK   HOME  AGAIN 
Peter never played another game with Collingwood after that match against St Kilda; and he returned home and played football with Glen Alvie FC…
"Instead, McLaren returned to his farm and a highly successful country sporting career. He would later tell family and friends that he didn't love the city, and that the commute from Gippsland for matches and training was just going to prove too hard. For Collingwood, that mechanical breakdown could not have come at a worse time, especially with a player who was already unsure about whether he wanted to play in Melbourne. In the end it played a part in depriving the Pies of a highly talented prospect." Source: Collingwood FC History. 
However, a modicum of evidence unearthed in the 'Weekly Times' suggests that Collingwood FC had  not completely forgotten  about the talented ruckman from South Gippsland.  It is stated that Peter McLaren trained at Victoria Park in April 1946, as is shown from the snippet below (April 3rd 1946 Page: 32)…
In 1949,   Peter was appointed coach of Dalyston and his under his astute leadership the club won two pennants….
"…In 1946 Kilcunda joined the Wonthaggi League and requested clearance for many of their players from Dalyston. The participating teams were Dalyston, Bass, East Wonthaggi, Glen Alvie, Inverloch Kilcunda, Phillip Island, San Remo, Shop Assistants and Workmen's Club. With Noel Hanley captain, Dalyston were premiers in 1947;   and again in 1949 and 1950 under the leadership of Peter McLaren…" 
Peter's career was far from over; and it recorded that he returned to Glen Alvie and played for another four seasons. Peter was member of two premierships at GAFC in that period; and the triumphant 1954 team is shown below… 
GLEN ALVIE  FC 1954 
CONCLUSION 
This is an appropriate juncture to bring this chapter about Peter McLaren's football days to a conclusion.  There is no better moment in the life of any footballer than to be a member of a premiership team; and 1954 was a high point in the life of this 'Champion from Glen Alvie.' 
Peter McLaren played approximately 130 games for Glen Alvie Football Club; and, it is known that, he was selected on the half-back flank in Glen Alvie's 'Team of the Century.' 
Peter died on the 19th December 1996 at the age of 73. He is buried in the Korumburra Cemetery.  His Father, William (died-1943),   his Mother, Florence (died-1952) and Gilbert (K.I.A – 1943) are buried in the Grantville Cemetery. 
Note: There are four headstones bearing the name 'McLaren' at the Korumburra Cemetery: (i) Douglas George, (ii) Sophia Ellen, (iii) Robert and (iv) Leslie Peter. 
Finally, like so many other AFL players, Peter McLaren's journey through football was neither simple nor straightforward. It was touched with disappointment and sadness; and the 'fickle finger of fate' (in this case-car trouble) literally 'stopped him in his tracks' to reach the upper echelons of football. 
However, it remains that Peter McLaren was a footballer of immense ability and one whose football career deserves acclaim. He was a true champion of his home town and a local hero. 
SERVICE NUMBERS 
Throughout story the service numbers of various VFL footballers, mentioned in the article, are listed (e.g. Peter McLaren-3894). Hopefully, this may encourage further research on the

 

military histories of such men. Some of the exploits and experiences of the players involved in World War: II make absorbing reading. As the title of AFL historian Barbara Cullen's book ('Harder than Football' published in 2015 ) infers, being a soldier was harder than playing football
REFERENCES & RESEARCH INFORMATION 
1.National Library of Australia information services.

 

2.Newspaper research including:

 

'The Argus' ,' The Age ', 'Sporting Globe'

 

'Morwell Advertiser,' 'The Weekly Times' and the

 

'Adelaide Advertiser.'

   

3.'Harder than Football' by Barb Cullen. Slattery Media 2015.

 

4."Encyclopaedia of AFL Footballers'

 

by Russell Holmesby & Jim Main.

 

5.Boyles Football Photos.

 

6.Collingwood Football Club History texts and sources.

 

7.R.A.N History sources.
8.World War: II Nominal Roll- AWM.

 

9.State Library of Victoria photographic collection.

 

10.'Cemeteries of Australia' website.

 

11. Information from

 

Stan Oakley.

 
CONCLUDING NOTE: 
While all care has been taken, in verifying the details of Peter's VFL game in 1945, errors in research may exist. Any amendments, which   can contribute to the veracity of the story, are warmly welcomed. Thank you. 
Finally, it has been most enjoyable researching this article for the Oakley family and the people of Glen Alvie; and it is hoped it that that the story adds something of interest and value to the colourful sporting history of the local community.  
Best wishes, 
Roger Spaull.
Historian-Dromana Football Club-2018 
Join The Footy Almanac's AFL tipping comp (Title: 'Footy Almanac 2020 Tipping') HERE
Our writers are independent contributors. The opinions expressed in their articles are their own. They are not the views, nor do they reflect the views, of Malarkey Publications.
Do you really enjoy the Almanac concept?
And want to ensure it continues in its current form, and better? To help keep things ticking over please consider making your own contribution.
Become an Almanac (annual) member – CLICK HERE
One off financial contribution – CLICK HERE
Regular financial contribution (monthly EFT) – CLICK HERE