Almanac Footy and Community – Premiership photos
Melbourne High School Old Boys Under 17.
Premiers Waverley Junior Football Association 1991
MHSOB 5.2.32  d  De La Salle College 3.3.21
---
Yesterday I saw my favourite premiership photo. 'Crazy' had posted it on Facebook. 'Thirty years ago,' he wrote. '1991 MHS U/17 flag.'
Driving to the river yesterday, I was trying to follow Paul McCartney's bass line to George Harrison's 'Something' with the dog alongside me. The Yarra had been under moderate flood warning over the weekend and I had a hydrologist's urge to see her. Curved sweeps of lowland bends at Fairfield totally full of water. Bank-full. And the Merri Creek falling over herself through the twisted bluestone gorge of Northcote, around behind the Clifton Hill, racing to join in.
So I'm in the car park with the dog. Maybe I'll take a photo. I reach for the phone and boom, there is the Melbourne High School's U17 premiership side of 1991 looking back at me through showery rain and 30 years.
Already I stood primed with the fuel of Old Dog's recent story on premierships. And here was the spark.
—    'Imagine seeing premiership photos all lined up.'   —
If you have a premiership photo you'd like to share, send them to [email protected] and we'll post them here as they bubble in!
Read Sean Mortell's most recent tale of Wyche in 1969 HERE.
Read more about Col's somewhat starring role in the 1966 side HERE
Read Swish Schwerdt's story about this premiership HERE
Great report from another of Swish's premiership glories. Read it HERE
Swish's report of this premiership can be read HERE
Swish's report of this premiership can be read HERE
---
The Tigers (Covid) Almanac 2020 will be published in 2021. It will have all the usual features – a game by game account of the Tigers season – and will also include some of the best Almanac writing from the Covid winter.  Pre-order HERE
To return to our Footy Almanac home page click HERE.
Our writers are independent contributors. The opinions expressed in their articles are their own. They are not the views, nor do they reflect the views, of Malarkey Publications.
Do you enjoy the Almanac concept?
And want to ensure it continues in its current form, and better? To help things keep ticking over please consider making your own contribution.
Become an Almanac (annual) member – CLICK HERE.
One-off financial contribution – CLICK HERE.
Regular financial contribution (monthly EFT) – CLICK HERE.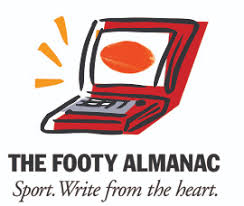 David Wilson is a writer, editor, flood forecaster and former school teacher. He writes under the name "E.regnans" at The Footy Almanac and has stories in several books. One of his stories was judged as a finalist in the Tasmanian Writers' Prize 2021. He is married and has two daughters and the four of them all live together with their dog, Pip. He finds playing the guitar a little tricky, but seems to have found a kindred instrument with the ukulele. Favourite tree: Eucalyptus regnans.