Almanac Cricket: Two-Test tyros from the `80s until now
by DT HOBAN
We have all heard about the One-Test Wonders. They are the players who are the butt of jokes, and answers to trivia questions: For example, who scored 54 in his first and only test yet doesn't have a Test batting average? Answer: Stuart Law (He was unbeaten on 54 in his only test innings). But what about the the two-test tyros?Those who represented their country almost as fleetingly and then disappeared back to Shield and club cricket.
I decided to dissect the two-test phenomenon and look at some recent  alumni of this not-so-famous club. Those that were given a second chance by selectors but then failed, lost favour or were replaced by a superior player.
Marnus Labuschagne had all the hallmarks of a two-test tyro but thankfully he is selected in the Australian X1 to play the fourth and final Test against India at the SCG. Likewise, Chris Rogers seemed destined to be a one-cap player yet ended up carving out a respectable Test career as a reliable opening batsman (or is that batter!).
So, from the 80s til now here are a few names that you may, or may not, remember:
Jason Krejza: "Krazy" was his name, as was his bowling analysis of 8-215 in the first innings of his debut Test. His 4 wickets in the second innings and some valuable late-order runs earnt him Man of the Match in Nagpur. A "horses for courses" offspinner he often sat behind Warne, Hauritz and other spinners of his era. But, the Sydney-born  Krejza was a genuine match winner, if a tad expensive!
Roger Woolley: To quote from an article in the Hobart Mercury " Woolley holds many unique "firsts" for Tasmanian cricket. Predominantly a batsman but also a more than handy gloveman, Woolley was the first Tasmanian-based player to be picked in the national team in 46 years when he made his Test debut in 1983, the first Tasmanian selected for Australia after the state entered the Sheffield Shield, the first Tasmanian to score a Shield century, a member of the state's first Shield victory (where he scored 99), and a member of the state's first domestic trophy, the Gillette Cup win."
After all these "firsts" he only managed to notch up two tests and now runs a coffee roasting business in the Apple Isle.
Peter McIntyre: He dismissed Sachin Tendulkar with his second ball to him. It was an innocuous short-pitched leg spinning delivery but caught the edge of the little master's bat deflecting to Mark Waugh at slip.
McIntyre's two tests were in different series a year apart. Like many leg spinners in the 1990s he was never going to cement his spot in the team with Shane Warne in his prime. He had even moved from Victoria to South Australia to escape Warne's shadow at State level.
Scott Muller: took 7 wickets at 36 in his two-Test career yet is more famous for a sledge aimed at him attributed to "Joe the camerman" after a wayward return. (He can't bowl, can't throw). Muller had been informed by selectors on the final  morning of the match against Pakistan that he would not be required for the next Test. No wonder he was hurt by the comment.
Incidentally, Scott debuted at the Gabba in 1999 with an immortal, Adam Gilchrist. (Ian Healy had been controversially denied a farewell game at his home ground and Gilly as his replacement was probably booed by the crowd!)
Unfortunately, Scott Muller has bittersweet memories of his short career in the Baggy Green.
Rob Quiney: The Victorian has the rare distinction of striking the first ball he faced for four. Alas, he was out for just 9 (albeit a sublime 9) against a strong South African pace attack. and scored a pair in his second match.  Quiney also took 5 catches in his only two tests. Unfortunately, he was just a fill-in for an injured Shane Watson and not surprisingly was dropped.
There are several other past and present players in this unique two-test club:
Adam Dale: Wily, extremely economical swing bowler. (The Chadd Sayers of his era!) Also played 30 ODIs for Australia.
Simon Cook: had some injury problems, but played well in his two Tests (7 wickets at 20) as a fill-in for the injured Glenn McGrath.
Phil Carlson: World Series Cricket period. Handy Queensland all-rounder.
Michael Beer: still playing BBL as a slow bowler. His two Tests were against the West Indies and he, in fact, opened the bowling in both innings of his first test.
PS. If there was a three-Test club Nic Maddinson immediately springs to mind as a likely starter.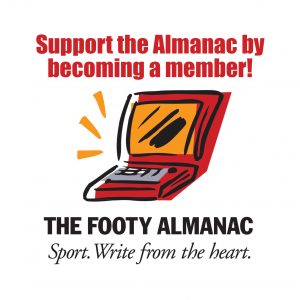 To find out more about membership click HERE.