Photo: cricket.com.au
The recent Boxing Day Test marked 25 years since Test cricket's ultimate all-time leading wicket-taker Muttiah Muralitharan was called for throwing by umpire Darrell Hair at the iconic MCG.
I distinctly remember where I was at the time. Aged 13, I was at the Gabba, watching a one-day match between Queensland and the West Indies. I was absorbed in that game, while Dad sat near me and listened on radio to hear what was going on at the MCG. There was no sign of anyone with a mobile phone!
I was delighted to see the Bulls upstage the West Indies, with Adam Dale taking 3-31 in his first outing for Queensland while Stuart Law was the star, with 2-33 and then 70 as Queensland won by 4 wickets, chasing a modest target of 207.
Six nights later, as 1996 got underway, the West Indies took on Australia in a World Series Cup contest at the SCG. In a match reduced to 43 overs per side, the West Indies managed 9-172 thanks largely to 93 not out from Carl Hooper. The tourists were 5-54 before Hooper combined with Roger Harper for an 81-run stand.
It's interesting to note, 25 years later, that Australia needed to better the West Indies total by just one run. Under the Duckworth-Lewis method introduced since then, the team batting second would have to chase a bigger target.
The early run-out of Mark Taylor, a brilliant catch by Phil Simmons to send Michael Slater on his way, and the first-ball dismissal of Ricky Ponting left Australia reeling at 3-15. Law couldn't repeat his Boxing Day heroics as he fell for 10, before the second-ball dismissal of Shane Lee left Australia 6-38.
With the total at 6-61, something bizarre happened. Rated one of the world's best fielders, Harper dropped a simple return catch which would have accounted for Michael Bevan. It didn't appear that this would matter though, as Harper bowled Ian Healy to make the score 7-74 in the 27th over. Australia was gone for all money. Then along came Paul Reiffel who umpired the Boxing Day Test some 25 years later!
Reiffel scored 34 in a match-turning partnership of 83, while Bevan showed his skill. A number of run-out chances were squandered before Reiffel departed. While all this happened, it seemed only a matter of time before the West Indies claimed victory. Surely the eighth wicket partnership would only add respectability to Australia's total.
The requirement came down to 7 runs from 6 balls with two wickets in hand with Shane Warne accompanying Bevan at the crease. Nowadays the task sounds very gettable from a batting perspective. Back then, the bowling side seemingly had a slight advantage. In this case it did, anyway.
The bowler was the man who had earlier reprieved Bevan. The frontline fast bowlers had used up their allocated overs, meaning an off-spinner was entrusted with the final over.
A dot ball and a legside wide were followed by the run-out of Warne as the batsmen sought a suicidal single. Bevan strangely took a single from the next ball, leaving Glenn McGrath on strike. With a batting average below 4, McGrath did not appear likely to help Australia's cause. But he managed a single, leaving four runs required from two balls. Bevan failed to score from the penultimate delivery, meaning he needed to find the boundary from the final ball. He was on 74 from 88 balls, having hit five boundaries.
Harper fired the ball towards the left-hander's leg stump as Bevan backed away. He swung hard, and connected at just the right time.
The flat-batted shot sent umpire Tony McQuillan ducking for cover. How brilliant were the umpire's reflexes? Before anyone could blink, the ball crashed into the fence beneath the sightscreen.
Bevan quickly removed his helmet and pumped the air with both arms, holding his helmet in one hand and his bat in the other. The time was 10.46pm Sydney time. But nobody watching this cricket match could have been feeling sleepy at this stage.
Click here to watch the last over: https://www.youtube.com/watch?v=i_OrxxPgX6w
Very few books have been written on white-ball cricket, mainly because people don't tend to remember white-ball matches as vividly as Test matches.
But surely nobody who witnessed Bevan's last-ball boundary on the first evening of 1996 would ever forget it. Not that anyone would necessarily remember the rest of the match.
As for the Man of the Match? The answer: Reiffel. The man known as 'Pistol' took 4-29 off 9 overs and then scored 34, compared with Bevan's 0-31 off 4 overs and innings of 78 not out.
Twenty-five years ago, eh? Who's to know what's in store in another 25 years' time?
Read more of Liam Hauser's Almanac pieces HERE.
To return to our Footy Almanac home page click HERE.
Our writers are independent contributors. The opinions expressed in their articles are their own. They are not the views, nor do they reflect the views, of Malarkey Publications.
Do you enjoy the Almanac concept?
And want to ensure it continues in its current form, and better? To help things keep ticking over please consider making your own contribution.
Become an Almanac (annual) member – CLICK HERE.
One-off financial contribution – CLICK HERE.
Regular financial contribution (monthly EFT) – CLICK HERE.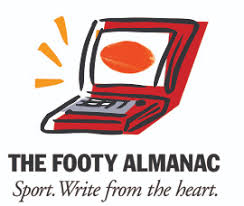 A Queenslander through and through, Liam went out of his comfort zone as he had a thoroughly worthwhile time in Tumut and Gundagai from 2008 to 2016 before enjoying a year in Gunnedah. His strongest sporting interests are State of Origin, Sheffield Shield, Test cricket and the NRL. His sporting CV doesn't have many highlights, although he once top-scored in a warehouse cricket match with 54 not out at number 10, and shared in an unbroken last wicket stand of 83 with the number 11 who scored an undefeated 52. Liam has written books including State of Origin 40 Years, A Century of Cricket Tests, A History of Test Cricket, The Immortals of Australian Cricket, The Immortals of Australian Rugby League, and The Great Grand Finals: Rugby League's Greatest Contests. Also a huge fan of Electric Light Orchestra.