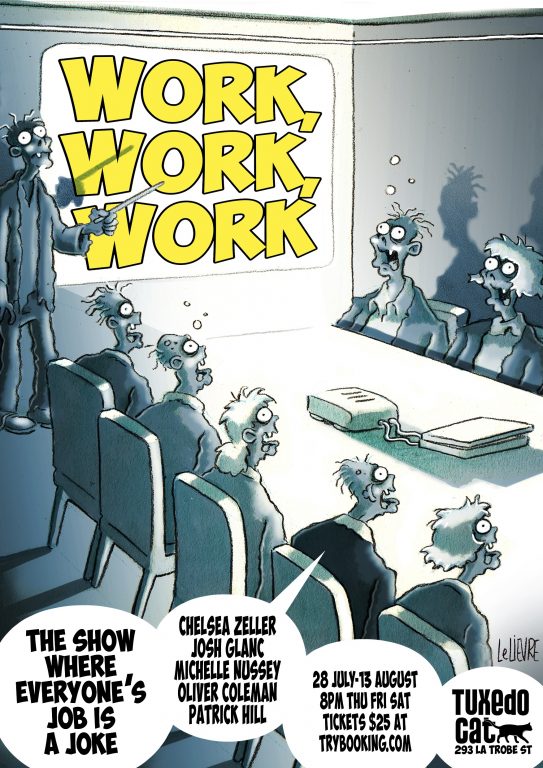 ONE of the most enduring attractions of the theatre is its ability to reflect the world back to us. In the case of Work, Work, Work – directed by the Almanac's Matty Quatermaine and co-written with his long-time partners-in-crime Tim Smith and Michael Syme – the reflection cuts acidicly close to the bone in this hilariously enjoyable and ridiculously accurate look at life (or the absence thereof) in the modern workplace.
The years of cumulative comedy experience in the writing triumvirate of Quatermaine, Smith and Syme shine, producing comedically centimetre-prefect sketches ranging from the office birthday morning-tea; Buzz Aldrin and Mike Collins arguing the toss about body odour in the Apollo 11 command module; what board meetings were like in the stone-age; "Joe's Toe"; a product launch for the 10 Commandments (iMoses); and Sherlock Holmes' surprise birthday party, to a refreshingly insightful riff in the age-old trope of men vs. women in Adam and Eve's divorce settlement ("You want a dog to be man's best friend? Okay (beat) we'll take diamonds…").
Fortunately for the writers, they've found themselves a first-rate all-singing and, at times, all-dancing cast to bring their words and music to life. Oliver Coleman's Steve-Jobs-meets-Anthony-Robbins Moses launching the 10 Commandments is perfection; Michelle Nussey and Patrick Hill's Romeo and Juliet flipping burgers and manning the drive-thru at Maccas is Shakespearean comedy gold, Josh Glanc's Trivia Trev is a scene-stealer and Chelsea Zeller is understated comedic genius in celebrating Sherlock Holmes' surprise birthday party (which he knew was being planned anyway because he's Sherlock Holmes 'n all…). On the musical front, you'll be humming "Pay Day, Pay Day Halelujah" long after the house lights rise
Work, Work, Work captures the banality, drudgery and utter insincerity of corporate life in all its beige-cardigan, double-speak glory. It's a must see.
Chookas all…
Work, Work, Work is being performed at The Tuxedo Cat, 293 La Trobe St Melbourne until August 13th. CLICK HERE for tickets
Weapons-grade Grump. Quixotic. Jack of all Trades and Master of None. Ex-power forward for Melbourne Superules FC. Quoter of Seinfeld and Curb Your Enthusiasm at inappropriate moments. Gun-for-hire, sleep enthusiast, contrarian. Meshuggener. Nebbish. Kibitzer. The dude abides.