Almanac Boxing: "Real" Boxing
Huni versus Gallen is over, and the boxing tent that is Australian boxing has packed up and moved on to the next town.
It is time to look further afield for some decent boxing.
Naoya Inoue takes on Michael Dasmarinas.
Why the interest in this Japan versus Philippines bout from Las Vegas?
Because bantamweight Inoue is ranked pound-for-pound number two in the world.
Only the mighty super-middleweight Canelo Alvarez sits above him.
Bantamweight, the 118-pound division.
Fenech won his first world title at bantamweight.
Knocking out Japan's Shingaki at the Hordern Pavilion on a Friday night.
Naoya 'Monster' Inoue stands 1.65m tall.
He tips the weigh-in scales right on the 118-pound limit (53.6kg).
Inoue may have the stature of a jockey, but he packs knockout power.
17 knockouts from 20 wins heading in.  No losses.
In their title bout last October, Aussie contender Jason Moloney walked into a perfectly timed counter right and got folded up like a deck chair.
The Moloney twins are tough.
They don't go down easy.
Inoue goes in as the prohibitive favourite.
Once again, he doesn't disappoint.
Dasmarinas, the challenger, is busy early, on the front foot.
No point being passive.
Box smart but take it up to him.
But, come the second round it begins to unravel.
Inoue has been picking his shots, making them count.
Now Inoue takes control.
A minute on the clock.
Feint, feint, feint.
(sizing up his opponent)
Straight right down the middle.
(sends him back to the ropes)
Opponent steps left.
(follow him)
Jab, right uppercut, left hook glances the ribcage.
(that got his attention)
Jab, right hook, left hook misses.
(delayed reaction, the brain now acknowledges the pain)
Down goes Dasmarinas.
(he beats the count, but he is looking for the clock, he is hurting)
Round three.
Inoue patient, countering, body shots.
Dasmarinas is still working.
Inoue stalks, waits, accumulates.
40 seconds on the clock.
Jab, cross, left hook to the body.
(stunned him)
Right uppercut.
(get his guard up)
Left hook to the unprotected body.
(solid thud)
Down goes Dasmarinas.
(done-zo, no chance!)
Dasmarinas gets up.
Inoue wants to end it quickly.
Marches upon Dasmarinas.
Guard up, blocks a token jab.
(waiting …..)
Jab, jab, wild overhand right misses.
(got him on the ropes, closing in)
Left uppercut, straight up the middle, finds the chin.
(doubles him up)
Set feet, square on.
(pick the shot)
Left hook to the body.
(game over)
3 seconds.
5 punches.
Jab, jab, right, step, uppercut, step, hook.
If at first you don't succeed, try, try again.
A dozen left hooks to the body takes a toll.
Dasmarinas was brave.
His liver has been battered.
Inoue is too good.
He is the 'Monster'.
A vicious lead hook.
Hagler was a master.  Frazier was brutal.
Left uppercut, left hook.
Just like Tyson.
Real boxing.
Monday night I hit the gym.
The heavy bag beckons.
Southpaw stance, warm up, jabs and crosses.
Then unleash it.
Lead hook to the 'body'.
Snap the punch, rotate the hips and shoulders.
Feel the deep, solid thud as it hits home.
Yes, that would take a toll.
To return to our Footy Almanac home page click HERE.
Our writers are independent contributors. The opinions expressed in their articles are their own. They are not the views, nor do they reflect the views, of Malarkey Publications.
Do you enjoy the Almanac concept?
And want to ensure it continues in its current form, and better? To help things keep ticking over please consider making your own contribution.
Become an Almanac (annual) member – CLICK HERE.
One-off financial contribution – CLICK HERE.
Regular financial contribution (monthly EFT) – CLICK HERE.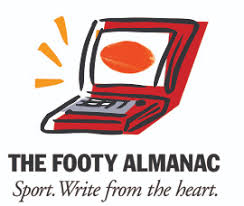 About
Dour opener and close-checking fullback. Peaked early.