Almanac Book Reviews – William Westerman's 'Merger' by Jamie Simmons
I love receiving emails from John Harms, especially the ones not threatening legal action. So, when the offer arrived to read and review a new book about my beloved Fitzroy, I couldn't say yes quickly enough.
I only wish that I could have gotten through it sooner but at around 390 pages, that's a lot of words to sound out.
Holding the book in my hands I hesitated, baulked even, at reading it straight away. I'm not certain I had ever really considered just how deeply I might have been affected by the events that lead to Fitzroy's demise.
Turning it over in my hands multiple times, I was immediately drawn to the rear illustration.
Three generations of Fitzroy fans, comforting each other as they walk towards an uncertain horizon. Powerful.
'That's me!' I thought. The Simmons' were a three-generation Royboys family. There's no way it could be of course. For one thing, the people in the image appear to be getting along quite well…
An appreciation for Fitzroy was a binding agent for my family. It was the one thing we all had in common (outside of a lingering suspicion of one another). The one thing we could openly discuss and agree upon. My grandfather always proudly boasted that he attended the 1944 Grand Final. We loved that story. That said, he also claimed to have invented The Charleston so how reliable that declaration was remains open to debate.
I've rarely discussed the death of Fitzroy and with revisiting the events of 1996 likely to be an, at times, visceral experience I questioned whether we should be doing it now. Is it necessary? What are you doing William, can't we just leave this in the past?
It's why I won't watch the 2004 Grand Final again or another Twilight film. Some things are painful enough the first time around.
What William is quick to establish, however, is that his narrative is less about stirring up old emotions and more about cataloguing and organising statements and events.
It seems bluntly honest and somewhat odd to say that I was not destined to 'enjoy' Merger. Books are, after all, entertainment are they not? I want to say that I loved it but there would be something slightly ghoulish about that sentiment. I was never quite able to lose sight of the fact that what I was reading was, effectively, an autopsy.
What William offers in lieu of this morbid assessment is provide an uplifting human element to his account. It is quite wonderful that he has given voices to many of the previously unheard and unheralded. The nameless faces who stood knee deep, baling against a burgeoning tide of impoverishment. Yes, politics proliferates many of its pages, it has to, but one can take respite in the words of the oft forgotten or overlooked (those volunteers, trainers, receptionists etc) who are represented here and maybe for the first time.
The book is every bit what you might demand from an historian: acutely researched, accurate and fair.
I was curious as to whether, by the book's conclusion, I might no longer see Ross Oakley as the hoodless executioner type figure on the gallows. I, like many of my Fitzroy brethren, hated the name Oakley. I still refuse to wear the sunglasses or pass through the Melbourne suburb of that name (and that's not even spelt the same way!).
Old wounds are probed, like the Centenary Season celebratory spending while a foundation club lay bleeding or the indignity of having our last ever game played as removed from its fanbase as was geographically possible.
William presents arguments that allow my position to adjust on these and other points, if not completely.
It is too easy to heap all the blame at the feet of the AFL and Ross Oakley. Make no mistake Fitzroy made contributions to their own downfall and Merger presents them earnestly for your consideration.
William also makes some fascinating and deeply contemplative allusions on Fitzroy's identity, not least of all that its underdog status became central to its appeal.
Growing up everybody had THAT one friend in their group.  Inoffensive, harmless and largely insignificant but you let them hang around anyway. Incidentally, I could never identify who that person was in any of my groups, so it was almost certainly me. Fitzroy WAS that guy. Were Fitzroy not every opposition fan's second favourite team?
It's an uncomfortable but nonetheless accurate assessment and one I had not contemplated previously.
The perpetuity of Fitzroy's impoverishment can't be understated. They were always broke or close to it. One quote from an administrator in the book stays with me on this:
'If a lightbulb broke you wouldn't replace it. You would swap it with one from an area in less pressing need for illumination.'
It was an accepted part of their narrative.
Merger provides illumination to the darker, desperate hours of Fitzroy's plight.
Things that I had forgotten (or perhaps repressed), like just how close the North Melbourne deal came to fruition and provides more clarity around their bid which struck me as greedy and opportunistic at the time. Also, the often overlooked role the Pacific nation of Nauru played in these affairs.
Though Merger can't promise you closure it will offer you perspective from all factions and that is an important first step in that direction.
So who reads this book? Fitzroy tragics that refuse to let go? Definitely.
Those that found a way to move on? Absolutely.
Fans of surviving clubs that declare it could never happen to them? Especially you.
William pens a thought-provoking conclusion that is worth the price of admission alone. It is very much on the money (pun intended).
The financial windfall that soon followed in the form of broadcasting rights wallpapered over the cracks of several club's financial standings at the time that almost certainly remain today.
This then, is a timely document. Not least of all for being 25 years since Fitzroy's passing but with the Northern Territory and Tasmania making serious overtures about a possible entry into the league, re-locations or possible mergers may yet find themselves once more on the agenda.
In the wrong hands, this story tramples on the memory of Fitzroy, trivialising the efforts of the devoted in the face of hopelessness, but that doesn't happen here.
William's duties as an historian are beautifully tempered by his love for the club. Handled with the white cotton gloves that I like to imagine are standard issue to all those who shuffle the creaky corridors of history. It is a sympathetic telling, but it is honest where it needs to be.
I happen to think it's a celebration. Sure, we know how it ends but there are more heroes than villains here and the tales of those people just make me love the club even more.
**************************************
Fitzroy were my first love.
Despite me moving here in the year of their inception and an often happy, productive courtship, Brisbane could never hold that position. Sure, the new love interest might be a better cook or pretend not to notice when you wear their underwear, which is nice and you appreciate them for that, but they can never be your first love.
Most moving and thought provoking for me in William's book is his epilogue.
Fitzroy's presence in the VAFA is something I had allowed myself to remain largely indifferent to. Until now.
I was fortunate enough to be invited to cover one of their home games several years back (2017 I think) and gladly made the trip south but minus the emotional attachment.
I hope to make the pilgrimage again one day soon, with renewed insight and henceforth I vow that my framed Fitzroy guernsey always faces Brunswick Street, no matter where I settle.
I have been helped to realise that Fitzroy did not die, administratively speaking at least and I thank William for that.
An excellent read. Thoroughly recommended.
Order copies  of Merger  HERE
Read extracts and further information about Merger HERE
The Tigers (Covid) Almanac 2020 will be published in 2021. It will have all the usual features – a game by game account of the Tigers season – and will also include some of the best Almanac writing from the Covid winter.  Pre-order HERE
To return to our Footy Almanac home page click HERE.
Our writers are independent contributors. The opinions expressed in their articles are their own. They are not the views, nor do they reflect the views, of Malarkey Publications.
Do you enjoy the Almanac concept?
And want to ensure it continues in its current form, and better? To help things keep ticking over please consider making your own contribution.
Become an Almanac (annual) member – CLICK HERE.
One-off financial contribution – CLICK HERE.
Regular financial contribution (monthly EFT) – CLICK HERE.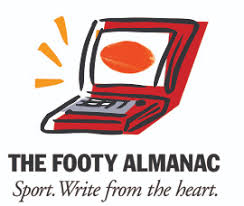 Born in Melbourne, a third generation Fitzroy supporter, in 1972 before emigrating to Tasmania during The Great Broccoli Famine of 86. Leaving my island lodgings, largely at the request of locals, to settle once more on the mainland in 1997. These days living out a peaceful existance on the outskirts of Brisbane, where I spend most of my time serving as a fashion warning to others.