Back on 2018, Sydney-based Rockpool Publishing launched a series of books to celebrate 'the immortals' of various Australian sports. The first in the series was Liam Hauser's The Immortals of Australian Cricket. The series continued a year later via Rockpool's offshoot, Gelding Street Press, with Hauser's The Immortals of Australian Rugby League the first offering under the new imprint. In recent months, these have been joined by The Immortals of Australian Motor Racing by Luke West (2021) and The Immortals of Australian Horse Racing by Alan Whiticker (2021). Now, to mirror Hauser's original offering, Gelding Street has released Bill Ricquier's The Immortals of English Cricket.
Ricquier is a lawyer by trade but a cricket enthusiast by nature with at least three other cricket publications to his name, Hampshire: 100 Greats (Tempus, 2003) with Neil Jenkinson and Dave Allen, The Indian Masters (Roli Books, 2005), and The Pakistani Masters (History Press, 2006). You can check Bill out further at http://www.billpavilionend.com
Ricquier's team selections cover more than a century of English cricket, going back as far as Wilfred Rhodes and Sydney Barnes in the early parts of the twentieth century through to present day players Ben Stokes and James Anderson.
As a whole, it's hard to argue with Ricquier's Eleven – Jack Hobbs, Len Hutton, Wally Hammond, Denis Compton, Ben Stokes, Ian Botham, Alan Knott, Wilfred Rhodes, Fred Trueman, Sydney Barnes and James Anderson. The inclusion of Stokes is probably the most controversial given that he is hardly halfway through his career – perhaps it's a tad premature to exalt him to this level just yet. The team's fast bowling stocks are already well catered for with Trueman, Barnes and Anderson while the all-rounder spot is obviously reserved for Botham. The elegant and dashing David Gower might have been a better left-hander in the middle order.
As is always the case in endeavours such as this, there are omissions that cause regret for the writer. Ricquier found it hard to leave out Herbert Sutcliffe and Harold Larwood. Others might argue the respective cases for Geoff Boycott, Ken Barrington, Peter May, David Gower and Derek Underwood.
The playing records, styles and demeanour of the players makes for interesting reading but what I found more absorbing pertains to the personality studies of those included. We do well to remember that those selected are there on their cricketing merits and not their individual characteristics as men. It's a rich, divergent and complex aggregation of styles, attitudes and motivations which leaves you wondering just how they might have all got on in the dressing room and/or on the field.
Ricquier writes in what I call 'a very English style', not unlike some of the well known English radio commentators over the years. Some might call it a tad 'old fashioned' or 'correct' but I chose to take the man as he comes and see his players through an English lens. Perhaps it has to do with men of a certain age. As a text, it flows well.
Ricquier acknowledges that this is the team that he would select; others might well choose to differ. And so, cheekily, he also names his 'alternative Eleven': Sutcliffe, Boycott, Barrington, May, Gower, Grieg, Evans, Larwood, Snow, A Bedser and Underwood.
Overall, I enjoyed the read, learned a lot and had my love for the game reinforced. What more could you ask for?
Next, how do you think 'these Poms' would go up against Hauser's Australian XI: Matthew Hayden, Arthur Morris, Don Bradman, Ricky Ponting, Alan Border, Steve Waugh, Adam Gilchrist, Keith Miller, Shane Warne, Dennis Lillee and Glenn McGrath?
The Immortals of English Cricket is widely available through good bookstores, online and direct from the publisher. RRP $30.
Reviewed by Ian Hauser.
To return to our Footy Almanac home page click HERE.
Two books will be published in the lead-up to Christmas 2021 – The Tigers (Covid) Almanac 2020  as will the 2021 edition to celebrate the Dees' magnificent premiership season (title is up for discussion at the moment!). These books will have all the usual features – a game by game account of the Tigers and Demons season – and will also include some of the best Almanac writing from these two Covid winters. Enquiries HERE
Our writers are independent contributors. The opinions expressed in their articles are their own. They are not the views, nor do they reflect the views, of Malarkey Publications.
Do you enjoy the Almanac concept?
And want to ensure it continues in its current form, and better? To help things keep ticking over please consider making your own contribution.
Become an Almanac (annual) member – CLICK HERE.
One-off financial contribution – CLICK HERE.
Regular financial contribution (monthly EFT) – CLICK HERE.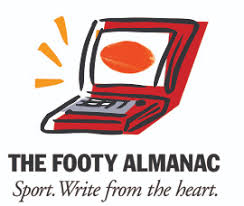 A relaxed, Noosa-based retiree with a (very) modest sporting CV. A Queenslander through and through, especially when it comes to cricket and rugby league. I enjoy travel, good coffee and cake, reading, and have been known to appreciate a glass or three of wine. As well as being one of Footy Almanac's online editors, I moonlight as an editor for hire - check me out at www.writerightediting.com.au