Almanac book review – Nick Richardson's 'Chadwick: a man of many parts' by Roger Lowrey
The title of Nick Richardson's recent biography of Sir Albert 'Bert' Chadwick (1897-1983) is most apt. He was A man of many parts.
With no less than 528 annotated references over 254 pages of text, this is a solid, thoroughly researched piece of work which faithfully records the many achievements of a distinguished Australian sportsman, sports administrator, businessman, community leader and family man with a decorated war service record.
Yet, in another sense, it is a curious biography in that while we can clearly see what Chadwick did, we have to dig much deeper to learn any more regarding his feelings about his own achievements.
Richardson himself wryly observes as much in his Foreword,
'…the surprising aspect of the (Chadwick) archive, for all the extensive collection of letters, notes and ephemera, is how little it reveals about the man himself…He collected everything about what he was engaged with, but very little about what he thought of it.'
Perhaps the simplest explanation is, like many of his cohort of early- and mid-twentieth century Australian alpha males, Chadwick kept his emotional cards very close to his chest.
That said, the author gives us more than sufficient information to enable us to make our own inferences so the issue is hardly a show stopper.
Despite becoming something of an establishment figure in later life, Chadwick's childhood in rural Tungamah and adolescence in inner suburban Carlton and Fitzroy are hardly the stuff of being born with a silver spoon. Far from it.
Perhaps this is part of the reason behind a later assessment of Chadwick that '…each of his achievements was hard earned. (He) took nothing for granted. He had to fight hard for every success he gained.'
Later in the book the author reflects further on this point.
'The idea of the "self made man" was a pure Australianism. It spoke of someone who had come from "nowhere" and arrived "somewhere" by dint of their own no nonsense ability and character. It was a particularly apt description for Chadwick.'
After his pharmacist father dies from the dreaded tuberculosis in 1906, Albert as the oldest child later emerges to take responsibility and become a generous provider for his mother and four younger siblings.
Even further on as late as 1929, he was still '…looking after his family. Chadwick remained at home until he married Thelma, so there was always additional money coming into the house to help his mother and his siblings.'
After studying electrical engineering at night school Chadwick is employed in the aviation industry and signs up in the fledgling RAAF for war service in 1916 as a 19-year-old for which he is later awarded the Meritorious Service Medal.
He would later claim that 'anyone who went through World War 1 and survived it is better for it – no question about it.'
However his biographer raises an eyebrow at how tone deaf Chadwick was on this matter.
'Chadwick's perspective was a privileged one: thousands of young Australians who served and survived certainly did not benefit from the experience. There were 150,000 wounded Australians in World War 1: many came home carrying disabilities, mental anguish now called Post Traumatic Stress Syndrome and forever scarred by what they had endured…a further 60,000 men had been lost or around one in ten of Australian men aged from 18 to 45.'
Nonetheless, upon his return to 'the sombre mood (of) the nation as it tried to find ways to integrate returned men to the fold' Chadwick turns his hand to football, signing up with the Melbourne Football Club.
And very successfully too.
In 1924 he is runner up in the inaugural Brownlow medal by one vote behind the winner Cargi Greeves from Geelong (nee Pivots).
In 1926 he captain coaches Melbourne (nee Fuchsias) to its first flag since 1900. A tall man for those days at 185 centimetres, 'Big Bert' alternates between the ruck and centre half back.
'Carna Fuchsias?'
Hmm, it lasts until coach Frank 'Checker' Hughes later urges his team in 1933 to 'fight like demons' whereupon the Melbourne Demons are born.
In 1929 the publicly minded philanthropic side of Chadwick emerges as he seeks a clearance from Melbourne to become captain-coach of the struggling Hawthorn (or Mayblooms). They don't reinvent themselves as raptors until Roy Cazaly's team in 1942.
Hawthorn was one of the newly admitted VFL clubs along with Footscray and North Melbourne in 1924. The VFL were keen to welcome them all as not only did this consolidate new eastern and western suburban clubs as part of a sustainable core base of teams identifiably separate from the VFA, but also, it eliminated the need for the unpopular bye within their old nine clubs.
For many years though Hawthorn remain the weakest of the three new clubs and struggle to improve their dire form thereby threatening the VFL's future plans for the viability of the 12 team competition.
Chadwick is still playing good football at this stage as a 32 year old and generously offers them his services pro bono but despite his best intentions, it doesn't last beyond 12 months.
'There's nothing here Bert. I can't do anything here because there is no talent to develop.'
After being starved of premiership success since Chadwick's team in 1926, Melbourne wins more flags again in a purple patch in 1939, 1940 and 1941 but only just before the realities of Pearl Harbour, Singapore and, much closer to home, Darwin in 1942 stun a nation still barely recovering from the earlier conflict.
The MCG becomes an army base for the remaining war years and during this period Chadwick again rises to the wartime challenges, this time overseeing RAAF recruitment.
During the 1920s and 1930s, Chadwick's career had been predominantly with the British Imperial Oil Company and its successor, Shell. After the war, the burgeoning energy sector expands quickly with a growing population driving the demand for new vehicles including Australia's 'own' Holdens.
Chadwick continues in further leadership positions in the petroleum and energy sector, first with the Metropolitan Gas Company and later with its successor the Gas and Fuel Corporation of Victoria.
His engineering background also sees him as a good fit some time later for the Overseas Telecommunications Commission where he becomes Chairman in 1963 and oversees Australia's investment in INTELSAT.
But back at the post-war MCG, and little is Chadwick to know it, but an emerging ascendance of his beloved Demons is just around the corner.
(Spoiler alert – Demons fans, DO NOT read the next two sentences!)
Chadwick – along with Ivor Warne-Smith and Jim Cardwell – throw their support behind Norm Smith as coach whereupon the golden years of premierships in 1955, 1956, 1957, 1959, 1960 and 1964 follow, only to be subsequently blighted by the Norm Smith curse following his sacking by the Committee in 1965.
In the following 57 years of the curse, Melbourne would only play in two Grand Finals in 1988 and 2000 – and lose them both.
(At the time of writing the AFL 2021 Grand Final is still six days away.)
Thankfully for Chadwick though, after the war some of his most productive years of private sector and public sector work still await him and he grasps the opportunities by the throat.
First there are the challenges of Melbourne's 1956 Olympic Games.
Chadwick's shrewd business background and public governance savvy help guide the Games to a successful outcome at the MCG after seeing off an earlier attempt by some to make the Showgrounds and then Princes Park the feature stadium for Olympic events. What on earth were they thinking!
And then a decade later while General Manager and, later, Chairman of the Gas and Fuel Corporation of Victoria in the 1960s, Chadwick oversees his biggest contribution to the Victorian community.
The exploration and harnessing of the once in a lifetime discovery of off shore liquid petroleum gas deposits in 'one of the most inhospitable stretches of water in the world' in Bass Strait proves to be the pinnacle of his decorated career.
It heralds the start of a revolution in clean and affordable heating through cold winters for countless ordinary Victorian households. Young mums and dads and their growing baby boomer children come to relish the improved quality of life natural gas provides for them.
Chadwick's legendary battles with then Premier Sir Henry Bolte over gas pricing details are stuff for another day although Bolte himself concedes in his second reading speech at the dispatch box in February 1967 'this Bill is one of the most important measures that I have had the pleasure of introducing into this House. Everybody will benefit from this wealth.'
Shortly afterwards, Chadwick's board records its appreciation of its Chairman's work.
'The board recorded its appreciation of the Chairman's efforts, leadership and strength at the necessary times during the course of the negotiations and exercised on many occasions at considerable personal inconvenience. The Board acknowledges the Chairman's great achievement in pursuing the negotiations to a successful conclusion.'
Chadwick remains an MCC Committee member from 1941 until he becomes President between 1965 and 1978. He is knighted in 1974 and then posthumously inducted into the AFL Hall of Fame in 1996 and named on the interchange in Melbourne's team of the century in 2000. He had died in 1983.
One final bouquet for the author.
Not only has Nick Richardson produced a most comprehensive account of Chadwick's many achievements, but also, he presents them in a very reader friendly fashion.
Well titled, evenly spaced chapters with a strong well integrated story line in an easy to read font and an interesting collection of photos all contribute to the overall high quality of this handsome hard backed volume.
It is surely a shoo-in for the short list of Christmas gifts readers may wish to consider for those of their family and friends whose hearts beat true for the red and the blue.
To return to our Footy Almanac home page click HERE.
Our writers are independent contributors. The opinions expressed in their articles are their own. They are not the views, nor do they reflect the views, of Malarkey Publications.
Do you enjoy the Almanac concept?
And want to ensure it continues in its current form, and better? To help things keep ticking over please consider making your own contribution.
Become an Almanac (annual) member – CLICK HERE.
One-off financial contribution – CLICK HERE.
Regular financial contribution (monthly EFT) – CLICK HERE.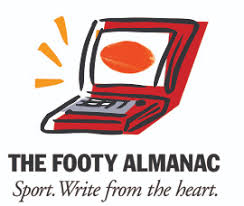 Roger Lowrey is a Geelong based writer who lists his special interests as reading, writing, horse racing, Roman history and AEC electoral boundaries. Some of his friends think he is a little eccentric.