Almanac Book Review: John Althorp's 'Yee-Oh! A South Adelaide FC Scrapbook' by Bernard Whimpress
A FUN THING TO DO
Half the romance of Aussie Rules footy was experienced this weekend with Melbourne's marvellous exhibition against the Bulldogs ending a 57-year premiership drought. Seeking what might have been a neat cross-border double South Adelaide, whose last SANFL flag was also in 1964, went down on Friday night to Glenelg in their preliminary final. The Panthers will have to wait another year at least.
When I go to my post office box and find a bulky and unexpected delivery I'm intrigued. When I tear open the wrapper and discover a handsomely bound book by John Althorp I'm thrilled.
I'm thrilled because the author produced a brilliant biography of a South Adelaide star of the 1940s and 1950s, The Larrikin: the Jimmy Deane story, back in 2014, and this year published a splendid centenary history of the Encounter Bay Football Club. I'm also thrilled because although John Althorp has not yet produced the major history of South, for whom he was historian for 25 years, this book provides a glimpse of how such a project might be undertaken.
My love of sports history deepened when writing my first book, The South Australian Football Story in 1983. Later in that same year I attended my first sport history conference at the end of which the Australian Society for Sports History (ASSH) was formed. A career/life path was set. I have greatly enjoyed my membership of ASSH over the years but a couple of things which disconcerted me occasionally were the somewhat pompous references by colleagues to 'sports history scholars' and 'serious sports history'.
Hey, what's with the long face? Sports history can be a fun thing to do.
In his foreword to Yee-Oh! Althorp makes no apologies for the scrapbook layout – one bizarre omission is the lack of page numbers – but notes that the content is drawn from 'numerous articles for the club, its publications and various other sporting and media entities'. He adds that 'a number of mates associated with the club suggested that I pull some of these articles together – hence the book you are reading'.
So what does the scrapbook contain – here are a sample of the articles:
An overview of the foundation of the club in 1876 and the formation of the South Australian Football Association in 1877.
Biographical studies of South greats – Jack Tredrea, Dan Moriarty, David Kantilla, Jack Reedman, Frank Barry, Frank Tully, 'Diddy' Munro, Stuart Palmer and more.
1894 and 1899 premiership teams
Home grounds – South Parklands, Adelaide Oval, Jubilee Oval, and Noarlunga Oval
Personal reminiscence – watching footy at Adelaide Oval in the 1950s.
Profiles of club administrators, volunteers and supporters
South's Bay Sheffield winners
Greatest South team
1964
Families – Dawes, Panizzas, Hansens, Coombs, Alexanders etc.
Pubs – Arab Steed, Producer's Club, Queen's Head
Spriggers – The Freemasonry of Football
Football and Federation – Charles Cameron Kingston
The Female Perspective
Origin of 'Yee-oh!'
In a personal note accompanying the book Althorp wrote that 'it's really a bit of a vanity project and I've only done a couple of dozen [copies], mainly for those around the club whom I know will want one'.
John Althorp, it might be a scrapbook but it's also an example of a fine intelligence at work  as well as superb storytelling. It deserves more than 24 South diehard readers.
To give just two examples of the book's quality I'll turn first to the personal reminiscence and the year 1954 when the young John, living on the border of West Torrens and Port Adelaide's football districts, begins to follow the bottom side:
'It was something else I saw working itself out on the oval on a Saturday, a group of guys fronting up to have an honest dip in a competition that still boasted drop kicks and stab passes, spriggers, smoke socials, seven or eight thousand at any match on a bad day, pasty nights and chop picnics, and, for South, end of season trips to Bendigo and a lot of hidings. But above all, there was a contest to see that was light years removed from today's games, a contest seemingly based around a fanatical desire to get to the ball and get it down the ground no matter what stood in your way. It was Port, unfortunately, that played that game to perfection and Torrens' elusive Lindsay Head who provided the conspicuous and talented individual exception.'
and then to a profile of legendary doorman, Frank Brown concerning an incident on the day of the 1964 Grand Final:
'I was doorman and Knuckles Kerley says to me – 'OK Frank, nobody comes into the room after 1.00 o'clock, and I don't give a continental who it is – nobody comes in.' Next thing I know there's this knocking on the door and I say, 'Piss off you mob of bastards – nobody's coming in.' And then they tell it was the chairman of the league and Sir Robert Menzies that I had just sworn at. Later, when I met Sir Robert and apologised for the cheek, he said, 'Don't worry, I've been called that plenty of times.'
Not every club boasts a writer as good as Althorp and not every club history has to be a heavy official tome. Yes, we want the major histories – I'm currently engaged co-writing a history of Adelaide University Cricket Club – but while such books ought to be accurate, they don't have to be deadly serious.
There are many ways in which history can be related and newsletters, magazines and websites can be instruments that provide historical content. Sports club history groups sometimes produce small booklets based on new research on key events and personalities but they might also consider reworking and consolidating existing content which has appeared in previous publications.
In reviewing Althorp's Encounter Bay FC history in another place I described it as a model for anyone writing a sports club history. Yee-Oh! is what I might call 'whack-on-the-side-of-the-head' history, a different way of doing things, definitely a fun thing to do.
To return to our Footy Almanac home page click HERE.
Our writers are independent contributors. The opinions expressed in their articles are their own. They are not the views, nor do they reflect the views, of Malarkey Publications.
Do you enjoy the Almanac concept?
And want to ensure it continues in its current form, and better? To help things keep ticking over please consider making your own contribution.
Become an Almanac (annual) member – CLICK HERE.
One-off financial contribution – CLICK HERE.
Regular financial contribution (monthly EFT) – CLICK HERE.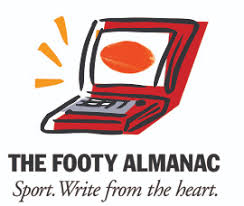 Freelance historian (mainly sport) who has just written his 40th book. Will accept writing commissions with reasonable pay. Among his most recent books are George Giffen: A Biography, The Towns: 100 Years of Glory 1919-2018, Joe Darling: Cricketer, Farmer, Politician and Family Man (with Graeme Ryan) and The MCC Official Ashes Treasures (5th edition).