Almanac Baseball: ABL Done, MLB Awaits
Footy fans can relate to "the lull". It's that time of the year when summer sports are wrapping up but the winter codes haven't yet fired up. We get teased with recent initiatives like AFLW and AFLX but we are still coming to terms with these, with the common consensus being women's footy should be given its own season proper as it is clearly a winner while AFLX should be taken out the back and shot.
So it is the case with baseball too. The ABL wrapped up recently with another win to the Bandits meaning they have overtaken that other Brisbane-based team and got four on the trot. The MLB, meanwhile, kicks off with Spring Training from February 21. While I like the freewheeling nature of that particular version of a pre-season, I generally find it unsatisfying. My desire for top flight ball is not truly sated until Opening Day in late March.
In this post I thought I would ruminate on how these two competitions from different hemispheres are keeping fans engaged during the lull by seeing what their websites are tempting us with. The ABL, inevitably, is doing their Seasons In Review on each of the teams. While I accept this is a legitimate initiative, again being perhaps a tad of a curmudgeon I find these disappointing. The review of the Aces season is full of facts and figures that provide some context to their season but the prognostication for next season is one sentence and seems to be proffered more as a necessary evil than a means of firing up fans for next season. Essentially, the précis of the review reads like a school report – some encouraging signs, must try harder. Naturally, for the more successful teams the review is more enjoyable reading for their fans but that's what sport is about after all.
For a small, fringe sport like baseball, I believe the governing body should be enticing existing and potential fans with a sense of what the future holds for that sport. One of the big picture recurring themes for the ABL this past season was expansion into Asia. The presence of a Korean team based in Geelong was undoubtedly a great start, but we were told there would be more initiatives. The prospect of an Australian team playing minor league in Taiwan was given the kibosh temporarily but I think most fans would accept that these things take time. In my view, the Asian angle needs to be kept brewing and angles on the story displayed prominently on the website. Maybe that is an unrealistic prospect given the limited resources of the ABL.
Resources have never been a problem for the MLB. One glance at mlb.com immediately tells you that they have a phalanx of reporters and opinionistas covering every angle. A fan can jump online anytime and find something to satisfy their whims. Player movements are a constant source of speculation with special Free Agent tabs displayed prominently. Millions of fans around the world play fantasy teams so they track these assiduously. There are some other interesting tidbits on the site as well that are always worth reading. The off-season can seem an eternity but the MLB does as good a job as any sport in making it seem more palatable with information to keep fans onside.
When I fell for baseball about a decade ago, I suspected that the hoopla the game generates was a key aspect of the attraction. Over time, I have seen that resonate more and more. I am not expecting the ABL to match what the MLB can do as that is simply not possible, just as is the case with other lesser sports. Fan engagement and retention is an imprecise science anyhow. Perhaps all I am looking for is a jolt that shatters the torpor of the lull. Or perhaps I should just wake up to myself and be grateful for the fact that the lull gives me a chance to get stuff done. Maybe …. then again Super Rugby starts up on Friday! Go Rebels!
To find out more about Almanac memberships CLICK HERE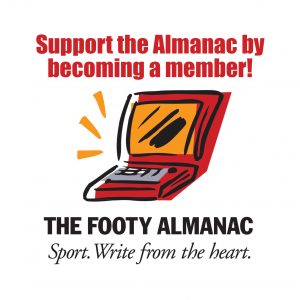 About
Grew up playing the rugby codes in suburban Sydney. Moved to Melbourne during the Carey era so becoming a Shinboner was the natural call. Still love the game they play in heaven. Took an interest in MLB a few years back and have become infatuated with America's pastime.