AFLW Semi Final – Carlton v Brisbane: All Good Things Must Come To An End
These are not times to focus on that which is frivolous. Living under the shadow of COVID-19, it seems incongruous to be writing about football. The daily rhythms of our lives will be affected for many months to come, and much that previously seemed to warrant serious attention has now been put in sharp relief. No one can deny that many of us have a powerful emotional and communal connection with Australian rules football, making the game more significant than merely a form of entertainment or physical activity. Yet, when placed against the ramifications of a deadly global pandemic, it shrinks back to being just a game. Despite the rhetoric we sometimes use to elevate its importance, we should always remember where it belongs in our civic landscape.
Yet COVID-19 should not block out the sun to other parts of our society that are worthy to discuss, engage with and celebrate. For women's football – too often ignored, overshadowed, derided and mocked – their players, staff, officials and administrators and supporters deserve more than to have the 2020 AFLW season disappear without a trace. The decision to push ahead with the AFL season while truncating the AFLW season was no doubt a difficult one to make, and I wouldn't want to be in Gillon McLachlan's position right at this moment.
As much as many of us love AFLW, it probably represents a net financial loss for the AFL – giving it the extra weeks to conclude was, I believe, a generous act. There was also some health risk with continuing AFLW, as women's footballers cannot be quarantined and isolated in the same way as their professional male counterparts. Nevertheless, the AFL Commission was trying to shore itself up financially before the inevitable hard and brutal downfall in revenue that will hit the league and its clubs. I'm currently finishing a book about the Fitzroy Football Club and its demise as an AFL club in 1996. That was a cautionary tale about how fragile clubs can be, a lesson we are all complicit in forgetting during times of prosperity.
With that as a preamble, I think it is worthwhile (for me at least) not just to report on the Brisbane Lions' final AFLW game of the year, but to look back on the season as a whole. Even without the coronavirus upending the world, it still would have been a remarkable season for the Brisbane Lions. Jess Wuetschner, a criminally underrated player by the commentariat, was struck by lightning before the season began ('I saw the white bolts go up my arms', she later said). Why Wuetschner does not receive the credit she deserves is beyond me. Not only is she now the highest goalscorer in AFLW history, but she is a decisive player when on the ground. She will push back and defend, put good passes together off half-back and is clinical when inside fifty. To be struck by lightning was nothing short of bizarre, and I'm sure everyone was relieved that she managed to make a seemingly full recovery.
Also of note was the effect that the ransacking of the team list by the expansion teams (especially Gold Coast) had on the side. Captain Leah Kaslar went to the Suns, as did All-Australian Sam Virgo and six other teammates. Speedster Kate McCarthy and Nat Exon went to St Kilda, while Sabrina Frederick went to Richmond. As a result, many knowledgeable pundits giving the Lions little chance of achieving much in 2020.
By the end of Round 4, however, the Lions were undefeated. The team was playing an effective style, moving the ball with surprising precision and cleanliness around the boundary, rather than any swashbuckling corridor play. The core of the side, its experienced players from the first season, were shining through. In particular, Emily Bates and Kate Lutkins were standouts: Lutkins patrolled the half-back line with steely resolve, stopping opposition forays in their tracks, while Emily Bates was a dominant inside midfielder, winning contests with determination and skill. Also noteworthy among the club's small crop of veterans were captain Emma Zielke, Shannon Campbell, Bre Koenen, Sophie Conway (making a welcome return after her ACL injury last year) and Ally Anderson.
Of the new talent, the clean marking Jesse Wardlaw and the electric Orla O'Dwyer shone early, Dakota Davidson's goal against Geelong was a season highlight, while Belle Dawes bouncing off two Giants' players was a personal high point for mine. Cathy Svarc emerged late in the season as a decisive player, her game against Fremantle was as excellent an individual effort as I've seen in this competition. Gabby Collingwood also deserves mention. She played two games when Wuetschner was out and, I thought, acquitted herself well. Another highlight was the decision by the club to wear the predominantly-red jumper for away games, connecting the AFLW team with the Fitzroy heritage in a tangible way.
Unfortunately, the tough-fought Round 5 battle against Fremantle did not go our way. Our two best players of the season, Bates and Lutkins, were both off form and were outplayed. The next fixture against Collingwood, we struggled, as most AFLW teams do the week after returning from Western Australia. These defeats took much of the wind out of our sails. I was looking forward to a nice win over Richmond to get us back into form for the final round match against North Melbourne, but alas, larger forces were at work.
Coming to the Semi-Final against Carlton (and I'm not sure why they didn't just call them Quarter-Finals since there were four of them as part of a straight knockout series), I had a bad feeling. The travel, plus our fading composure (particularly among our younger players) didn't seem to match up well on paper against Carlton's more experienced list. Also, the novelty of 'hey look, I'm watching this game from home' was limited for me. Living in Canberra, I watch every Brisbane game from home (except the one scheduled this year at Manuka against GWS which, if it even went ahead, I won't be able to watch anyway). Also, the #WeAreWatching phenomenon didn't sit comfortably, as I felt that too many of us still weren't taking CORVID-19, and the precautionary measures, seriously enough.
Nevertheless, as the game started, I began to be absorbed in it, as if nothing mattered except winning the next contest, laying that perfect tackle or getting that elusive mark inside fifty.
Brisbane made a cracking start to the game, which I'd seen before this season. Our good starts had been a feature of our early games, the question, of course, being how long we could sustain the intensity and territorial dominance. Against GWS, we pressed for the whole game; learning our lesson from the Gold Coast draw. We managed to dominate territory and applied pressure that had been lacking in the previous match against Collingwood (suffering out post-Perth hangover). Bates and Lutkins were back to their best, Campbell's kicking was excellent, and Svarc continued her fine form. Unfortunately, it seemed for much of the quarter that we would convert territory into goals. Finally, Wuetschner snapped truly from congestion, which not only gave us the goal we needed but brought her to 29 goals and the AFLW's record goalscorer.
Poor discipline from Hickie (in her debut game) gifted former Lion Tayla Harris a goal. Harris needed that one. Remembering her time at the Lions in season one, I recall her as an excellent marking player with temperamental set shot accuracy. Being given an easy shot from the goal square did not bode well. With the low scoring in AFLW, such indiscretions can be fatal. I hoped that wouldn't be the case here. Despite this setback, our defence was holding up. Still, I wanted more decisive action when going forward. Too often our players went for short handballs in the forward fifty rather than driving the ball forward.
Nevertheless, our pressure was excellent, and it was an exhausting first quarter. While I was encouraged by our intensity, I had the feeling we would rue not making better use of territorial dominance. You only have the chance to blindside them at the start of the game, before they have the quarter-time break for them to regroup and negate your efforts.
My fears were soon confirmed. I knew that Carlton would come out hard in the second quarter, and this proved right. Once they had the ball in their forward line, the Blues were doing what I wish we have done and been attacking with our hands. Vescio's goal undid all the effort and work of our first quarter. Meanwhile, the Lions were struggling to break out of our defensive fifty, a complete reversal of the first quarter. We had no avenue from our defence. When we did, we were indecisive. The problem was, locking it in Carlton's half, they had dangerous forwards that we lacked in the first quarter.
As the game wore on it because evident that while our experienced players could run with their Carlton opponents, many younger players lacked poise and decisiveness, the rigours of their first or second season in the AFLW seemingly beginning to catch up with them. Sophie Conway, as always, was a workhorse, but often found herself surrounded by opposition jumpers and left with nowhere to go. I found myself thinking about what we could have done had we retained players like Ashmore and McCarthy, who would have allowed us to break out of a defensive flood with pace. By halftime, there was only one goal the difference – a manageable deficient, but we needed to change things up in the third quarter to arrest Carlton's momentum. A late injury to Shannon Campbell did not bode well.
At the start of the third quarter, luck initially went our way with a bad call for a "touched" goal, and we looked to be better able to rebound off half-back. Yet again, however, inability to convert when given a chance and giving Carlton shots inside their forward fifty hurt us. Carlton's precision was coming to the fore halfway through the quarter. As the Blues got on top, the game was slipping away. By the time Georgia Gee got her second goal and opened up a 19-point gap, it was difficult to see how we were going to get back. Our players weren't strong enough to stop Carlton defensively and the pressure and intensity we showed in the first quarter had dissipated. O'Dwyer's reluctance to kick the ball when running towards the goals was becoming frustrating, and while a lucky goal from Wardlaw finally brought her into the game, it was too little, too late. Three-quarter-time, and things on-field looked grim. I was again wondering what could have been had our side not been ravaged by the expansion teams at the end of last season.
It was interesting that once my team played, I did initially forget about the outside world (except for the tone-deaf plugs from the commentary team for Channel Seven's coverage of the 2020 Tokyo Olympics). It's true that for a footy-mad population, the AFL (or AFLW) is a distraction, but this probably isn't the time to be distracted. Slowly my focus turned back to the real world. Concurrently with the game, state governments were announcing increasingly desperate measures to combat COVID-19, which made the commentators' talking up the potential controversy surrounding Tayla Harris' tackle on Emily Bates seem out of step with reality. Ordinarily, a suspension to a key player in finals would be big news. Now, it seemed trivial. It was highly doubtful, I thought at the time, that there will be any football next week or for the foreseeable future.
With the contest effectively over, the fourth quarter nevertheless started positively, even if we still struggled to get the ball into our half. Lutkins has been good, Campbell showed her quality at times, and Wuestchner began to throw herself into the game as if she could see the result and did what she could to change it. Unfortunately, all her efforts, and those of the 2020 Brisbane Lions, were in vain. After some late Carlton goals, the final score was 6.8 (44) to 2.3 (15). The better side won on the day. In the end, it was a gulf in class and experience. Brisbane's top-end could match it with Carlton, Lutkins amply proved that point, but many of our younger players aren't at her level yet. As the game finished, there was an overwhelming sense that larger forces were at play to deny us any more of the AFLW season. Later that afternoon, our suspicions were confirmed.
In the end, this won't be a year remembered for football. Even within the world of the AFL, 2020 will be known for the dire financial ramifications of COVID-19 more than anything done on a footy field. This legacy will be unavoidable, yet it is still sad that AFLW, having made such great strides, will not get the chance to celebrate its achievements in its fourth season. There will be no crowd of 53,034 for a grand final. Instead, clubs will roll into crisis meetings and begin standing down staff. It is a sad end to too short a season, one which, until the very end, I was enjoying immensely. The girls put on an outstanding show for us before the world crashed down around them, the least we can do is say thank you.
Our writers are independent contributors. The opinions expressed in their articles are their own. They are not the views, nor do they reflect the views, of Malarkey Publications.
Do you really enjoy the Almanac concept?
And want to ensure it continues in its current form, and better? To help keep things ticking over please consider making your own contribution.
Become an Almanac (annual) member – CLICK HERE
One off financial contribution – CLICK HERE
Regular financial contribution (monthly EFT) – CLICK HERE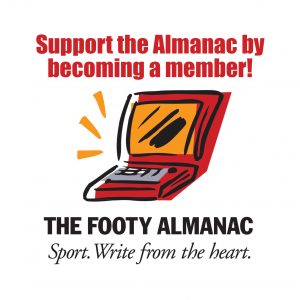 Canberra-based historian. Author of 'Merger: The Fitzroy Lions and the Tragedy of 1996' Available here: https://melbournebooks.com.au/products/merger