AFLW Round 5 – Fremantle v Western Bulldogs: Post Premiership Issues
Fremantle versus Western Bulldogs
Sunday 3 March 2019, 3:05 pm
Fremantle Oval, Perth
When I checked the score after my work on Sunday, the following thoughts came up in my head-
Daughters of the West are going through the tough times like their male counterparts after winning the flag.
Bulldog men's played the Grand Final in 2016 without then captain Bob Murphy because of the knee injury. They ended the 62-year premiership drought that was inspiring and a fairytale.
A controversial tribunal decision put Katie Brennan off the field at the AFLW Grand Final last year and the Bulldogs won the flag in the second year of the women's competition.
After the premiership, Koby Stevens has asked the club to be traded to St Kilda. Several players have chosen to play elsewhere after their milestones.
For girls, Emma Kearney has crossed the line to North Melbourne and has Assta O'Connor to Geelong.
I sense the circumstances are similar between women's and men's teams at the kennel. Unbelievable!
As having mentioned in the previous match report, a loss to North Melbourne put negative effects on performances, I think.
Or is there any issue with me because:
1. Of lack of supports; and
2. I support the Bulldogs only until this year as St Kilda enters the AFLW next year?
I could have watched the replay of the losing game to analyse and/or learn from mistakes, but it's too painful.
To be honest, I could learn from professional games for my footy skills, but Saturday's JLT match played between North Melbourne and St Kilda got the spot. But it's not because I don't respect women's, but St Kilda men had more positives on field.
The Bulldogs need to bite and roar at the next coming game for good.
FREMANTLE 2.1 3.2 5.2 8.4 (52)
WESTERN BULLDOGS 0.1 3.1 4.2 5.4 (34)
GOALS
Fremantle: Gibson 3, Houghton 2, Duffy 2, Bowers
Western Bulldogs: Utri, McCarthy, Huntington, Brennan, Lochland
Official crowd: 4785 at Fremantle Oval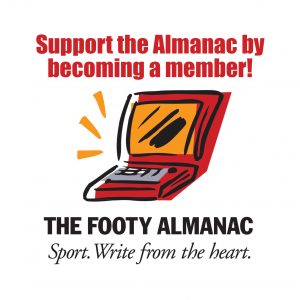 To find out more about Almanac memberships CLICK HERE
Love, passion and pride are seen on the footy that is the biggest part of my life. 1. St Kilda Club member: I am a passionate and crazy Sainter. Just hope we will win the second flag soon, especially after Dogs and Tigers having ended long premiership draughts. 2. The Osaka Dingoes Player and Public Relations Officer: Player number 44 that I chose to honour Stephen Milne with my wish being like a small forward like him. Lenny Hayes' hardworking attitudes are adopted on my trainings and practices. Nick Riewoldt's great plays are in my player audiobook too. 3. Writing: Here on the Almanac and also on the World Footy News. My skills utilise on great footy websites.