AFLW Round 2 Western Bulldogs v Geelong: The story of Dogs and Cats and loved ones
Western Bulldogs v Geelong Cats
Victoria University Whitten Oval
Saturday 9th February 2019 7.15 pm
I drove to Whitten Oval earlier in the evening and walked the time away.  I was worried about a friend who hadn't responded to text messages from 24 hours before. She had gone to see a specialist, and after 24 hours, I expected the worst.  I finally succumbed and rang her husband to see how she was, to find out that all was OK, and I was using the wrong number.  It explained her lack of response to my concerns. She never got them. She rung me immediately when hubby informed her.  I'd be the first to hear of bad news, she said.  I was the one she'd turn to in the storm.
I had tears of relief blinding my walk back to the oval. The gates were opening at 5.30, and there were queues. I'd come from the corner pub, where I had watched a moment of the Pies being demolished by Melbourne, used their loo and had a soda. Now it was footy time, the worry was gone, and I headed to the entrance.
I discovered that as a member of the Bulldogs AFLW, I could line up on a small queue at the café/shop area and be in the ground in a relative flash. I liked this a lot. A short line, friendly customer service and a rainbow of a great smile when Sue Alberti and I said hello. She returned to having photos with young footy players and I was in my seats quick smart. I found seats to the right of the coach's boxes and just in front of the Channel 7 camera for interviews. Emma Kearney was just behind.  Nice.
The stands filled. Colours, chatter, children and noisy announcements. A new billboard to watch replays and scores on across the oval. A feeling of celebration and anticipation. Footy. I was at the footy again. It was cooler than expected, and I'd left my coat in the car.  A coat in early February. The weather is weird as always.
There was always something to watch. People sorting seats just in front of me. TV crews getting ready. Competitions and announcements. The huge Bulldogs flag ready to be unfurled.
Before Denise and her mate Marissa joined me pre-game, we had all the official stuff. Bulldogs President Peter Gordon thanking the 2018 team for being a great part of the Club and for bringing the bling to their community, AFL CEO Gil adding his 2 bobs worth, and real marching/dancing girls surrounding the huge flag and taking it into the celebrations. Gil handed over the Premiership flag to Peter. The crowd roared. The women of the west had done their people proud. They even made me proud. They are my only premiership team…yet.
Nina Morrison from Geelong had done her ACL in training.  It was a blow to the possible rising star, once again, the fledgling league losing a young-un to this injury just as their star shone brightly.
Bugger.
There was much to like about Geelong after last week. Skipper Melissa Hickey was still not playing but my fave Phoebe McWiliams was.
When the game was finally underway, I can't help but be happy for Phoebe when she gets a free and boots the first goal. Aisling Utri has a matching free from an opponent running through her mark and goals for the Dogs.  It's on.
I am into this game, with the ABC coverage of Nathan Burke and Chyloe Kurdis in my ear, I hear and see everything. Geelong spray two attempts and are two points ahead at first quarter.
I am sure Emma Kearney is saying very sensible things behind me. I am happy to sit with Denise and Marissa and catch up.
Bulldog Deanna Berry speeds away, bouncing and gets one through. Bonny Toogood slots one. Ellie Blackburn from 50 metres puts it through.
Ex-Bulldog Aasta O'Connor misses the ball completely when she takes her shot. This one will be bought up at trivia nights. Bulldogs lead by 16 at the main break.
Denise goes to find family and friends. Marissa looks for wine. It is her first ever game of footy. In her 60's, nothing has ever bought her to a match, even though she lives a few kicks away from Whitten Oval and hears everything from her home.
Geelong comes out fighting. Georgia Clarke goals after great pressure from Geelong brings the ball forward. It's her first game and her first goal.  Her team mates get around her.
O'Connor has hurt her knee.
Aisling McCarthy, the newby Bulldog who has come a long way from Tipperary (I just had to put that in) replies. McWilliams gets a free from a good tackle but hits the post. It's a messy third quarter. The game has turned defensive and it is uglier footy. This suits the Dogs and their lead.
Finally, the Cats have a good clearance and McWilliams marks. It is off to one side and through for a point. Dogs are ahead by 14 at the last break. The official numbers are 8612. The crowd cheers for itself.  That's good numbers.
There are no goals in the last quarter, misses from Conti, Brennan, Berry, Lamb. Four Dog points and they lead at the end by three goals straight.
It was an engaging game. The first half way better than the second. The Doggies celebrate hard as they have started the season well.
I have parked well, and we are off and heading back into town the long way, sight-seeing through good old Footscray and west Melbourne as Denise heads back to my place for an overnight stint.  It is family day on Sunday and time to enjoy sister time.
Western Bulldogs            1.0         4.0         5.0        5.4         (34)
Geelong Cats                    1.2         1.2        2.4        2.4              (16)
Best:
Western Bulldogs: Blackburn, Lamb, Spark, Conti
Geelong:Purcell, McWiliams, Garing
Goals:
Western Bulldogs: Utri, Berry, Toogood, Blackburn, McCarthy
Geelong: McWilliams, Clarke
Crowd: 8612
To find out more about Almanac memberships CLICK HERE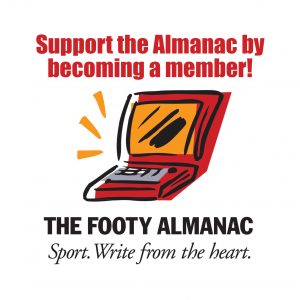 Yvette Wroby writes, cartoons, paints through life and gets most pleasure when it's about football, and more specifically the Saints. Believes in following dreams and having a go.