The state of the game.
How would you describe an orange to a person who has never had sight and has no concept of colour?
How would you describe the essence of a game of Aussie Rules to someone who has never seen one?
I have previously written that Australian football was not conceived as a game of rules but a game of collective understandings as to what is acceptable. The fact that players can run wherever they like across the whole field signifies that it is a game of free spirit and imagination. Applying layers of rules to it is like putting a functional flat roof on the Opera House, then complaining that it's not attractive anymore.
There is nothing wrong with the game in its true form. Steve Hocking wants to "take the game into the future". We often hear that the new rules are designed to make our game better, but no one can tell me what better, in this context, means.
We are thinking about this all wrong.
Perhaps the issue here is that we are trying to define or describe the magic of Aussie Rules in the first place and in doing so we create a muddle. It shouldn't be caged in a definition. The true question to be asking is: What are we trying to achieve when we play this great game of ours? Are we simply trying to make the least mistakes? I doubt it. Are we looking for meaning? Probably. Do we find meaning in rules? No. Rules are there to bring about societal harmony, they have no meaning otherwise. Meaning comes from life experience not from lodging your tax return on time.
Perhaps football as a spectacle is seen to be struggling because the measures we consciously and unconsciously apply to it have no connection with the essential question: what are we trying to achieve when we play this great game of ours? The prism through which we view football, and sport in general, has warped.
Justin Dyer, Professor of Politics at the University of Missouri, in trying to make sense of reality, recently wrote:
"……we might say the framing assumptions of our public culture no longer give an adequate account of the primary things we see around us and within us, leaving us uncertain and anxious about what to do with this tension."
Whilst this related to a broader discussion about society, I think it has application to our current debate on the state of the game. What we have previously seen in the game, its "public culture", the things we regarded as the game's "primary things", have been shoved aside. The game, as we thought we knew it, no longer has context; a victim of the modern disease of "perpetual reform" without end.
Perhaps "old football" is already on the way to the gallows? Perhaps we are living through a time of flux; currently invisible to us but obvious with 20 years of hindsight. The game may emerge out the other side as something we hardly recognize today, smashed to death by good intention and zero understanding, "ruled" out of existence. The players will have lost their capacity for choice and instinct, the value of the individual will be lost in the corporate club, "the reliability of reason, and the reality of goodness" won't survive.
Perhaps this urge to change the rules is a misguided attempt to give football shape, which is like (if I could borrow the words of Crowded House) trying to catch a deluge in a paper cup. We sprint like the mouse in the wheel, desperately fooling ourselves that we are making progress without asking what we are progressing towards.
In short, it could be that this irresistible pursuit of rule changes is a forlorn attempt to describe a thing that defies description or that doesn't need description. The essence. Or, as C.S Lewis described it, the Tao.
"The rebellion of new ideologies against the Tao is a rebellion of the branches against the tree: if the rebels could succeed they would find that they had destroyed themselves."
Do you love the Almanac concept?
And want to ensure it continues in its current form, and better? To help keep things ticking over please consider making your own contribution.
One off financial contribution – CLICK HERE
Regular financial contribution (monthly EFT) – CLICK HERE
Become an Almanac (annual) member – CLICK HERE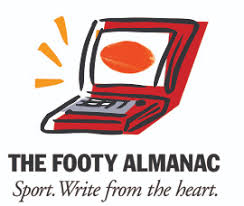 I'm passionate about breathing. And you should always chase your passions. If I read one more thing about what defines leadership I think I'll go crazy. Go Cats.