"A long time ago in a Galaxy far, far away…." (Subiaco Oval, 2.40pm, Sunday May the Fourth)
"For over a thousand generations, the Jedi Knights were the guardians of peace & justice in the Old Republic. Before the dark times… before the Empire. A young Jedi named Darth Sumich, who was a pupil of mine until he turned to evil, helped the Empire hunt down & destroy the Jedi Knights. Sumich was seduced by the dark side of the Force."
Episode 1 – The Phantom Menace
The Evil Empire dominates early.  This contest will be all about who wins the clearances and the contested possessions.  My Jedi get 2 goals late and we are only 14 points down at popcorn time.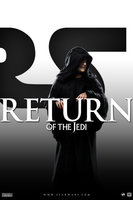 Episode 2 – Return of the Jedi
This is the movie I came to see.  My Jedi are swarming all over an Empire in full retreat.  But there is something wrong with the script.  It is full of hysterical inaccuracies.  By us.  In front of goal.  We kick 1.8 and 6 of the misses are sitters.  We should be 3 goals in front, not 7 points down at choc bomb time.
Episode 3 – The Empire Strikes Back
Early signs are good.  We kick 2 to go a goal in front.  Then the screen goes blank.  The horror.  The horror.  I don't even know what movie I'm watching.  Four goals to them and the barbarians are at the gate.  I am rolling jaffas down the aisle for amusement.
Episode 4 – Revenge of the Sith
They kick 2 more early, and then those interminable credits roll for a final 20 minutes of junk time.  We get 2 late to lose by 19 points.  Who cares?  We had our chance to win, with plenty of effort and opportunities.  But our skill levels are among the worst in the Galaxy, so that hard work creates more turnovers and missed opportunities than pressure.
Nic Naitanui is so unfit and low on confidence, it's a scandal that the Jedi 'brains trust' are playing him.  He clearly has a groin/osteitis pubis problem and has no sprint or spring in his legs.  His game is all about athleticism, so if he has none, rest him or send him for surgery.
Luke Shuey faints whenever he catches sight of Ryan Crowley.
Matthew Pavlich and Darren Glass can see the tunnel at the end of the light.
Matt Priddis and Scott Selwood battled hard
But the Skywalkers (Nat and David) dominate the midfield.  Michael needed the run.
Sandilands made the Eagles rucks look old and unfit
Zac Clarke kicked 3 goals and is an emerging star
The Evil Empire's coaching panel has the most ruthless team of henchmen and hired guns in the Galaxy
Malarkey Academy Awards
3 Votes: Lachie Neale (Evil Empire)
2 Votes: Ryan Crowley (Evil Empire)
1 Vote: Brad Sheppard (Jedi)
A Word from our Sponsors:
AFL: May the Merchandising be with you