AFL Japan GO League Round 3
Osaka Dingoes versus Senshu Powers
Saturday 16 February 2019, 7:20 pm
Izumi Sports Village, Kaiduka, Osaka Prefecture
I had been excited to play footy after having the fractured bone. It was the first game of the year and seven months have passed since I had played the sport.
Kick and catch under the lights were my second time in my life, following by footy training with the Caulfield Bears on 20 July last year. I hoped playing at night would be okay.
Our captain and Vice President Dan now lives in Shimane, three and half hours away from Osaka, and travelled on a bus on game day. Matt and I met him at the bus terminal in central Osaka and we all headed to the ground.
On the train, we had catch up chats and game plans. I was told that I might play in the back line.
When we got to the venue, the opponents had already started warm ups. We were more relaxed.
The conditions were windy with freezing five degrees in the winter night on a hill.
The first quarter started with intense and tight contests. Our tall blokes Shane Carrillo and Ryan Archer took incept marks, but young university student Powers tackled hard on Shane and our American midfielder Jarrett Bailey.
The player-coach Matt Gale had an opportunity to score a goal on seven minutes, but only a minor score was awarded.
Two minutes later, Senshu's Hirano took a mark and kicked on a 30 degrees angle and it brought a first goal of the match.
Then at the 11-minute mark, our ruck and skipper Dan Perry was tackled and twisted his knee. He was carried off the field and sadly his season is over.
The American ended our goalless minutes after 13 minutes. He took a mark right close to the goal square and has done the job.
In the beginning of the second quarter, Powers dominated with efficient kicks and ball useage. At the three-minute mark, Archer's kick was turned over and the University team got an opportunity. Chikada took a mark and scored a goal with a long kick.
After the bounce, Bailey found open space and shot quickly, but it was just a behind.
He has got the ball back soon after and kicked long. It was taken by Gale and he has done his job nicely.
Archer took a mark in our back line and the opponent crossed the mark. Archer was awarded a 30-metre penalty.
When he was to kick, the Power crossed the mark again. Young Arch was awarded his second in a row penalty and kicked his last goal in Japan before flying back to Melbourne the following day.
Learning from their mistakes, young Powers pushed hard towards their goal square. Within a few minutes, Murata kicked highly to the middle. Six points were awarded to the opponent.
Two minutes later, Murata won the contested mark against Carrillo and kicked another goal.
Several turnovers were marked for both sides, but neither side scored a goal before the main break.
Young Powers picked up the ball fast after Arch handpassed at the first minute of the third quarter and they dominated with fast football.
Archer's mate, Junya Mori took a mark making a turn over at the last minute of the third quarter. He has got a right angle and kicked his first goal on his first day to play footy.
The last quarter was the same, Powers dominated and kicked efficiently. But in the four-minute, Gale kicked a goal with his great experience.
Unpredicted circumstances hit me at the last quarter. Sore muscles hit my legs. Once I got up and was back on the run, but after five minute, the pains got heavier and I was taken off the field by an opponent player.
He called his female club manager asking her to put ice cubes on the leg. Then she asked another young lady to come over there to perform massages.
I asked her if she had done any course and she told me that she had been doing such treatments for years as a sport club manager.
Here in Japan, school and university sport clubs have managers to help players on game days and drills, such as supplying drinks and looking after players.
We had a nice chat on the sideline and they were so sweet. I owe the Powers a lot.
I had never thought I would have a massage on a footy bench, like we see on live footy coverages.
Due to player availability for the Dingoes, the game was eight players per side. We had no interchange player. Perry had been already out and now I was off the field. Only six Dingoes were playing.
The massage manager mentioned this to me and I made an effort to be back on field. I ran lightly to check my conditions but I still had tension in my legs. Then further treatments were performed.
Eventually I have gone back on, but soon afterwards the final siren sounded.
Final score was Dingoes 6.5 (41) to Powers 13.8 (86).
After the match, Matt, Dan, Shane and I had a beer at our proud sponsor, Blarney Stone Shinsaibashi where we had a good time. While I was dancing near the stage with live music, I talked to a young couple and found out the bloke was a Richmond supporter. I told them that we had just played footy and they joined us.
Thinking about the game the following day, I realise I need to be competitive and win contested marks. Researching was done on Tuesday and I have got tips on AFL Victoria's website which I will print out soon and bring it to footy field.
Goals:
Osaka Dingoes: Gale 2, Bailey 2, Archer, Mori
Senshu Powers: Hirano 6, Murata 4, Uehara, Chikada, Kimura
To find out more about Almanac memberships CLICK HERE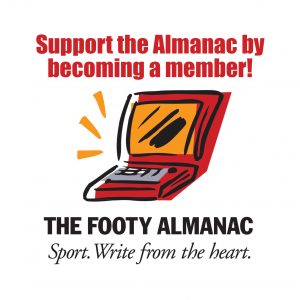 Love, passion and pride are seen on the footy that is the biggest part of my life. 1. St Kilda Club member: I am a passionate and crazy Sainter. Just hope we will win the second flag soon, especially after Dogs and Tigers having ended long premiership draughts. 2. The Osaka Dingoes Player and Public Relations Officer: Player number 44 that I chose to honour Stephen Milne with my wish being like a small forward like him. Lenny Hayes' hardworking attitudes are adopted on my trainings and practices. Nick Riewoldt's great plays are in my player audiobook too. 3. Writing: Here on the Almanac and also on the World Footy News. My skills utilise on great footy websites.