Voss – Part 2: The pantheon awaits
I'm barracking for the story.
One that goes something like this…
Michael Voss, triple premiership captain, Brownlow Medallist and perhaps the player of his generation, goes on to have a similarly august coaching career. He becomes the architect of another premiership dynasty and in so doing, restores a sense of entitlement to a once proud navy-blue empire.
My generation doesn't yet have a Barassi or a Matthews to call our own. Someone whose name alone puts a pause on those conversations about the greatest football figure in history that occur from time to time in the fishing boats, front bars, lunch-rooms and Whatsapp chats of our lives.
Gary Abletts (plural)? Judd? Lockett? Carey? Champions all; names that are definitely worth throwing up in those ultimately pointless conversations about the best player ever. But none of them have coached. Yet. None of them, like Barassi or Matthews, created a second career stanza that rivals their first.
Clarko? Hard to argue that he's not one of the greatest coaches we've had. Hardwick? Let's watch the next few years with interest. Sheedy? Those whose opinions I admire suggest he has been drastically underrated as a player, his onfield deeds dwarfed by the flags that came his way across three different eras at the Bombers.
We don't yet have a figure who straddles both conversations. Someone for whom you really have to pull down your surgical mask, scratch your chin and wonder: 'Were they a better coach or player?'
I met Vossy at the end of 1997. My newly renovated and refurbished fandom as a Lion was being put to the sword as the Saints sorted us out in an Elimination Final at Waverley. I was trying, really trying to feel for these Lions of Brisbane. I'd been to an Elimination Final at Waverley once before. That was in 1986; it was the best day of my life. In 1997, it felt like my fandom had been put under a local anaesthetic.
He was propped up on the old wooden benches in the members section, his broken leg immobilised in one of those blue thermal straps. These Lions, our new team, were getting done over by St. Kilda. My cousin and I wandered over to get an autograph from our recently acquired captain and Brownlow medallist. Two things stand out a bit. He paused and double checked before signing my Fitzroy scarf, 'Mate, are you sure?' he glanced up at me with the black sharpie in hand. I look back on those four words and conflate a sense of meaning – that he was giant of the game without any sort of mindless hubris about his overall place in the story. That what he had done as a Bear, impressive as it was, didn't automatically grant him a place with those who had scribbled their names on that scarf already – Quinlan, Rendell, Conlon or Roos. He was a bloke humble enough to double check, he knew he hadn't quite rendered himself a Royboy just yet.
The second thing though was the look in his eyes as he watched the game. He was a captain without a ship, a Viking without a village to plunder. He was Archimedes, knowing that if he had a platform to stand on, he could move the world. 'Can't wait to see you back out there next year Vossy,' my cousin chirped. By that stage, the game was lost. I swear a muscle in his jaw tightened and his nostrils flared like a wounded stallion. 'Yeah mate,' he said 'Yeah, I wish I was out there.'
I'm barracking for act two of the Michael Voss legend because I want to believe that we, us, all of us, have walking amongst us people capable of deeds beyond the ordinary. People whose mere presence can elevate the status quo. One of my favourite scenes in cinema is from 'The Man from Snowy River II'. Towards the climax of the film, the poncy banker type, Alastair Paton, played by Nicholas Eadie notes that Jim Craig will be unable to run down the horses that he is pilfering despite giving a rowsing chase. 'He's outsmarted himself now, there's no way down' as Craig appears at the top of a mountain. One of the grizzled old horsemen nearby scoffs 'Don't forget who he is!' Timpanis start rumbling, Burlinson gives a bit of a cocky grin and then thunders down the cliff face on horseback.
For Lions fans like me, there is a bit of that in Vossy. People sneer at the Fevola trade and lose sight of the triple premiership captain, with a coaching birthright and pedigree as a leader to match any. There are regular comments about his hubris allowing him to become senior coach of Brisbane before his time, few about the humility to follow that as a 2-I-C at Port Adelaide soon after. To those suggesting he will follow Teague and Bolton, I say 'maybe' but also 'don't forget who he is…'
I'm no Carlton fan, I'm old enough the remember their fan's particular blend of nonchalant arrogance when things are going well for them. And seeing my captain in a navy-blue polo stings a bit. But I'm barracking for the story. The one in which Michael Voss restores the aura of Carlton. Imagine, just for a second, that he does become a two- (or even three) time premiership coach to add to his deeds as a player. He is one of the few still able to enter a very special pantheon.
In Fages I trust, but in Voss I still have a sense of boyish wonder and belief.
To return to our Footy Almanac home page click HERE.
Our writers are independent contributors. The opinions expressed in their articles are their own. They are not the views, nor do they reflect the views, of Malarkey Publications.
Do you enjoy the Almanac concept?
And want to ensure it continues in its current form, and better? To help things keep ticking over please consider making your own contribution.
Become an Almanac (annual) member – CLICK HERE.
One-off financial contribution – CLICK HERE.
Regular financial contribution (monthly EFT) – CLICK HERE.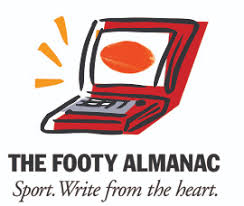 Loving life as a husband, dad and teacher. I'm trying to develop enough skill as a writer so that one day Doc Wheildon's Newborough, Bernie Quinlan's Traralgon and Mick Conlon's 86 Eliminatiuon final goal will be considered contemporaneous with Twain's Mississippi, Hemingway's Cuba, Beethoven's 9th and Coltrane's Love Supreme.