VFL Women's – Chantella Perera: The Big Game Hunter
In her first season of Australian Rules, Box Hill Hawks' defender Chantella Perera has made a name for herself by taking some of the biggest scalps in Swisse Wellness VFL Women's, as Callum O'Connor reports.
In what has proved an inspired move by the Box Hill brains' trust, the 31-year old basketball star has revelled as a key position tagger on big name players. Perera was one of the shining lights in the fledgling Hawks' tough start to the season and can be considered one of the key factors in fostering the self-belief behind their inaugural victory over the Seaford Tigerettes in Round 9.
"It's good to know that you can pick up a sport at my age, even never having touched a football before," says Perera. "I just put it down to my principles, I try to work hard and do the best I can."
Perera began her Australian Rules career as a defender but Box Hill coach Patrick Hill soon saw the potential for his rangy recruit to become a secret weapon.

In Round 4, Perera played as a tagger on Cranbourne Eagles' star Bianca Jakobsson and nullified the Melbourne AFLW player as the Hawks fell just 13 points short of victory. Three weeks later, she came up against one of the most dangerous forwards in the country in Darebin Falcon champion Darcy Vescio and kept the Carlton marquee to a single goal. In Round 7, she added Diamond Creek goalsneak Sophie Abbatangelo to her conquests as Abbatangelo, at the time ranked third on the VFLW goal-kicking table, didn't get on the board until the last quarter.
All talented players but all with different styles and strengths. For a player new to the sport to counter Jakobsson's athleticism, Vescio's evasiveness and Abbatangelo's strength on the lead from one match to the next is an impressive feat. Perera's late entry into football means that she has always played her opponents on merit, not reputation.
"I knew of Vescio obviously, but I definitely look them all up before I play to try to find out what their strengths are.
"I'll listen to what Paddy says and the other girls who have been around the league offer good advice. It's good to try to look at if they're tall and athletic and what their strength is that I can stop."
Standing at 175cm (5"7), Perera has found herself on the taller end of the spectrum after a long career on her tippy toes in basketball. Her mobility and ability to adjust to each opponent has been her strength.
"The defensive principles are very, very similar," compares Perera. "Week by week I'm really enjoying it and I hopefully want to win some more games here."
She has become the weapon the Hawks can rely on to take the opposition's most dangerous player. Since making the switch to her new role, Perera has been ranked in the Hawks' best in all matches apart from the Round 8 clash against the St Kilda Sharks, which she missed through basketball commitments. Her importance to the side was apparent as Brianna Davey, with whom she would have fought, ran rampant.
At the age of just 17, Perera was awarded a scholarship to play for the Fresno State Bulldogs as a shooting guard in the National Collegiate Athletic Association in the United States. She was judged the Bulldogs' MVP for the 2006/07 season when she averaged 15 points and five rebounds a game. Upon her return Down Under, she scaled new heights by collecting gold and bronze medals for the Opals at the 2007 and 2009 World University Games respectively and silver at the 2007 FIBA Under 21 World Championships.
Such a successful career begs the question as to why Perera would gamble on balancing her current basketball commitment to the Kilsyth Cobras with learning what is literally a new ball game at Box Hill.
"For me, it's just about how I can help the girls and what opportunities I can bring to the future of women's sport," says Perera. "That's probably to be honest is why I did it to start with, I really want to help girls have a good pathway so I wanted to show that you can do two sports and have a job and still make it work."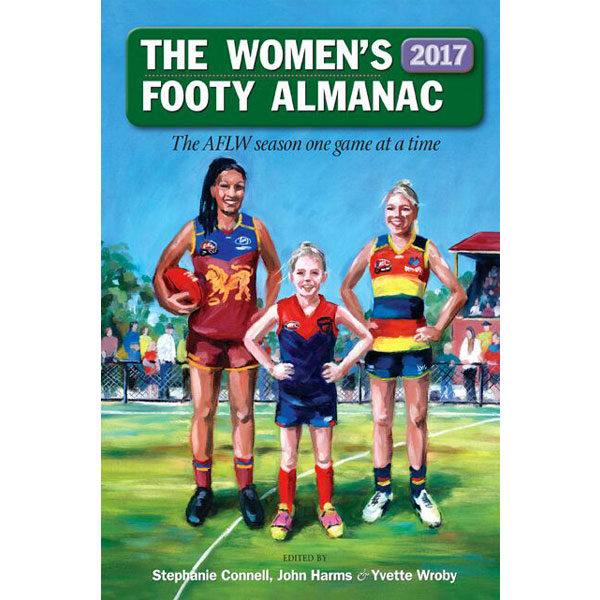 BUY THE WOMEN'S FOOTY ALMANAC 2017:
Purchase via The Almanac Shop.
Or contact us directly via email to place an order.
Here's to feelin' good all the time.