Umpire and Fans: Yelling at the sky
Dear Mr Umpire.
I understand that a footy fan referred to you as a bald headed flog on the weekend. It's an interesting choice of words to use by that particular fan because after Redmond Barry sent Ned Kelly to his death Ned called Redmond a bald headed flog too. The difference here is that the footy fan was wrong, but Ned was right. (Though it must be said that you do have a bald head).
Anyway, please don't take this abuse personally. You are not part of the game. I mean that in the nicest possible way. You are simply part of the game's infrastructure. Like a goal post. So when the fans lean over the fence and yell abuse, they are actually screaming at the sky, not at your person, as such.
Yelling at the footy has been going on since the Romans fed Christians to the lions. (Not the Brisbane Lions, real lions). Back then they screamed, "stultus es!" which doesn't have quite the same ring to it. They yell because life isn't fair. They yell because men don't understand their wives and because wives do understand their men. They yell because someone took their carpark at the supermarket last Sunday, because no one changed the empty toilet paper roll at home on Friday morning, because they got fined for doing 42 kilometres an hour in a forty zone. They yell because they are not allowed to yell anymore! It's not about you!
If fans can no longer yell at the footy then footy is inpensius. If a bloke can't shake his fist at the footy gods and screech, "you white (insert other appropriate colour here) maggot" then life as we know it has ended. But you need to understand that you are not the maggot, you are simply the maggot's avatar. The maggot is the pain he is feeling now, which is the happiness he had yesterday. The maggot is the flat tyre he got on the freeway. The maggot is his inability to shoot 90 on the golf course. The maggot is his boss's sucky mate who got the promotion over him. The maggot is the cruelty of life; the gravity that sags his pectorals, the hair growing out of his nostrils, the gut that resembles a soccer ball, the lingering pain in the small of his back, the inability to produce good ideas.
We live in an age of snow flakes (which is ironic given that we are supposedly going to boil to death). Harden up. Understand that being an umpire carries with it certain difficulties just as being a teacher does, or politician, or a proctologist. Let them yell. If they yell, they are happy. Happy in the sense that the grief no longer sits on their chest. Happy that there is still one place that humanity can return to the days of gronk and bawl at the heavens. Happy that the yell is blasting up into the sky where it will rotate around the globe like space junk. It will do no harm up there.
You would take this away? Surely not. If you take offence at being described as bald, grow hair. Or get another occupation.
For more from Dips, CLICK HERE:
Our writers are independent contributors. The opinions expressed in their articles are their own. They are not the views, nor do they reflect the views, of Malarkey Publications.
Do you really enjoy the Almanac concept?
And want to ensure it continues in its current form, and better? To help keep things ticking over please consider making your own contribution.
Become an Almanac (annual) member – CLICK HERE
One off financial contribution – CLICK HERE
Regular financial contribution (monthly EFT) – CLICK HERE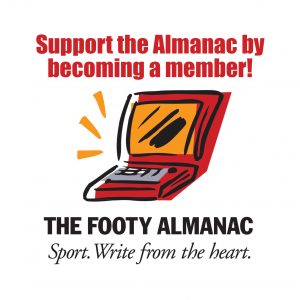 I'm passionate about breathing. And you should always chase your passions. If I read one more thing about what defines leadership I think I'll go crazy. Go Cats.