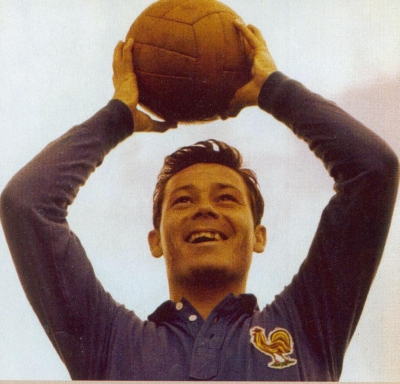 There have been some killer goal scorers over time but none have done what Just Fontaine has done in only one World Cup. Fontaine was born in Marrakesh 1933 and went to France after learning his craft with local club USM Casablanca. After wowing the French league he moved on to Stade Reims where he really hit his stride with 64 goals in 57 games which included the French title.
For France he was equally as deadly and when he made his debut in 1953 for Les Blues and scored a hat-trick. This was all well and good but it was at the 1958 World Cup in Sweden where Fontaine made his mark. Everyone can can go on about Pele's emergence and Brazil's first World Cup victory when they think of 1958 but Fontaine was the true star. In the first round of the tournament he scored a hat-trick in the opening match against Paraguay and then a double against Yugoslavia before only scoring one against Scotland in the final first round match.
With six goals to this name in the first round Fontaine just kept on plugging away. In the quarter finals against a plucky debutant in Northern Ireland France tore them to shreds 4-0, Fontaine scoring another double. Next up for the French (having their best ever World Cup) was Brazil who had yet to concede a goal in their previous four matches, could the French blow away their strong defence? Well, they tried. Brazil went ahead first Vava before Fontaine equalised after only 8 minutes. From there on in though Brazil ran a train through France, Pele getting a hat-trick and Didi scoring in a 5-2 mauling to send them through to the final.
Still, France still had the third place play-off to play which would be against vanquished champions West Germany. Fontaine decided to have a bit of a laugh in this match and scored FOUR times in what was a 6-3 thrashing, two goals in either half. With the four goals at the end of the tournament Fontaine ended up with a whopping 13 goals in only 6 games, the record amount of goals from one player in one World Cup and to this day it's a record that still hasn't been broken.
His 13 goals were over twice to amount of anyone else in the tournament (including Pele) and it still has him as the fourth most prolific goal scorer in the history of the tournament behind Ronaldo, Klose and Muller. Unfortunately Fontaine would never play in another World Cup again. He was forced to retire at age 29 in 1962 due to injury and went in to a semi-successful career as a coach of his native Morocco where he took them to the 1982 World Cup and the odd successful run in the African Cup of Nations.
A record that is unlikely to be broken, Just Fontaine's 13 goals in one World Cup is a memorable achievement and moment in the history of the World Cup.
RTR FM Presenter. Glory Guerrillas Producer and Co-Host. Contributer to Football Nation Radio and Football West. Worships at the feet of the mighty Cats, Socceroos, Matildas, West Perth, Glory and Glasgow's Green and White most of the time.